PUT ME TO THE TEST
Gloria Robles, IFA Contributing Writer
|
January 13, 2021
I Prayed
have prayed
Lord, I come before you and ask you to test me. Remove anything in me that offends you. Test my motives and my heart. Forgive me for being self righteous and pointing fingers at everyone else, while neglecting my own personal holiness.
Editor's Note: IFA Contributing Writer Gloria Robles appeared on the Tuesday Prayer webcast and shared part of the content of her article below. Click here to watch that video.
Search me, O God, and know my heart; test me and know my anxious thoughts. Point out anything in me that offends you, and lead me along the path of everlasting life. (Psalm 139:23,24)
View Comments (18)
Do you understand the incredible depth of God's love for mankind? Psalm 139 tells us He knows every detail of our lives. He saw us and knew us before we were ever conceived. He thinks countless thoughts toward us. There is no place we could run from Him. There is nothing we can hide that God doesn't already know. In that context, David invites the Lord to search his heart, and examine his life. He asks the Lord to not only test him, but point out anything God would find offensive. 
David was not a perfect man by any means. But he learned that true repentance is a gift from God. We see this time and time again demonstrated in his life. Confession and repentance are a theme in many of the psalms he wrote. 
As Intercessors, I believe we understand Identificational repentance very well. If you do not understand this term, I will clarify. This is when we identify and repent for sins of our nation, even if we have never done what we are repenting for. An example would be Christians who have not participated in any abortion repenting for the bloodshed of abortion. A biblical example of this would be Daniel. Daniel identified the sins of the people, the idolatry and unfaithfulness to God as a nation and he repented for it. There are vast sins on a national level we can repent for. This is biblical and a good thing, but personal repentance is equally important and should not be ignored. When we repent on behalf of the nation or actions of others, the focus is outward. When we come before God and examine ourselves and repent, the focus is inward. 
Like many of you, I saw the livestream of Johnathan Cahn's "The Return" gathering. It was a blessing to see people come together and repent. I would say that meeting was mostly identificational repentance. It was for our nation. One thing the Rabbi said that struck me was this, "Confession is what you do on the way down, repentance is what you do when you get back up." When you know you have sinned and you humbly come before the Lord through conviction, you are confessing (admit your crime/sin) before the Lord. Repentance is when you get back up. The definition means to have a change of mind and turn away from what you have confessed. 
Telling God the same sin over and over is confession, not repentance, because we haven't turned away from our sin if we continue. Paul would call this worldly sorrow–feeling  sorry for sin, but not sorry enough to change our ways. Worldly sorrow does not produce lasting fruit. Paul in the same letter speaks of godly sorrow. He states that godly sorrow produces indignation, zeal, vindication. Worldly sorrow leads to spiritual death, but godly sorrow brings life.
The godly sorrow God wants us to experience leads us away from sin and results in salvation. There's no regret for that kind of sorrow. But worldly sorrow, which lacks repentance, results in spiritual death.
Repentance isn't a popular word today. If you preach repentance you may be branded a legalist or old fashioned, but repentance didn't end after Christ's resurrection. It is written throughout the New Testament. From the epistles written to the early church through Revelation (where the letters to the seven churches are), the Lord Jesus himself uses the "R" word with His churches. 
Repentance is the reality for Christians to live by. This is the inward focused type where a deep self examination is needed. I believe we as the Church have gotten away from this. Often, we are quick to point out the sinful ways of others, but slow when it comes to examining ourselves. When we are quick to call out others or point out Christians who don't "measure up" to our standards, what fruit is that producing?  When we are quick to pass judgment, we are in danger of judgment as well. Jesus said, "You will be judged by the same standard you use to judge others. The standards you use for others will be applied to you." (Mt 7:2) 
When we sin, we run to the Lord because we know he will hear and forgive. We know that we will find mercy and grace. Should we not extend that mercy and grace to others? What does the bible say about how to treat other believers who have sinned?
Dear brothers and sisters, if another believer is overcome by some sin, you who are godly should gently and humbly help that person back onto the right path. And be careful not to fall into the same temptation yourself. (Gal. 6:1)
This verse in Galatians reminds us how to treat believers who are struggling with sin. It says we should help that person back on the right path. It also says be careful not to fall into the same temptation. We must be careful not to condemn someone who has fallen into sin. This verse clearly says "gently and humbly" help this brother or sister. When we are condemning we place ourselves in danger of falling into that very same sin. 
Repentance is a gift. Romans 2:4 tells us the kindness of God leads us to repentance. The Holy Spirit convicts us when we sin and draws us closer to God. True repentance will always bear good fruit. It produces a deeper walk with God and a greater understanding of his love, mercy, kindness, and compassion towards us. True repentance leads us into a lifestyle of holiness, and holiness still matters to God. 
Pursue peace with everyone, and holiness —without it no one will see the Lord. (Heb 12:14)
I don't know about you, but I want to know God more. I want to walk closer with him now than I ever have.  Let's humbly come before the Lord and ask him to not only examine us, but expose any hidden thing within us. You may not even be aware of it, but the Lord is. He will reveal it to you if you ask. If you know that you are in some type of sin right now, but nobody else knows, now is the time to humbly come before the Lord. Confess what you've been holding onto and then repent. Turn away from it. Ask the Lord to give you the strength to let it go and He will. If you're reading this, there is no judgment on my part. My heart's desire is to see people be saved, grow in their relationship with the Lord, and see people who were once far off be restored. 
So then, surrender to God. Stand up to the devil and resist him and he will turn and run away from you. Move your heart closer and closer to God, and he will come even closer to you. But make sure you cleanse your life, you sinners, and keep your heart pure and stop doubting. Feel the pain of your sin, be sorrowful and weep! Let your joking around be turned into mourning and your joy into deep humiliation. Be willing to be made low before the Lord and he will exalt you! (Jas 4:7-10 TPT)
Lord,
I come before you and ask you to test me. Remove anything in me that offends you. Test my motives and my heart. Forgive me for being self righteous and pointing fingers at everyone else, while neglecting my own personal holiness. Forgive me for any unforgiveness or bitterness that I am still holding onto. Because you expressed ultimate forgiveness on the cross, I want to forgive those who've hurt me. Holding on to that has only brought more pain. I don't want to hurt anymore, so I release them (insert name/names ______) to you. Forgive me for trying to hide my sins, and cover it up. Even if no one else knows, you do. My sins are not and can never be hidden from you. So I confess (____________) to you. I don't want to do this anymore, but I can't beat this without you. I repent and renounce (____________) to you. Sever every tie that has me bound. I want to walk in the freedom that I have in Christ. He died for me, so that I may live for him. Give me strength oh Lord. Lead me and guide along the path of everlasting life. In Jesus name, Amen.
I urge you to take the time to read and pray over the following verses. Let God speak to you through them: Psalm 51, Psalm 139, 2 Corinthians 7:5-10.
Author Gloria Robles is a passionate intercessor with a prophetic voice for today. For more from Gloria, go to Spotify or Anchor to listen to her podcast Something To Share. (Photo Credit: Unsplash.)
Partner with Us
Intercessors for America is the trusted resource for millions of people across the United States committed to praying for our nation. If you have benefited from IFA's resources and community, please consider joining us as a monthly support partner. As a 501(c)3 organization, it's through your support that all this possible.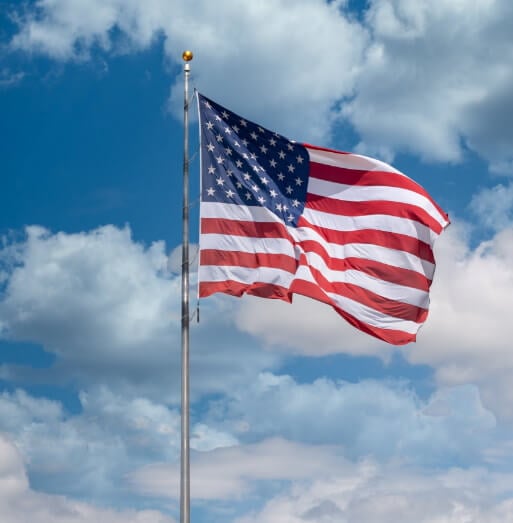 Become a Monthly Partner