PROPHETIC WORD – PIONEERS AND FORERUNNERS WILL SEE THE IMPOSSIBLE!
Lana Vawser
|
June 12, 2019
PROPHETIC WORD – PIONEERS AND FORERUNNERS WILL SEE THE IMPOSSIBLE!
Lana Vawser
|
June 12, 2019
I Prayed
have prayed
Lord we thank You that You are the Giant Slayer. Nothing is impossible for You, and we ask You to continue to bring breakthrough in our lives.
There is a strong wind of His Spirit blowing over those who feel like they have barely survived what they have been walking through. These ones have retreated into a cave, so weary, feeling the weight of circumstances and situations they have faced. These ones have become so battle weary of the "wave after wave" that has crashed over them attempting to knock them out.
For many they have been living in the place of "getting back up again" and ready to move forward and only to be knocked back down again. The Lord showed me a significant wave of opposition that has been coming against these ones and as I saw this I pondered in my heart why the wave of opposition has been so strong and relentless over them… that's when I heard the Lord's voice:
View Comments (12)
"MY PIONEERS, MY FORERUNNERS, WHERE YOU HAVE BARELY SURVIVED NOW YOU WILL THRIVE!!!"
The Lord showed me that many these pioneers and forerunners that have been facing such incredible onslaught when they have continued to move forward in faithfulness and obedience to the Lord, that the enemy has come against them because they are about to release the NEW WINE of His presence into the areas which He sends them.
These forerunners and pioneers are moving forward in a level of EMPOWERMENT that has not been seen before. They are being commissioned and empowered to do what they never thought they could do, and arise out of the IMPOSSIBLE.
THE IMPOSSIBLE TRIED TO CAGE THEM, BUT NOW THEY WILL SEE MY POWER DEFY THE IMPOSSIBLE
I heard the Lord say:
"The impossible tried to cage many pioneers and forerunners but now not only will they see My power defy the impossibilities in their lives and see the greatest breakthroughs of their lives, they will be sent forth moving in the empowerment of My Spirit to see Me DEFY and BREAK DOWN impossibilities THROUGH their lives."
"I am calling them the David's, I am calling them the GIANT SLAYERS!!!!"
"They have almost been killed and not survived the battle they faced with the giants in their land but IN that place they have found a level of dependency upon Me and My Word that is their greatest weapon and they are now arising as the GIANT SLAYERS! Overcoming the giants that have inhabited their lands for so long, those giants of stubborn resistance coming down and seeing the banner of victory, My victory risen in their land. They will go forth tearing down the giants inhabiting the lives of others in My name."
"The enemy thought he had taken them out, but all along what the enemy meant for their harm (Genesis 50:20), I was causing for their good, for these David's that are arising are SKILLED in the battle now because of the weapons that have been formed in their own battle, the place of INTIMACY. (John 15:4) The weapon of INTIMACY. They have stared death in the face, they have stared the giant eye to eye, they know what it is like to feel like they will not make it and where I become their only hope and option, they have battled for their destiny, for their anointing, for their mantle and to continue to remain faithful to all I have called them to and now they shall arise out of the ashes skilled in the battle with their greatest weapon, a depth of intimacy with Me that they have never experienced before. For My resurrection power is coming upon them to bring them up out of the ashes and stronger than ever before"…
(Read full word at Lana Vawser Ministries.)
Partner with Us
Intercessors for America is the trusted resource for millions of people across the United States committed to praying for our nation. If you have benefited from IFA's resources and community, please consider joining us as a monthly support partner. As a 501(c)3 organization, it's through your support that all this possible.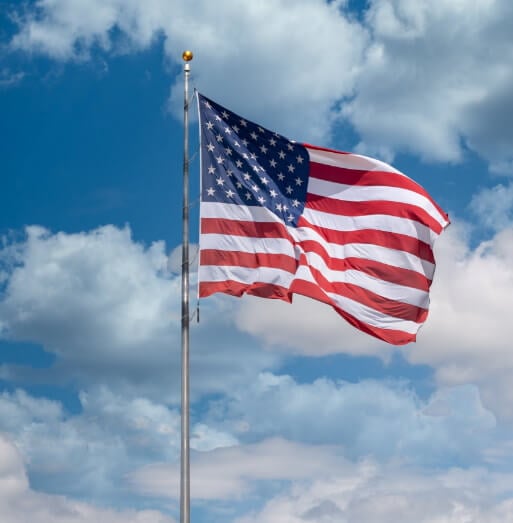 Become a Monthly Partner