Pray through Washington's Thanksgiving Proclamation
IFA Staff
|
November 25, 2021
Pray through Washington's Thanksgiving Proclamation
IFA Staff
|
November 25, 2021
I Prayed
have prayed
Father, we are grateful for Your hand on our nation--how we can see You working even in the midst of hard times. Let us look to YOU and not government for our provision.
Pray through this powerful and heartfelt proclamation, issued by President George Washington on October 3, 1789.  Let's pray this out loud as a declaration of God's mighty Hand that has been on our nation and its people from its inception. Let us be grateful! We encourage you to read this as a Thanksgiving declaration for TODAY.
By the President of the United States of America, a Proclamation.
View Comments (39)
Whereas it is the duty of all Nations to acknowledge the providence of Almighty God, to obey his will, to be grateful for his benefits, and humbly to implore his protection and favor– and whereas both Houses of Congress have by their joint Committee requested me to recommend to the People of the United States a day of public thanksgiving and prayer to be observed by acknowledging with grateful hearts the many signal favors of Almighty God especially by affording them an opportunity peaceably to establish a form of government for their safety and happiness.
Now therefore I do recommend and assign Thursday the 26th day of November next to be devoted by the People of these States to the service of that great and glorious Being, who is the beneficent Author of all the good that was, that is, or that will be– That we may then all unite in rendering unto him our sincere and humble thanks–for his kind care and protection of the People of this Country previous to their becoming a Nation–for the signal and manifold mercies, and the favorable interpositions of his Providence which we experienced in the course and conclusion of the late war–for the great degree of tranquility, union, and plenty, which we have since enjoyed–for the peaceable and rational manner, in which we have been enabled to establish constitutions of government for our safety and happiness, and particularly the national One now lately instituted–for the civil and religious liberty with which we are blessed; and the means we have of acquiring and diffusing useful knowledge; and in general for all the great and various favors which he hath been pleased to confer upon us.
And also that we may then unite in most humbly offering our prayers and supplications to the great Lord and Ruler of Nations and beseech him to pardon our national and other transgressions– to enable us all, whether in public or private stations, to perform our several and relative duties properly and punctually–to render our national government a blessing to all the people, by constantly being a Government of wise, just, and constitutional laws, discreetly and faithfully executed and obeyed–to protect and guide all Sovereigns and Nations (especially such as have shown kindness unto us) and to bless them with good government, peace, and concord–To promote the knowledge and practice of true religion and virtue, and the increase of science among them and us–and generally to grant unto all Mankind such a degree of temporal prosperity as he alone knows to be best.
Given under my hand at the City of New York the third day of October in the year of our Lord 1789.
Washington issued a proclamation on October 3, 1789, designating Thursday, November 26 as a national day of thanks. In his proclamation, Washington declared that the necessity for such a day sprung from the Almighty's care of Americans prior to the Revolution, assistance to them in achieving independence, and help in establishing the constitutional government.
Partner with Us
Intercessors for America is the trusted resource for millions of people across the United States committed to praying for our nation.
If you have benefited from IFA's resources and community, please consider joining us as a monthly support partner. As a 501(c)3 organization, it's through your support that all this possible.

Dave Kubal
IFA President
& CEO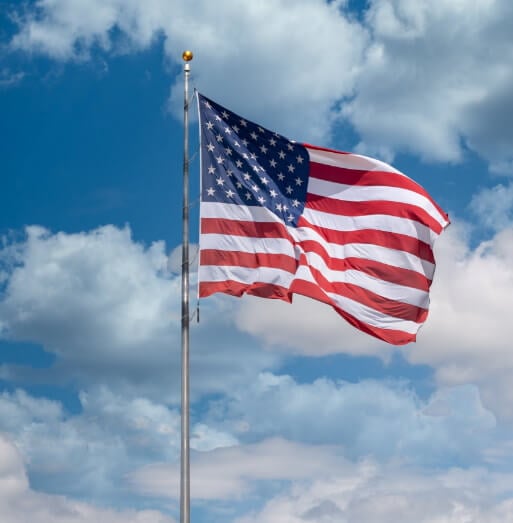 Become a Monthly Partner
You can post a prayer to share with others.
HENRY T
November 25, 2021, 11:32 am
Today, Thanksgiving is celebrated in the USA. Remembering that the pilgrims, 400 years ago celebrated this dinner giving thanks for the Provision in times of scarcity. Today we pray giving thanks for the prophetic word given to this great Nation, that the God in whom its first inhabitants trusted will not be ashamed nor will the evil one reign forever. We pray prophetically Isaiah 45: 1-3 "Thus says the Lord to his anointed, to Cyrus, whose right hand I have grasped, to subdue nations before him and ungird the loins of kings, to open doors before him that gates may not be closed: "I will go before you and level the mountains, I will break in pieces the doors of bronze and cut asunder the bars of iron, I will give you the treasures of darkness and the hoards in secret places, that you may know that it is I, the Lord, the God of Israel, who call you by your name." ‭‭Isaiah‬ ‭45:1-3‬ ‭ The 1st Ver. declares the call of "CIRO" (USA) AND ITS LEADERSHIP IN THE NATIONS, AND THE DOORS HAS BEEN IN ITS FAVOR, especially the door that was opened in 1948 and 2018 with ISRAEL, the door of the State and the door of David in JERUSALEM. The 2nd Ver. Declares what the Lord will do before your eyes. That we declare todat for you USA - EL SHADDAI, WILL STRAIGHTEN THE TWISTED PLACES - EL SHADDAI, WILL CRACK BRONZE DOORS - THE SHADDAI, WILL MAKE PIECES THE IRON LATCHES USA, CIRO: THE SHADDAI GIVES YOU THE HIDDEN TREASURES, THERE WILL BE KNOWLEDGE AND REVELATION IN SCIENCE LIKE IT HAD NEVER BEEN SEEN BEFORE, THIS IS ACCELERATING, IT WILL COME TO LIGHT SOON. This is because of Israel whom you have loved so much. AMÉN 🙏🏼
Alan V
November 25, 2021, 9:47 am
Father, we are grateful for Your hand on our nation--how we can see You working even in the midst of hard times. Let us look to YOU and not government for our provision. A government whose officers obey You is a beneficient one, passing Your blessings down by wisdom and humility. Governments whose officers seek their own instead of Yours invite disaster. Praise the God of redemption and restoration.
maria A
November 25, 2021, 7:11 am
Father, we are grateful for Your hand on our nation--how we can see You working even in the midst of hard times. Let us look to YOU and not government for our provision.