October 22, 2020 | Kim Potter, IFA Contributing Writer
Lord God, give us the courage to pray through the battle we face today. We pray that Judge Barrett would be confirmed as a justice of the U.S. Supreme Court.
During the nomination hearing of Amy Coney Barrett, a news article included a revealing statement of the spiritual warfare encircling this hearing. It is in regards to the moment when Judge Barrett held up a blank note pad (in the picture attached to this article we added "Are you praying for me?" to the blank pad–it was, indeed, blank) which revealed she had no notes in front of her. Republicans saw it as confirmation of her preparation.
The article shed light on an entirely different issue as they said, "Her progressive critics, however, who are legion, saw something else."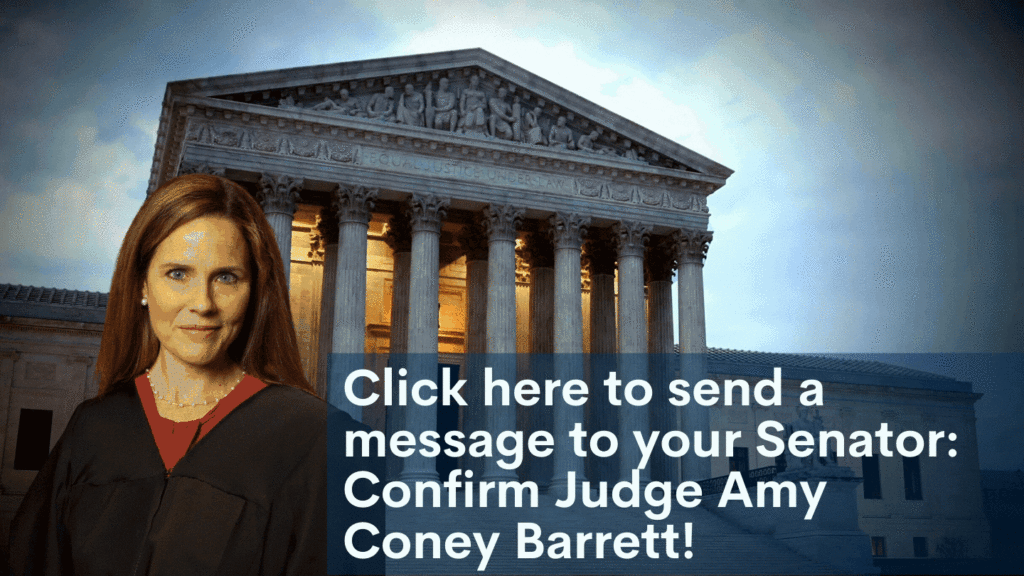 Where have we seen this word, legion, used in Scripture? Mark 5:1-9.
Then they came to the other side of the sea, to the country of the Gadarenes. And when He had come out of the boat, immediately there met Him out of the tombs a man with an unclean spirit, who had his dwelling among the tombs; and no one could bind him, not even with chains, because he had often been bound with shackles and chains. And the chains had been pulled apart by him, and the shackles broken in pieces; neither could anyone tame him. And always, night and day, he was in the mountains and in the tombs, crying out and cutting himself with stones.  When he saw Jesus from afar, he ran and worshiped Him. And he cried out with a loud voice and said, "What have I to do with You, Jesus, Son of the Most High God? I implore You by God that You do not torment me." For He said to him, "Come out of the man, unclean spirit!" Then He asked him, "What is your name?" And he answered, saying, "My name is Legion; for we are many."
A legion is defined in the Strong's Concordance as a body of soldiers.  In this passage of Scripture, it does not say exactly how many demons comprised the legion in this man.  It does, however say they entered into about two thousand pigs, which would lead us to surmise the number of demons present that day.
Legion is a military term. It is not the only time Scripture refers to spiritual battles using military terms. For example:
For we do not wrestle against flesh and blood, but against principalities, against powers, against the rulers of the darkness of this age, against spiritual hosts of wickedness in the heavenly places (Eph 6:12).

And war broke out in heaven: Michael and his angels fought with the dragon; and the dragon and his angels fought (Rev 12:7).
There is another biblical mention of "legion" that comes to mind. It is found in Matthew 26.
We are familiar with the story of when Jesus was arrested.  Peter, defending Jesus, cut off a man's ear.
"But Jesus said to him, 'Put your sword in its place, for all who take the sword will perish by the sword. Or do you think that I cannot now pray to My Father, and He will provide Me with more than twelve legions of angels?'" (Mt 26:52-53)
If legion is a military term, why is the media using this word to describe the critics of Amy Coney Barrett?
Why? By doing so, they are revealing more than their disdain for this nominee, they are revealing the presence of the spiritual battle taking place. We are at war.  It is a spiritual war and one in which we must stand firm.
How do we do that?
Therefore, take up the whole armor of God, that you may be able to withstand in the evil day, and having done all, to stand. Stand therefore, having girded your waist with truth, having put on the breastplate of righteousness, and having shod your feet with the preparation of the gospel of peace; above all, taking the shield of faith with which you will be able to quench all the fiery darts of the wicked one. And take the helmet of salvation, and the sword of the Spirit, which is the word of God; praying always with all prayer and supplication in the Spirit, being watchful to this end with all perseverance and supplication for all the saints. (Eph 6:13-18)
We are more than conquerors through Christ. And we must follow His example. He cast out demons with a mere word. We must rise up and do the same thing.
Legion is just a word, a name.  As we know, there is a name that is above every name that is named, it is the name of Jesus.  In that name, we will cast out demons, even legions.
The national correspondent for Yahoo News, Alexander Nazaryan, wrote in his article,
"Perhaps the most symbolic and telling moment of the Senate hearings on the nomination of Amy Coney Barrett to the Supreme Court came on Tuesday, when Sen. John Cornyn, a Republican from Texas asked about the notepad on the desk before Barrett. "Is there anything on it?" Cornyn asked.
I could not agree more, this was indeed, the most symbolic and telling moment. Amy Coney Barrett was prepared for the nomination battle. She was warring from the inside – not from prepared notes. She held up the notepad to show the senator it was completely blank.
The other telling moment, at least for me, was found in the statement, "Her critics, which are legion…"
When God reveals the root cause of something, He is providing us with the tools needed to defeat and remove it.  May we arise in this moment, cast out the legion and win our our nation for God.
Kim Potter is a writer and the founder of A New Thing Ministries, which sends a daily teaching to thousands of people all around the world. Her articles have appeared on The Elijah List, Charisma, Spirit Fuel and iBelieve.com. Kim's message is one of hope. She speaks to the heart of those who have grown discouraged or disappointed by the circumstances of life, imparting hope. For additional information, or to receive her daily writings, go to www.anewthingministries.com  (Photo Credit: Getty Images.)
How does this help you pray for Judge Barrett? Share in the comments . . .