JESUS SETS A FORMER TRANSGENDER FREE!
From Transgender to Transformed
|
June 8, 2021
I Prayed
have prayed
Lord, we thank you for who you are. You are a God that gives each one of us freedom in all ways. We pray over the LGBTQ+ community and that you would continue setting each one of them free by your precious love.
We loved reading this beautiful testimony from a former transgender that was changed by the radical love of Jesus. Below is her story.
I am a former transgender, having lived it for almost 9 years. I underwent years of cross-sex hormone therapy, 2 major "gender-affirming" surgeries, and all of the legal changes. . . .
View Comments (15)
I would describe myself as a disciple of Christ, but it wasn't always that way… I spent nearly twenty years of abject, intentional rebellion against God, nearly 9 years of which I lived as transgender. I hated God, I hated my family, and I hated the person I was. It wouldn't be true, though, to say I hated myself: I loved myself probably to the point of narcissism. I worshiped at the altar of self. The problem was, I worshiped who I wanted to be and who I believed I was, and not who God created me to be.
The thoughts and feelings started early in childhood from a misunderstood relationship with my mom, believing she loved boys more than girls because of how differently she treated my brother and I. She was extremely religious and exhausted herself trying to be the perfect Christian. But in the mean time was agitated, irritable, and often didn't want me around as I was hyper and likely on the obnoxious side.
To reinforce the sting, I learned my mom had miscarried two boys before me. When i excitedly said one day "Hey, if my brothers had lived we would have five kids", it was met with a devastating blow: "No, we only wanted to have three kids. You likely wouldn't be here if either of them had lived." I know this was meant to tell me how much God must have wanted me to be here. But i felt guilty. My brothers had to die for me to be born… I became even more confused when I was molested at the age of eight and became very sexualized.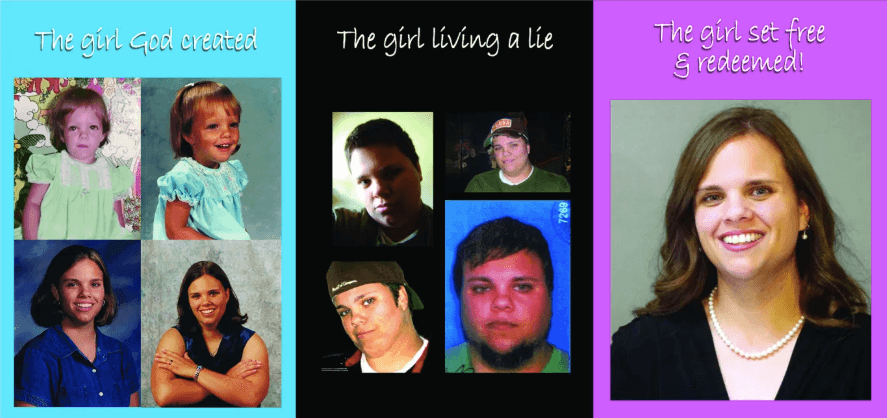 I spent the next 25 years trying to get fulfillment and love through sex. In high school as men objectified me (and women in general) more and more and I began to believe it was a disgusting, filthy, worthless thing to be a female, I decided that I was supposed to have been a man and began the journey of "transitioning".
But after years of hormone therapies, a double mastectomy/chest reconstruction, the removal of all female organs, and all of the legal name and gender status changes, I was empty and broken. I was devastated to realize that none of the changes I was making had actually made me a man, and I knew they never would. All I had done was change the outside. So then I felt trapped in a world between male and female. I truly believed I was not a woman, but I knew I could never be a man, no matter how badly I wanted it.
Instead, I lived in a world of lies, suspended in limbo between reality and fantasy. I wanted to erase the existence of Laura so badly that even after realizing I could not be a man, I decided to hide and pretend and be the "best man I could be" rather than embracing myself as a woman. It's funny: in the first months of my transition I often described myself before "coming out" as having been wearing a mask of a female identity, but that no one but me realized it was a mask. Just three years or so later, it was my transgender identity that had become the mask.
What had promised to be freedom had in fact become my prison cell. I soon became enslaved to wearing clothes that never fit right, injecting myself over and over with needles (hormones, not recreational drugs), and wearing prosthetics that were a constant reminder of how fake it all was. As the years went by God gently drew me back towards Him. He never let me forget who I was, no matter how hard I tried to forget. My mom refused to call me Jake and her stubborn insistence on calling me Laura was a tether to reality for me. At the time I hated it, but it became a lifeline.
Though my relationship with my parents had been almost non-existent for years aside from the occasional phone call or dinner meeting, my mom asked me one day to make a website for her Bible study that she was teaching. I agreed, though I had no interest in Bible study, because she agreed to pay me for it and I needed both the money and the experience. Little did I know God would crumble my walls of prideful defense that had kept Him on the outside for so long. As I read the words in the lessons (to make a summary for each one), the ice that encased my heart began to melt. For the first time in my life I began to see God's love and faithfulness in His Word.
Over the next few months I began to call my mom every day after work. She patiently answered my questions about the Bible. One day I said "Mom, how did I get here? Six months ago I was 180 degrees from where I am now. All I want is to learn more about the Bible." She said, "I have been praying that God would draw you back like a magnet." And that's exactly what He had done! What's more I realized that the angry, stressed-out, exhausted legalistic mother I grew up with, had been completely transformed, and her religion had been exchanged for real faith. She was now filled with the Holy Spirit rather than rules and fleshly attempts to please God.
And the moment I saw the complete regeneration in my mom, was the moment I knew that the gospel was true. Not just true intellectually, not just true historically, but that Jesus was indeed alive and that it was deeply and profoundly real. As a result, I whole-heartedly gave my life to Christ. But God wasn't through with me.
I wanted so desperately to be a man of God. And I tried convincing myself that God had intended me to be a man. Maybe it was a birth defect or something like that. I could not face the fact that I was a woman. But through Dr. Everett Piper, a man I heard consistently on the radio over the following months saying "We are not just made up of our feelings, instincts and inclinations. But we are made in the image of God and we can choose our behavior, despite how we feel." I didn't want to admit he was right. But I knew it was true.
And as I began to wrestle with this and admit that my lifestyle was a choice, the Lord began to reveal the ugliness and the insanity of being "transgender". He asked me one night: "If you stood before me tonight, what name would I call?" That question stopped me in my tracks. I had hoped so desperately that God accepted me as Jake. But then in the most loving voice I have ever heard, the Creator of the Universe whispered to me, "Let me tell you who you are."
I was hit so hard with conviction and I was so desperate to get out of the transgender lifestyle, but I was afraid it was too late. I had lived in complete stealth as I called it: no one except family and my partner knew I was transgender. I didn't know how to fix it.
So over the next month I cried out to God with all my heart, begging Him to take my life. Due to the conviction, I suddenly felt a break in the fellowship with God. Though I know He never left me, the peace and comfort was gone. I felt like I had fallen into a deep, dark pit from which I could not escape.
But when I was finally desperate enough that I was willing to do absolutely anything to be free, I had a clear vision of Jesus getting down on one knee, reaching into the pit with arm outstretch towards me and asked, "Do you trust me?" I knew He was asking me to leave everything and follow Him in faith. I said I did, and I walked away from everything I had known: my job, my partner of almost 9 years, my financial security, and my entire identity to follow Christ.
Over the next few days I cried uncontrollably. I felt completely dead. In fact, the first day, I went back to my apartment that afternoon. And after nearly a decade of being together, most of that in that apartment, my partner hugged me and I felt like i was in the arms of a stranger. And that night as we watched a movie in our living room, I felt like I was in a hotel room. I asked God what was going on and He said "I have cut the cord on your old life and you are not going back." As hard as that was to face, there was comfort knowing God was in control. It was still my decision, but I knew I would never have peace if I stayed.
So, the next day I returned to my parents house where I had agreed to live for the next few months while I transitioned back. But after three days I went with my mom to her Bible study. When I walked into the room I was met with more joy, hugs, and overwhelming love than I have ever known in my life from women I did not know. Those women had prayed for me for years and were so happy to see me come home. I was so overwhelmed with the love I received from women, affirming me and loving me as a woman, that my heart was completely transformed and the belief that I was meant to be a man vanished.
And the very next day we went shopping and I embraced buying feminine clothing. But there would still be a path to wholeness, to truly love being a woman.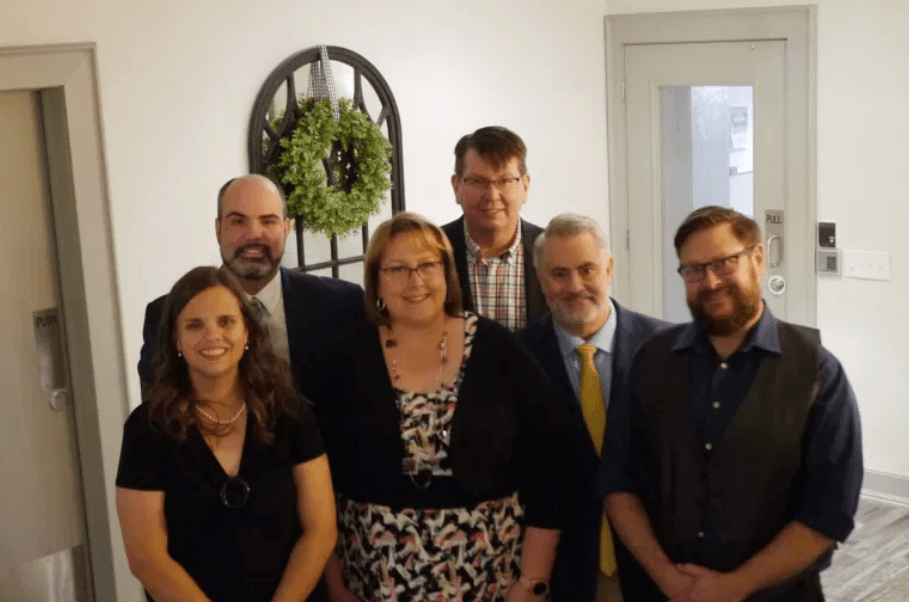 That was about three and a half years ago, and in that time God has peeled away the layers of the proverbial onion. He has helped me understand the causes and has healed me and brought forgiveness and wholeness to my heart. He has revealed His heart for women and how wonderful His creation of the woman is and how beautiful it is.
For the first time in my life, I not only love being a woman, but can truly see what a girl I was all along. Memories of my "girliness" have flooded back and i can see this is who I was all along. In fact, people are often shocked now at how feminine I have become, and it is no act. I have simply allowed God to peel off the false masculine that I had covered myself in.
As He says in Psalm 139:14-16 "14 I will praise thee; for I am fearfully and wonderfully made: marvelous are thy works; and that my soul knoweth right well. 15 My substance was not hid from thee, when I was made in secret, and curiously wrought in the lowest parts of the earth. 16 Thine eyes did see my substance, yet being imperfect; and in thy book all my members were written, which in continuance were fashioned, when as yet there was none of them."
A testimony is shared knowing that God can do it again. Share how this story touched your heart in the comments below!
(Used with permission. Read more at Transgender to Transformed. Article by Laura Perry. You can purchase the book at this link: https://transgendertotransformed.com/product/order-for-transgender-to-transformed-book/. Photo by Aaron Burden/Unsplash)
Video Links
See my mom and I share our testimonies together: https://www.youtube.com/watch?v=4G1gcgX50SM&t=162s
See a short CBN version of my testimony: https://www.youtube.com/watch?v=ucdLlJi8j50&t=23s
See a video I made called "Can You Be Transgender and Christian?" https://www.youtube.com/watch?v=IWXn9oTZ6dQ
Partner with Us
Intercessors for America is the trusted resource for millions of people across the United States committed to praying for our nation. If you have benefited from IFA's resources and community, please consider joining us as a monthly support partner. As a 501(c)3 organization, it's through your support that all this possible.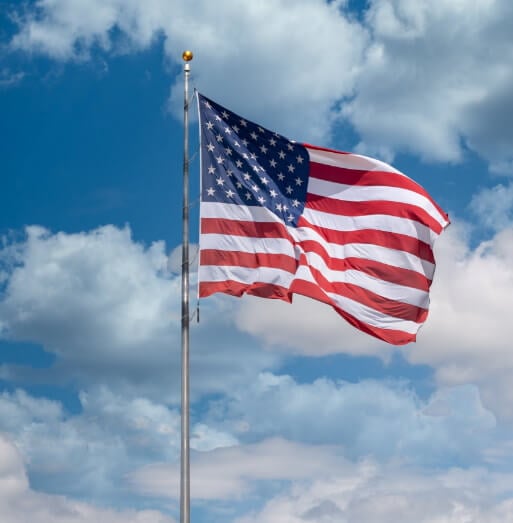 Become a Monthly Partner