PROPHECY AND TESTIMONY: IS THE GAVEL ABOUT TO STRIKE?
October 27, 2020
PROPHECY AND TESTIMONY: IS THE GAVEL ABOUT TO STRIKE?
October 27, 2020
Pray
have prayed
Father God, we ask You to destroy the stronghold of power that the enemy has on America.
This story is true. It is a story of a personal battle and victory. But it is also a story that mirrors our national battle. My purpose is to identify the steps in my battle and victory, and then relate it to the current spiritual war we are in for the soul of our nation.
I was married, but in a difficult relationship.  We had two small boys.  One night I had a dream.  I was in a courtroom.  The judge was sitting in front at his bench.  I was on one side of the room and my wife on the other side facing the bench. The judge banged his gavel and said "I give full custody of the children to the husband."  I woke up, bewildered.  I was still married.  I simply tucked this dream away in my memory.
It was a Friday, maybe a month after I had the courtroom dream.  I was at work and could not keep my mind on my daily activities. I sensed something wrong and left at about 3 pm to my troubled home.  I pulled into the driveway and walked up to the front door.  I opened the door, and was hit with this odd smell of sulfur. As I looked around, I saw certain pieces of furniture missing.  I ran into the boys' room and found it completely empty, bunk beds and dresser gone. My first thought was, "The thief does not come except to steal, and to kill, and to destroy." (Jn 10:10a) My wife had left with no warning, with our boys, and emptied the bank accounts. So began my journey into a living hell for next 2 years.
I want to back up here and discuss what led up to this bizarre behavior.  We had been part of a church for many years.  They hired a man who ran a counseling ministry.  He didn't last long; when he left he started his own church.  It was a small congregation, consisting of maybe six couples and a couple dozen or so single people.  My wife wanted to switch to this group and I agreed reluctantly. We had been struggling with issues in our marriage and I thought it was a good idea to go along with the switch to keep the peace.  For about six months I embraced the teaching, as frankly I was desperate for the marriage to improve. There were some good points taught, like respecting boundaries and understanding codependency.  But the teaching was rather self-centered rather than Christ-centered. It seemed to appeal to the women—giving them "permission" to focus on themselves, which included much time away from the home. The lack of time spent on the family with small children and a husband working full time put a big strain on our relationship.  This struggle was also occurring in the other marriages in the group.
The women were particularly affected and very loyal to the leader.  My relationship with my wife became very strained; it was impossible to discuss any issues with her.  She learned lingo and used words inappropriately.  If I  disagreed with her, I was "abusive."  If I voiced my concern over the time spent away from home, I was "shaming" her.  Basically, in her mind she had free rein to do anything she wanted, and if I stood in the way, I was at fault.  There was no emphasis on personal responsibility.  Every time an issue was brought up, the conversation was turned back on me and I was the problem. It became impossible to even carry on a decent conversation.
During my quiet times in prayer I began to understand that I was in a spiritual battle.  I was not fighting against people, but unseen forces that had deceived them (Eph 6 :12).  I began to intercede and realized I had been compromised when I embraced the teachings. It was like the demonic had somehow oppressed me. I called out to God and asked him to deliver me from these spirits that were tormenting me and forgive me for getting involved. He did.
I then saw three spiritual forces working in unison— spirits of deception, perversion, and witchcraft. I began to understand how each one was working in this cult. Deception uses trickery and lies to fool the person.  You start in truth and each day you take one step away from it. Over time you become very far away from the truth, but you are not aware you have even strayed. Perversion took the biblical view of marriage and made it something very different and sinister.  No longer were the two to become one.  No, this spirit defined a new type of relationship disjoining the couple and somehow justifying it.  Witchcraft was used by the leader of this cult to control the weak to get them to honor him and his teachings.
The Monday after my house was cleaned out, I was served divorce papers and a restraining order to stay away from my wife.  This was a ploy to try and make it look like I was the bad guy, as there was absolutely no history of any kind of abuse whatsoever.  I was forced to enter into our justice system.
I was frantic to see my two boys, ages 4 and 7. It takes time and money to maneuver through the courts.  I finally was able to see them every other weekend.  When I saw them, I was overjoyed to hold them and spend time with them.  But when I began talking to them, I became very upset and even overwhelmed. The cult had taken them in and put all kinds of false notions in their heads. Talking to them was like talking to my wife.  I could see the spiritual hold these demons had on them.  To see your own children affected this way something I hope I never have to experience again.  It was horrifying.  I prayed to God and asked him to deliver them out of this hopeless situation.  Basically, their little minds were being brainwashed to see me, the father, as an abusive man.  I asked Him, what do I do?  He showed me to love them when I see them and gently speak truth to every lie that comes out of their mouths.
I started praying every day at lunchtime.  I would leave work and go down to the bank of a river close by and I would pray in the Spirit and pull down these strongholds over my two boys. I would also pray that this evil cult would be destroyed.  I tried over and over to talk to my wife to get her to stop poisoning the minds of my kids, but to no avail.  She would not talk to me about anything.  I did not want to affect the relationship the kids had with their mother, but at the same time I knew something had to change in our relationship.  It could not go on this way, as it was causing so much emotional pain for my kids, especially the oldest.  I formulated a plan to try and get custody until she could see how damaging her behavior was to our kids.  I knew that this would not occur unless the control of these spirits was somehow removed, so I kept praying.
I confronted the cult leader.  I told him God showed me if he didn't stop what he was doing every single married couple in his group would be divorced.  I told him he was a false teacher and was being led by evil spirits.  He excommunicated me from his church!  I told him to keep his hands off my children and stay away from them and left.
I became exhausted dealing with the divorce and custody legal proceedings. I made it clear to my lawyers that I did not want my children to associate with this group of people. Family Court Service conducted a halfhearted, inconclusive investigation of the group.  But with my insistence, the children were forbidden to be around anyone in the cult. Unfortunately there was not likely to be enforcement of this action.
This battle had now intensified to where I was the enemy pitted against my wife, the cult leader, and others in the group. They called good, evil and evil, good.  I was praying my heart out, seeking God, careful of every word I spoke, and yet I was called Satan.  What a bizarre situation I found myself in.
In talking to my oldest son, it became clear to me that the cult was involved in the radical decision to clean out the house and take everything.  When I realized I had been played by them, it was all I could do to not seek revenge. (Romans 12:19)
Many months passed but I kept praying.  I was also experiencing major financial hardship which made the situation more difficult. To add to that, I lost my job. I was financially sinking and now had no income. The Lord helped me by showing me to only focus on the next task ahead and not on tomorrow, for he would take care of me.  Miracles literally got me through.
Finally, more than one year after the ordeal began, a court date was set to discuss custody issues.  As I was walking to the court house with my lawyer, he said to me, "Mike, I think you need to understand that the courts don't usually give custody to the husband."  I said, "I am not going to think about that.  I know what's best for my children and God knows my heart."
We walked into the courtroom and took our seats. The judge listened to testimony from Family Court Services.  The judge listened to my wife's lawyer, then my lawyer.
He banged the gavel to get everyone's attention, then said "I give full custody of the children to the husband," the exact words I had heard in my dream well over a year ago.
My lawyer was stunned, my wife broke down crying, I said, "Thank you, Jesus."  But the most significant thing about this event was that the spiritual control over my family had been broken.  I went over to my wife and said, "Look, I don't want to take the kids from you forever. You must understand that I love them too and my role in their life is very important. From this day forward you must honor my role in their lives and stop making my life with them so difficult."   She saw them once a week under supervised visitation.  It was a very humbling time for her.  After about 2 months we went back to court and she agreed to work with me and not do anything to harm my relationship with my kids.  We then agreed to joint custody.
What happened that day was the culmination of a year-long battle where prayers were sent up to the heavenlies, and that in His time, these prayers were released in force to bind the strongman and allow truth to rein.  God dealt a devastating blow to the demonic forces to turn the tables.  No longer did the enemy have the upper hand.  I could sense those spirits were not a part of my life or the life of my children any longer.  Most importantly, my wife finally changed her view of me and accepted me as an important person in the life of our kids.  Without the control of those spirits, I could now try and rebuild what the enemy had stolen.  God had answered my prayers.
Another consequence of that day was the tide began to turn on the cult. The seeds of division had been sown and consequences reaped.  Every marriage ended in divorce. The cult leader was caught in an inappropriate relationship and his wife divorced him. He eventually left town. It is amazing the destruction and emotional trauma one man cause when used by the enemy.
There is so much more to this story I could tell, but suffice it to say, that God did restore all that I lost, my boys are now 33 and 36, married, and we have a great relationship.
My story demonstrates how spiritual warfare can defeat an enemy, changing events to bring glory to God and bring His Will to our world.  God restores.
The Battle Raging in America
I want to now turn to our current situation in our country, right before what might be the most critical election in our history.
We are locked in a spiritual battle. We all sense that something is very wrong.  Good is called evil and evil is called good. Truth is hidden and bad people in high positions are using their power to control those they do not like. The media has gone off the rails and is now an arm of the opposition party, using every method they can muster to deceive the American people and further their agenda. They have succeeded in deceiving millions of people. When you try to talk to those that are deceived, you find it impossible for them to listen to reason. It's like their minds have been taken over by some sinister force. It's like they are in a cult. We see hatred and chaos manifested. We have a President seen by some as a warrior leading the fight into this fray and others see him as the enemy. Sound familiar?
For decades the enemy has gotten a foothold into our society. He has infiltrated our government, our education system, our business community, our media and entertainment, our religion, and our family.  I believe a demonic structure has been set up to fundamentally change our country. Tyranny has been placed over our nation and is directing spirits of deception, chaos, violence, perversion, and many other demonic forces to do his will. It feels like all hell is being thrown at our nation with the purpose of radical transformation opposite to that of freedom and liberty. The President is at the center of this attack. A veil of evil has enshrouded our country.  Only through prayer and action can this veil be broken.
In 2016, I sensed God calling me to pray for our country.  As I began to pray, I realized, just as before, that a spiritual battle was brewing and I was to be a part of it.  This battle would have epic proportions and complexity. I knew that my experience would be useful. God was telling me to gird up because I was going into battle.
Four years have gone by and now we are at a very critical cross road.  We all sense that this election will determine the ultimate fate of our country.
We at IFA have been faithful in our efforts to engage this enemy appropriately. The events over the last four years have been covered extensively.  The call for prayer has been constant each time enemy activity has been identified.  Prayer warriors and faithful intercessors have responded to these calls.   Intercession has been a constant activity among many people. We have also heard reports of outside groups praying, even people from other countries.  There has not been such a mobilization of prayer in our lifetime.
If one man praying for one year can destroy the demonic influence over his children and his life, what can millions of people praying for 4 years and even more do in our current situation in our nation?  I have seen what God can do in impossible situations. I believe God is going to honor the prayers of his people to give us a chance to turn this nation around.
I want to now explain how I see these prayers are going to be used to defeat the enemy. To make any kind of lasting change in our country, the demonic network must be defeated.  Their power must be neutralized and their control removed from our institutions and the people of our nation.  Every prayer that has been given for the restoration of our country is now in the possession of our Heavenly Father.  He has them all.  When the right time arrives, and the number and quality of prayers are adequate to overcome the forces of darkness, the Creator of universe, the ultimate judge, will strike his gavel and send forth a proclamation.  The spiritual power contained in the prayers will be a powerful force of destruction directed at the enemy.  It will neutralize and remove the influence of them over our nation.  It will not change the physical, but it will change the spiritual structure. This will allow a more unbiased playing field. It will give us a chance to clean up the mess of corruption and root out the evil that has taken hold of our government.  This will spill over to the other institutions in our society. No longer will we be the ones on defense.  No, the enemy will be on defense and be overpowered, because his power over our nation will be destroyed. Will he kick and scream? Absolutely, but his control will be over. Slowly, we can rebuild and restore our nation.
It's been a long battle but keep praying and believe!  Our prayers our precious to Him. You are precious to Him.  
(Michael Guidera is an IFA intercessor, retired from a 35 year career developing implantable medical devices that have brought help and relief to thousands of people. Photo by Bill Oxford on Unsplash)
Partner with Us
Intercessors for America is the trusted resource for millions of people across the United States committed to praying for our nation.
If you have benefited from IFA's resources and community, please consider joining us as a monthly support partner. As a 501(c)3 organization, it's through your support that all this possible.

Dave Kubal
IFA President
& CEO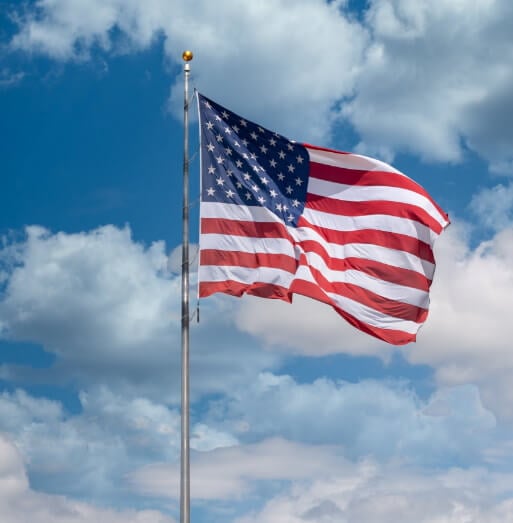 Become a Monthly Partner