October 17, 2020 | Aaron Mercer, IFA Contributing Writer
Lord, we pray for Roe to fall and life to be embraced.
Is Roe v. Wade — the pivotal ruling for abortion-on-demand in the U.S. — a "super-duper precedent" for the U.S. Supreme Court?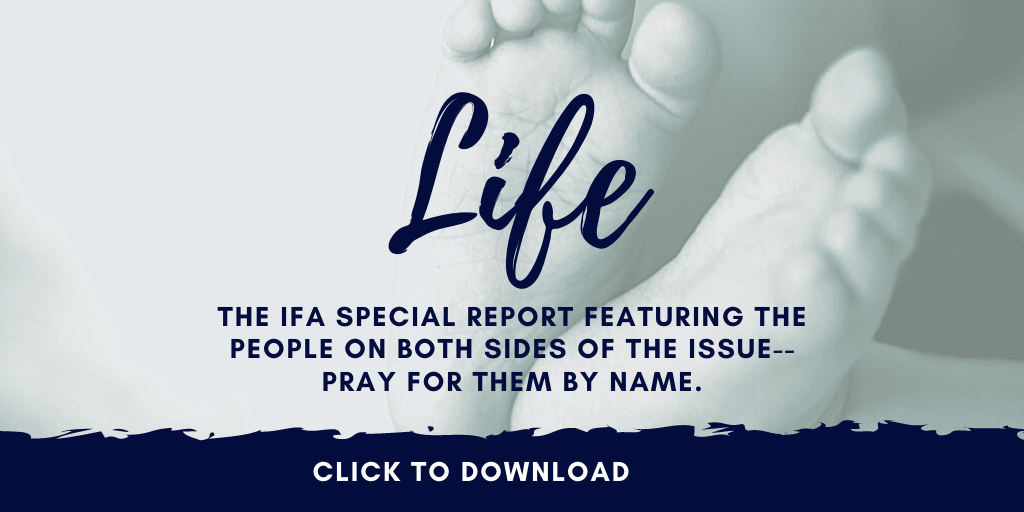 That was a term Senator Arlen Specter used 15 years ago during the confirmation hearings of Chief Justice John Roberts. Specter, a Democrat-turned-Republican who would again turn Democrat, held up a poster emphasizing the numerous times the Supreme Court had relied on Roe after 1973 and essentially asked if it was untouchable.
It's a question that has become popular among "progressives" in such hearings. Senate Democrats seem to enjoy pressing nominees about "super-precedents," and Judge Amy Coney Barrett is no exception. What was interesting was how brilliantly Barrett responded. Assuming for the moment that "super-precedent" is even a reasonable category, Barrett was clear that Roe was not one.
Judging by the major media outlets' reactions, progressives must have felt like they scored big. They had found Barrett out! They could prove her secret agenda that would eclipse upholding the rule of law!
But Barrett was simply pointing out what should be common sense.
"I'm answering a lot of question about Roe, which I think indicates Roe doesn't fall in that category," she told Sen. Amy Klobuchar (D-Minn.).
In a Texas Law Review article, Barrett had pointed to some landmark cases that are no longer seriously questioned like Marbury v. Madison (1803) that established judicial review and Brown v. Board of Education (1954) outlawing racial segregation. If there were such a thing as "super-precedent" then they would fit that category.
Roe, which has been challenged repeatedly since its tragic beginning, does not fit that mold.
And then, of course, there is the question of what a "super-precedent" actually is. As Barrett suggested, it is a term that means different things to different people and was developed by academics who are  "certainly not conservative scholars" and "take a more progressive approach to the Constitution."
While stare decisis is a doctrine ensuring respect for previous decisions to safeguard stability in our legal system, it does not mean that rulings are sacrosanct. How else could we have arrived at key cases like Brown? That case reversed a precedent of nearly 6 decades heeding to the morally groundless "separate but equal" doctrine of Plessy v. Ferguson (1896).
Unfortunately, "super-precedent" seems to be more about cementing the Left's favorite decisions. They are quick to declare rulings like Roe and Obergefell to be "settled law" beyond question. Meanwhile, precedent set by Hobby Lobby and Little Sisters — cases thwarting coercive progressive priorities — are cast as illegitimate outrages.
During his confirmation process, Justice Neil Gorsuch was also repeatedly pressed about "super-precedents." In a National Review article at that time, commentator David French observed, "The Left makes up a new legal doctrine with the same enthusiasm that it made up the right to abortion. There is no 'super precedent.' There is only precedent, and Roe is one precedent that cannot and should not withstand the proper application of law or logic."
Amen. Are you praying for the fall of Roe? May a culture the truly honors life and respects the rule of law prevail.
Aaron Mercer is a Contributing Writer with two decades of experience in Washington, D.C.'s public policy arena. He reflects on faith, technology, and the public square at FTPolicy.com. (Photo Credit: Getty Images.)
"Before I formed you in the womb I knew you, before you were born I set you apart; I appointed you as a prophet to the nations." (Jeremiah 1:5)