INVESTIGATION TO HAPPEN IN FULTON COUNTY, GA?
From Just The News
|
July 19, 2021
INVESTIGATION TO HAPPEN IN FULTON COUNTY, GA?
From Just The News
|
July 19, 2021
I Prayed
have prayed
Lord, we pray that you would uncover any lies that are being hidden in regards to the election and that the truth shall prevail.
Georgia's Speaker of the House David Ralston is demanding an investigation to "determine if any irregularities or willful fraud occurred" in the state's largest metropolis last November, saying recent revelations about problems with vote counting in Fulton County merit an independent probe.
Ralston sent a letter late last week to Fulton County election officials requesting that the Georgia Bureau of Investigation be allowed to conduct the investigation.
View Comments (1)
The request comes after Just the News reported last month that an independent observer for Georgia Secretary of State Brad Raffensperger noted two dozen pages of irregularities in the Atlanta vote counting center last Nov. 3, including double scanning of ballots, insecure transportation of ballots and possible voter privacy violations.
Raffensperger told Just the News he believes the problems in Fulton County are so extensive that the state should take over running elections in the Atlanta area.
Separately, a watchdog group called VoterGA, which won court access to absentee ballot data, said last week its review found that Fulton County's hand count audit of the November election was riddled with "massive errors and provable fraud."
Ralston said the recent reports of problems require a "thorough examination and explanation."
"Given the seriousness of this situation and the possible repercussions for our state and nation, it is time we have an independent investigation — once and for all — of the way in which Fulton County conducted, counted and audited the November 2020 Presidential Election," he wrote in his letter. "To that end, it is my urgent recommendation that your office request that the Georgia Bureau of Investigation conduct its own, independent forensic investigation into the November 2020 Presidential Election in Fulton County.
"The GBI will follow the evidence wherever it may lead to determine if any irregularities or willful fraud occurred. The professionals at the GBI have the expertise and resources necessary to perform such an investigation. Furthermore, as sworn law enforcement officers, they have the trust of the public to ensure that the law was followed."  . . .
Vernon Jones, a former Georgia Democrat and Trump supporter now running for the GOP nomination for Georgia governor, said Sunday that Ralston's request was welcome but came too late and doesn't go far enough. Jones has been calling for a statewide audit of November's election results.
"I am glad to see Georgia Speaker of the House David Ralston and others are finally calling for a GBI investigation into the fraud being uncovered in Fulton County," Jones said. "But, as I have been screaming from the rooftops for months, we need a forensic audit in all 159 counties in Georgia."
While it is not clear how the pathway to citizenship would work, past legislation introducing pathways for farmworkers would have made workers eligible if they had worked 400 days or more in a five-year period and passed background checks and included seasonal or temporary work.
Democrats have previously pushed for pathways to citizenship for "essential workers," calling for President Biden to include such legislation in a prior spending package. At that time, they defined the term broadly – including those who work in sectors such as health care, emergency response, sanitation, restaurant ownership, food preparation, hotel or retail work, landscaping, construction, nanny services and janitorial services, as well as those operating laundromats.
It is also unclear how many illegal immigrants could be given a pathway to citizenship in such a bill, or what the requirements for them to meet would be; typically similar legislation requires background checks and some fees but often offers immediate residency or protection from deportation. However, the number who could be eligible would certainly be in the millions.
Similar Democratic efforts to get a broad pathway to citizenship have stalled due to a lacking in GOP support, which is typically needed to get bills through. Even Republicans who are open to such legislation have balked at the idea of doing so in the middle of a crisis at the southern border. . . .
The Democrats have a slim majority in the House, and there is a 50-50 split in the Senate. Because this is a budget resolution bill, the legislation can be passed with only a simple majority and avoiding any GOP filibuster. That would only require the bill gain 51 votes to pass — with Vice President Kamala Harris casting the deciding vote in the case of a tie.
This means if Democrats can stay united, the bill can pass both chambers. All eyes are therefore on Democrats in tight House districts, and on moderates in the Senate like Sens. Joe Manchin, D-W.Va., and Kyrsten Sinema, D-Ariz.
Do you think an investigation will happen in Fulton County? Let us know your thoughts and prayers for America in the comments below!
(Excerpt from Just The News. Article written by John Solomon. Photo by by Elijah Nouvelage/Getty Images)
Partner with Us
Intercessors for America is the trusted resource for millions of people across the United States committed to praying for our nation. If you have benefited from IFA's resources and community, please consider joining us as a monthly support partner. As a 501(c)3 organization, it's through your support that all this possible.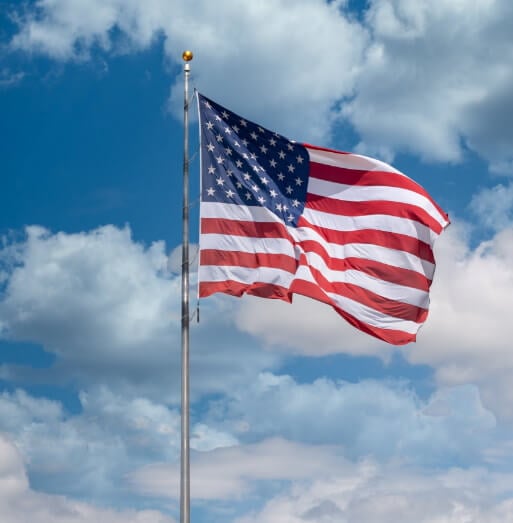 Become a Monthly Partner