Intercessors, Reconsider Your Boundaries
Jamie Rohrbaugh, IFA Contributing Writer
|
December 12, 2021
I Prayed
have prayed
Father God, I want to be effective in Your harvest field. Please show me any ways in which I have gotten outside my assignment from You. Help me to stay in my lane and run the race You have set before me without getting off-track. Thank You, Father. In Jesus' name.
Dear intercessor, are you frustrated today on your intercessory journey? Do you feel like you're stuck trying to pray for people and help them—but it feels like you're taking one step forward and two steps backward?
If so, I want to encourage you today to reconsider your boundaries.
View Comments (19)
Intercessors are called to effect change. We do that most often through our prayers and declarations. However, sometimes we may feel the Lord leading us to intervene in practical ways to help people as well. You know: that thing about not saying "Depart in peace; be warmed and be filled" without doing anything about it.
But practical intervention can be frustrating sometimes when we don't see the results we imagined we would see.
Because of this, over the years I have established boundaries both for myself as a minister and for my ministry. I wanted to share them today in case they will help you evaluate your own boundaries to see if you are sowing time or effort where it's not bearing fruit.
Here is what I decided a long time ago for myself:
My goal is to build up, comfort, and encourage believers in Christ–people who want to know Him more.
This doesn't exempt me from leading people to saving faith in Jesus, and I do that as well. However, my primary call is to disciple believers and help raise them up into victory, POWER, and holiness. My goal is to equip people to labor in God's harvest field in whatever way they are called.
I always want to help everyone, but the fact is that I can't.
The same way that your message and calling aren't for everybody, neither are mine. Some people love what I have to say, and other people hate it. And awhile back, I came to realize very specifically who I actually can help–and who I can't–through a frustrating ministry experience.
Here's the story:
I was asked to minister at a certain place and time. So, I prepared and showed up to minister. I had a good word and things on which I really wanted to challenge the people. But … I couldn't.
Why? Because some of the people had such a small view of God that they couldn't receive more. They couldn't believe for more. They verbalized practically zero interest in being the violent ones who take the Kingdom by force (Matthew 11:12) or in actually DOING things purposefully for God. They wanted faith, but didn't care about turning faith into works–and faith without works is dead (James 2:26). You have to have both!
And you know what?
It's their business if they want to stay there. But I can't do that; I can't identify with it; it annoys me; and people in that position can't identify with me or receive from me, and I probably annoy them, too. L
In thinking and praying about this, something that my pastor and mentor always says came to mind.
My pastor, Pastor Judy Jacobs, always says that you have to find people to run with that are of like faith, like spirit, like destiny, and like anointing. And you know what? She is dead-on right. And as a result of much study and prayer, I finally decided that I no longer want to try to run with folks who don't want to run.
Here's what that meant for my ministry:
When I decided on these boundaries, I identified the characteristics of the people I believe I can help. I decided that I can help:
People who desire victory, even if they haven't totally gotten there yet–but they're trying or willing to try;
People who desire victory, but don't know how to get there–but they're willing to learn and do what it takes;
People who are willing to be aggressive to take the Kingdom of Heaven by force–even if they're not there yet, but they want to be;
People who are already aggressive to take the Kingdom by force;
People who love the Presence of the Lord–and are willing to ACT upon His commands;
People who want to take nations for Jesus (see the Great Commission);
People who desire to give and be generous to others–even if the "others" has nothing to do with our ministry. (Because funding outreach projects and projects to care for hurting, broken, worn-out, depressed pastors in need is part of what we do. It's Kingdom work and, if you can't love that ministry, you can't love our ministry.)
People who are willing to invest in their own spiritual growth.
People who are teachable.
But I cannot help people who:
Expect to be spoon-fed and refuse to put forth even the smallest effort to help themselves;
Think that it's okay for them to sit around on their blessed assurance year after year and do NOTHING to grow in God;
Have zero desire to ever become equipped and minister themselves.
Send me nasty, hateful emails to tell me how wrong they think I am about whatever the topic of the day is;
Think I'm in league with demons because I operate a 501(c)3 charitable organization;
Have no desire or heart to give to God, to their local church, to people in need, or to this ministry–right where they are now (not waiting until some unknown future date when they hope their proverbial ship will come in);
Think everything in ministry should be free; or
Aren't teachable.
I identified these key differences between people I can help versus people I can't help based on:
The Word of God, the Bible;
My calling and life message;
My personality; and
My spiritual gifts.
Plain and simple, the prophetic words, teachings, prayers, and equipping that I offer CAN benefit lots and lots of people (by the power of Holy Spirit, of course). But, there are people that I just will not be able to help, no matter how much I love them and no matter how hard I try—even if the reasons for not being able to help them are not bad in any way (e.g. if I just don't have the knowledge they need).
God didn't call me to waste time. He didn't call me to frustration. He called me to run with endurance the race that He set before me—not to try and run someone else's race. Someone else will be able to help the people in the group I can't help; it just won't be me.
Beloved, creating these boundaries for myself made all the difference for me both as a minister and as an intercessor—and I encourage you to do the same.
The fact is that there are some people you can help with your message. Your life experience, your calling, and your spiritual DNA will be a great blessing to lots of people! However, there will also be people who simply can't receive from you. For example:
Their DNA may not be the same;
They may not understand the Word the same way you do;
They may view the world from a paradigm or stronghold that prevents them from receiving;
They may be at a level of maturity that is too far behind or above yours; or
They may have such personality differences that you just rub them the wrong way.
Whatever their reasons may be, beloved, I want to challenge you: Don't waste your time trying to help people who refuse to be helped by you.
It's sad, but it's true: Sometimes we intercessors think of ourselves as being the saviors of humanity.
But the fact is, Paul wrote that he planted, Apollos watered, and GOD gave the increase. We all have our part, but only Jesus Christ is the Savior of the world. Only Holy Spirit can convict and change people. And too often, after we pray, we set about trying to do His job …
… Only to fail spectacularly.
Beloved, it doesn't have to be this way.
You can't impart hunger. You can't make someone teachable. You can't make them humble. You can't call them to care about a topic you care about if God didn't already call them to it.
Love everyone, yes. Pray for them, yes.
But beloved, in order to be optimally effective in our intercessory call—and in order to avoid frustration—we have to ask the Holy Spirit to help us make Biblical, godly, appropriate boundaries regarding who, how, when, and what we try to help.
In my backstory above, I wasted hours trying to help people who didn't want to be helped.
I was trying to teach people who didn't want to be taught. I didn't know that would be the case when I got there. I didn't know these people for the most part. They weren't all like that, either–but 80% of them were. And the world is too big, and the Kingdom is too big, and there are too many people who ARE hungry, that I CAN help by the power of Holy Spirit–that I'm not going to waste time like that again.
Beloved, time is short. Jesus is coming soon, and the hours of the day are limited. Your calling is important to the world and the Kingdom.
God needs YOU to take your place—not to waste your effort doing something He didn't call you to do, just because you love people who cannot receive you.
I understand the tendency to try to help everyone with everything. I understand the tendency to never say no. However, I challenge you to reconsider your boundaries (or lack thereof) today. Are you being truly effective in the Kingdom?  Are you running in the lane to which God called you?
If not, what will you do about it? How can you "niche down" your target ministry field so you are not "casting your pearls"? Leave a comment below!
Jamie Rohrbaugh equips people to walk in the manifest presence of God. She blogs for a global readership at FromHisPresence.com, where she writes about prayer, the prophetic word, living supernaturally, inner healing, and Kingdom wealth. She is a frequent contributor to Charisma Magazine, The Elijah List, Spirit Fuel, and various other ministry outlets. Her podcast, Take Your Territory with Jamie Rohrbaugh, can be found on iTunes and Spotify. Read her free blog series of encouraging Letters to Pioneers here. (Photo Credit: .)
Partner with Us
Intercessors for America is the trusted resource for millions of people across the United States committed to praying for our nation. If you have benefited from IFA's resources and community, please consider joining us as a monthly support partner. As a 501(c)3 organization, it's through your support that all this possible.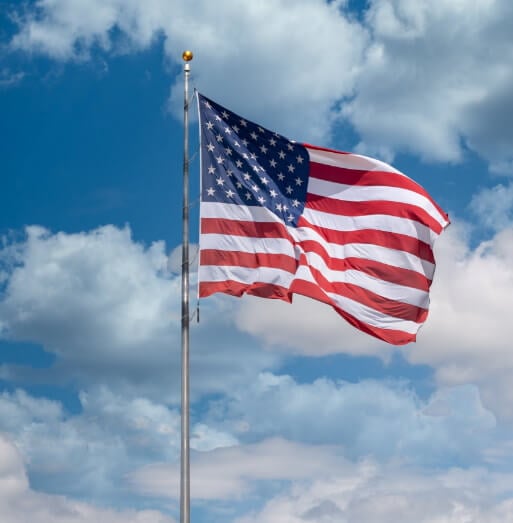 Become a Monthly Partner