GOD USED THE COMPASSION OF THE POKANOKET & SQUANTO TO SAVE THE PILGRIMS
David Kubal, President/CEO IFA
|
November 23, 2020
GOD USED THE COMPASSION OF THE POKANOKET & SQUANTO TO SAVE THE PILGRIMS
David Kubal, President/CEO IFA
|
November 23, 2020
I Prayed
have prayed
Lord, we pray for those around us, our family and friends, who are in difficult situations. We ask You to infuse us with Your mercy.
When the Pilgrims landed in the New World, they expected to help a hostile people in need of the Gospel. Instead, they received, and returned, compassion from a man who, by God's grace, was right where they needed him.
View Comments (9)
Squanto, a Patuxent Indian born in 1590 and named Tisquantum, lived in what is now New England with his tribe. In 1605, he may have been captured by an English explorer and brought to England for nine years. Although that may or may not have happened, all scholars agree that he was captured in 1614 and brought to Spain. From Spain, Squanto went to England and then Newfoundland. He was brought back to New England by Captain Dermer, an employee of Sir Ferdinando Gorges, who owned most of what is now Maine.
In 1619, Dermer and Squanto traveled to the area of Squanto's former home in New England. Disease had ravaged the tribe. Few Patuxent had survived. Dermer tried to trade with other tribes but these attempts ended in attacks and capture. Dermer escaped but Squanto became captive of the Pokanoket whose chief was Massasoit.
Meanwhile, the Pilgrims were making their way to America. It is miraculous that the Pilgrims landed where they did, because they sought to land just north of the Virginia colony. Due to bad weather they were blown off course to what is today Plymouth, Massachusetts.
Upon arrival they should have found a hostile group of Patuxent Indians. Instead, they were watched by the disease-stricken, weakened Pokanoket, too weak to attack. The situation was similarly bleak for the Pilgrims. They weathered the first winter on the ship. Almost half of those who made the trip perished.
Samoset, a member of another tribe, first befriended the Pilgrims, hoping for trade. He was met with kindness and openness. Massasoit then asked the Pilgrims for an alliance—the Pokanoket would help the Pilgrims survive in return for a promise of peace between them. Squanto, who spoke English well, was freed to be a guide and interpreter for the Pilgrims. William Bradford, governor of the colony, described Squanto in his journal: "Squanto continued with them and was their interpreter and was a special instrument sent of God for their good beyond their expectation. He directed them how to set their corn, where to take fish, and to procure other commodities, and was also their pilot to bring them to unknown places for their profit, and never left them till he died."
Squanto served as an envoy between the Pilgrims and the Native Americans, but most importantly Squanto helped them grow crops and hunt in this strange land. He taught them about the three sisters, corn, beans, and squash, as well as how to use small fish as fertilizer when planting.
Want a free copy of the book this is excerpted from? Call our office at 1-800-872-7729 and request a copy!
Slowly, conditions got better. During the second year, in the words of Bradford, in "the summer there was no want." So despite the common belief that the first Thanksgiving was a celebration of plenty, it was in fact a celebration of thanks to God for providing what was necessary to enable them to survive. The Pilgrims invited Squanto and a nearby tribe of Indians to join them.
The Pilgrims established an official day to pray and thank the Lord for his provision to accomplish their aim to see the gospel of Jesus Christ advanced. In Governor William Bradford's proclamation, he wrote: "[God] has granted us freedom to worship [Him] according to the dictates of our own conscience…[all are] to listen to ye pastor and render thanksgiving to ye Almighty God for all His blessings."
Squanto lived the rest of his life with the Pilgrims. His relations with other tribes broke down over time and it is thought that he was only safe living there. He was another famous American who was imperfect, yet his help to the Pilgrims was used by God to save them. At his death, Squanto asked Bradford to pray to the Englishman's God in heaven to receive him. He also bequeathed all his belongings to various Pilgrims as a sign of his love for them.
This compassion, which is not limited by differences in nationality, race, culture, or circumstances, is an example to us all.
(Excerpt from Inspired People by Dave Kubal and Judy McDonough. Photo Credit: Getty Images.)
The Pilgrims declared Thanksgiving as a day to give thanks and praise to God for accomplishing His will in this country. What are you thankful for in America?
Partner with Us
Intercessors for America is the trusted resource for millions of people across the United States committed to praying for our nation. If you have benefited from IFA's resources and community, please consider joining us as a monthly support partner. As a 501(c)3 organization, it's through your support that all this possible.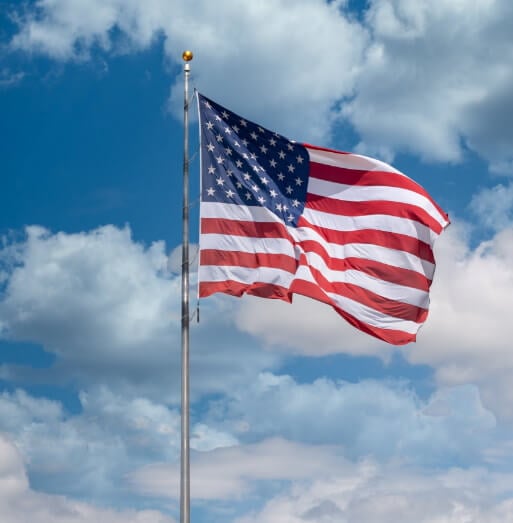 Become a Monthly Partner