DAVE KUBAL: FIVE SIGNS WE ARE LOSING OUR REPUBLIC
David Kubal, IFA President/CEO
|
July 22, 2021
DAVE KUBAL: FIVE SIGNS WE ARE LOSING OUR REPUBLIC
David Kubal, IFA President/CEO
|
July 22, 2021
I Prayed
have prayed
We desire to have the faith we need in these days Lord, to do what you have called us to do. Open our eyes more fully, help us to see what is possible only with your power, and use us to save our Republic.
When do you think the Church in China realized they were an underground Church? When do you think the believers in Venezuela realized the State was trying to shut them down? When did Church leaders realize Hitler's maniacal mission would lead to millions of deaths? Does the Church is the US realize the gravity of our situation?
All of these questions are questions I have been wrestling with lately. It is easy to look back in the history of another country and identify the critical moments where the downward spiral toward dictatorship or communism was completed. But how do you discern where we are in the moment? I believe this is the role of the intercessor as we stand on our watch looking at the horizon determining the state of our union, yet listening to heaven to hear God's point of view.
View Comments (30)
Make sure you read the end of the article concerning how we should pray or download the NEW prayer guide: Five Ways to Build Mountain-Moving Faith.
Please don't misunderstand my comments a false mixing of nationalism with Christianity, rather understand my comments in the midst of Jesus' mandate to see God's kingdom come on earth as it is in heaven.
I want to suggest there are five signs we could be losing our republic:
Fraudulent elections. Without fair elections our democratic republic is lost. We at IFA have covered the election audits quite a bit. I have read many polls over the recent months that indicate there are millions of people who believe there was voter fraud in the 2020 Presidential Election. As Arizona finishes their audit and some findings are released, legitimate concerns are being documents, including 70,000 more ballots WERE counted than mailed out. Lawmakers have demand similar audits in Pennsylvania, Georgia, Michigan and most recently Texas.
For the sake of the republic, these audits must go forward to answer the looming question over the 2020 election. Even those who believe there was not fraud must, for the sake of our nation, come to the conclusion the integrity of our elections must protected.
State Run Media. This past week the White House announced they formed an official partnership with Social Media giants under the guise: Misinformation limits our freedoms. Do you understand the double speak on that Orwellian statement? We must limit freedom of speech because what you could hear limits (our definition of) freedom!
The White House has walked back this partnership, but the fact that those controlling the progressive agenda have moved past, what appears to be, a coordinated effort with Social Media news outlets to a formal, public relationship.
Patriots Labeled Terrorists. Recently in a congressional hearing General Miley describes the cause of the "January 6th insurrection" to be white rage. This is not just wrong; it is a flat out lie. A General in our army must have access to intelligence, and let me tell you the best intelligence is intelligence gathered on the ground. I was on the grounds of the Capitol all day on January 6th, on the lawn for a prayer event. I was there from 9:00 until 5:00 and I can tell you NEVER did I see ANY expression or obvious motivation from protesters that was racial in ANY form.  Thousands were at the Capitol to encourage lawmakers to ensure we have free and fair elections. (Antifa was clearly there, yet this is not discussed at all). The most violent attacks occurred before President Trump finished his speech and were mostly met by Capitol Police passively standing aside. Hundreds remain in jail today because they entered the Capitol building. To be clear, I told everyone I witnessed attempting to go into the building that they should not do it – it was against the law!
Now these patriots that were at the Capitol on January 6th are at risk of being described as a terrorist.
Speaker Pelosi has begun creating Capitol Police offices in states around the country to eliminate threats against lawmakers! This past week rallies featuring members of our Congress have been cancelled by governmental officials stating concerns over security.
Patriots being labeled terrorists.
The Church Is an Enemy of the State. Recently the IRS denied Bunni Pounds application for 5019 (c) 3 status for her organization, Christian's Engaged, because:
"…you educate Christians on what the bible says…(on) sanctity of life, definition of marriage, biblical justice, freedom of speech…The Bible teachings are typically affiliated with the (Republican) party and candidates. This disqualifies you from exemption under IRC Section 501 (c) (3).
Teachings of the Bible are "typically affiliated" with a political party (not another) and because Biblical values are shared by some politicians these beliefs disqualify this organization from receiving tax-exempt status.
The code says tax-exempt organization: "are absolutely prohibited…participating in, or intervening in, any political campaign on behalf of…any candidate for elective public office…certain voter education activities…conducted in a non-partisan manner do not constitute prohibited political campaign activity…On the other hand, voter education or registration activities with evidence of bias that (a) would favor one candidate over another…will constitute prohibited participation or intervention."
Ms. Pound utilized legal counsel to appeal the IRS' decision, was successful and was granted exempt status.  The problem remains, those of us with biblical values risk being squelched as anti-god candidates run for office because their views clearly oppose ours and to say they oppose our values, could by some, be deemed illegal political speech.
Government Buying Loyalty. President Biden announced recently that his administration would begin giving to the parents/custodians of children a $300 a month allowance. God's heart for the role of government was never for people to rely upon government over the long term. During desperate times lawmakers make unusual decisions. God's way – and God's economic laws – cannot be denied. Our leaders decision during the Covid outbreak resulted in the unemployed receiving more by sitting at home than working, now as the economy shifts back to normal there is a shortage of workers, requiring employers to increase their employees' wages just to get them off the couch. All of this is inflationary, ratcheting up the cost of everything and imposing an artificial minimum wage.
Now, once again, lawmakers are pouring money – which is borrowed – into the economy, giving it away for free, that will result in millions of households adjusting their spending habits to spend the $300 per child leading to dependence upon the government (and inflation).
Lawmakers will need to promise further benefits for these reliant households, buying their loyalty.
Are these signs strong enough to cause you to pray? What would those of the underground Church in China say as they would appraise what is happening in America? What about Believers in Venezuela? What about protesters in Cuba? What about rioters in South Africa?
The Church must wake up. This is our moment to be the sounding alarm. This is the time to pray with extraordinary faith. Please download the new prayer guide and pray through how you could increase your faith to "Mountain-Moving Faith."
Watch the webcast on these warning signs. Click here to watch.
Partner with Us
Intercessors for America is the trusted resource for millions of people across the United States committed to praying for our nation. If you have benefited from IFA's resources and community, please consider joining us as a monthly support partner. As a 501(c)3 organization, it's through your support that all this possible.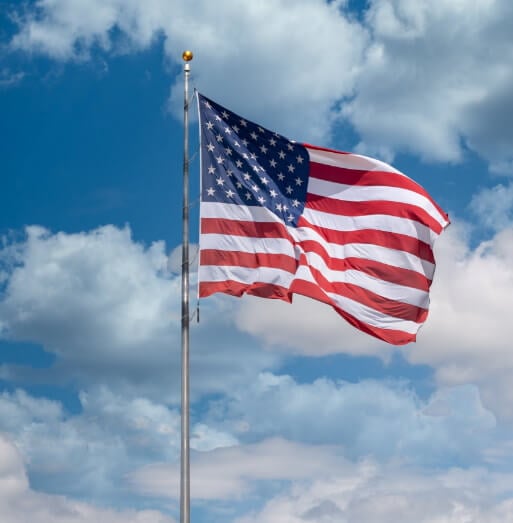 Become a Monthly Partner