COVID VACCINE TIED TO STIMULUS MONEY?
Karen Hardin, IFA Contributing Writer
|
December 8, 2020
I Prayed
have prayed
Give us wisdom regarding the vaccine. If there are hidden aspects, Lord bring them to light. May we remember that You are the great Healer, and put our trust in You, not a vaccine.
Would you be willing to take the COVID vaccine in exchange for a $1,500 stimulus check? This is a new proposal suggested by Democratic politician John Delaney.
I wonder how many will flock to take this monetary incentive. I also wonder if this may be a means of the government buying us off.
View Comments (67)
Let's step back for a moment and ask some important questions:
WHY are they so insistent we all get the vaccine when the COVID recovery rate is 99%?
Why are inexpensive treatments such as hydroxychloroquine and budesonide downplayed, hidden, or in one or another kept from the American public?
Why have some pharmacists decided they have the power to refuse to fill prescriptions that have proven effective, but which would make the vaccine unnecessary?
In a recent meeting, the Oklahoma State Commissioner of Health received information on protocols that would make the COVID vaccine unnecessary.  After hearing the important information, he became alarmed.
"How many people have you told this to?," he questioned, explaining that the state had already invested a significant amount of money to purchase the vaccine. He didn't want the information of preventative, inexpensive treatments getting to the public. How many other states feel the same and see the vaccine as a money maker?
Former U.S. Rep. John Delaney (D-MD) said of the stimulus incentive, "The faster we get 75% of this country vaccinated, the faster we end COVID and the sooner everything returns to normal."
But does it? Have you ever received the flu vaccine and still come down with the flu? Even health professionals have admitted that COVID has mutated. Thus, any vaccine would only be effective on certain strains. Thus, it would not completely eliminate COVID—or allow things to return to "normal" for those who insist on America's shutdown if people continue to test positive.
So why is THIS vaccine being pushed so hard with some hinting there may be travel restrictions for those who do not have a digital certificate proving vaccination?
Of concern is the rumor of how they plan to monitor vaccine recipients for two years after the first dose. The question is, how do you monitor such a large population? One way would be to employ biosensors that collect and send biological metrics automatically with the use of injectable or implantable technology which allows for the ability to monitor the physiology of the human body from the inside.
Is that part of the plan? It's important to look at those in charge such as Monsef Salafi, who has been the head of GlaxoSmithKline's vaccine division and is now part of Operation Warp Speed, a joint operation between U.S. Health and Human Services (HHS) and the Department of Defense. Salafi is a leading proponent of this type bioelectronic medicine.
Next consider vaccine coordinator for Operation Warp Speed, Matt Hepburn. A former program manager for DARPA, Hepburn oversaw the development of Profusa,1 an implantable biosensor that allows a person's physiology to be examined at a distance via smartphone connectivity. Further research into Profusa reveals that it is backed by data mining company, Google.
Back to the original question, would you be willing to receive the vaccine in exchange for $1500?
Before we do that, shouldn't the American people be asking questions rather than standing in line?
Remember Gates, a proponent of depopulation, stated in a 2010 Ted Talk (which has since been removed), "a successful vaccine will REDUCE the population by 20%."
Still willing to get it? If so, you may actually be getting more than you bargained for.
Lord, we know that COVID, like any illness, is under your feet. When Jesus died on the cross, He nailed it to the tree. Lord, may the fear of COVID that has ravaged our nation be removed. We pray for complete healing for those who have been infected. And we pray for healing for the the hearts of families who have experienced the loss of a loved one. But we also pray for truth to come out with actual numbers rather than inflated statistics. Lord, shine your light.
Karen Hardin is a literary agent, author, and intercessor. Her work has appeared in USA Today, World Net Daily, Intercessors For America, Charisma, CBN.com, The Elijah List, etc.To order her new book: "INFECTED: How to Stop the Global Spread of Rage, Deception and Insanity" click here. To join the city-by-city prayer movement to save our nation go to: www.city-by-city.org.For additional information on her ministry, business or to sign up for her prophetic blog go to: www.karenhardin.com or you can contact her at www.prioritypr.org. (Photo Credit: Getty Images.)
Do you plan on getting the vaccine? What do you think about paying people taxpayer funds to get the vaccine? Let us know in the comments. . .
Partner with Us
Intercessors for America is the trusted resource for millions of people across the United States committed to praying for our nation.
If you have benefited from IFA's resources and community, please consider joining us as a monthly support partner. As a 501(c)3 organization, it's through your support that all this possible.

Dave Kubal
IFA President
& CEO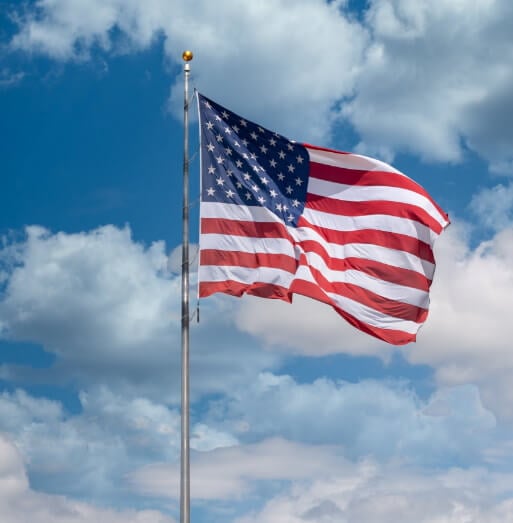 Become a Monthly Partner