COLUMBUS: FALLIBLE FOLLOWER OF CHRIST
IFA Staff
|
October 12, 2020
I Prayed
have prayed
Lord, thank You for all You have done to bless America and thank You for all those people who in seeking You helped make this great nation.
As we watch Columbus Day become Indigenous People's Day, it is good to remember or learn that Columbus believed that God inspired, directed, and guided him to America. In the book, Inspired People, IFA President/CEO Dave Kubal wrote about how God has divinely intervened in American history, through the lives of remarkable people. Let's not lose this history–let's celebrate that God uses flawed people to accomplish His divine purposes. If you would like a free copy or copies of Inspired People (each chapter includes Bible study questions and applications), please call IFA at 800-USA-PRAY.
"In fourteen hundred ninety-two, Columbus sailed the ocean blue." This is the well-known rhyme many of us memorized in school, along with names of the ships, Niña, Pinta, and Santa María.  What is not so well-known is how very unlikely it was for Columbus to reach the New World.
View Comments (10)
Christopher Columbus was born in Genoa, Italy around 1450 to a fairly poor family. At an early age, Columbus had a strong sense of destiny. He was not privileged to attend good schools, but studied very hard by himself. When he was young, possibly about 14, he left home to travel the seas, mostly on trade vessels throughout the Mediterranean Sea.
On one of those trips, his ship was attacked by Franco-Portuguese warships. This young deckhand thought his life was over. His ship was struck by many cannon balls. Although many of the sailors on his ship were killed, Columbus survived the attack. However, the ship began to sink into the ocean. Columbus was far enough out to sea that he knew he was in terrible danger. As the ship slowly began to sink, Columbus jumped overboard. He swam all night before he washed up on the shores of Portugal.
God's hand on Columbus began to be evident in surviving a shipwreck and an all-night swim, helping develop in him an incredible perseverance. Once in Portugal he learned the finer points of sea navigation that were critical to his later success. He was not likely to have learned these skills in Italy because Portugal was much more advanced in this area at the time.
Columbus desired to sail and discover new lands, but he needed an investor. Through much effort, he was able to present his ideas to the King Ferdinand and Queen Isabella of Spain. He spent many years attempting to convince the Spanish Royalty and their scientists to support his exploration, but after more than seven years of Columbus' endless petitioning, they turned him down a final time.
Dejected and broke, Columbus persevered, traveling to France to find investors. On his way, he stopped at La Rabida, a famous monastery. The next morning, the prior sent a message to the Queen of Spain, telling her that God's hand was on Columbus. The prior asked her to reconsider. Columbus waited for the answer, which soon arrived, telling him Queen Isabella desired to see him. He returned to her to find that she had miraculously decided to fund his expedition to sail to India.
All previous attempts by European countries to cross the Atlantic had failed because the winds blew in the wrong direction. But Spain controlled the Canary Islands, which were much further south than previous beginning points of European transatlantic voyages. So, Columbus decided to endure a 700 mile trip south to those islands before heading east.
This new route enabled Columbus to find the easterlies, prevailing winds blowing all the way across the Atlantic. On September 6, 1492, the Niña, Pinta, and Santa María left the safe harbor of the Canary Islands and caught the easterlies. Columbus believed that God inspired this idea to sail the easterlies.
After sailing for a month, the crews of the three ships began to question their leader's wisdom. On October 9, the captains of the Niña and Pinta, fearing mutiny, demanded a meeting with Columbus on the Santa Maria. They had been out of sight of land longer than any other crew in history and been at sea much longer than Columbus had predicted. In that meeting, Columbus promised the other captains that if they did not find land in three days, they would turn around.
In the early morning hours of October 12, exactly three days later, the lookout yelled, "Land on the horizon!" Columbus had discovered the Americas—as a result of the inspiration and intervention of the Almighty God.
In Christopher Columbus's Book of Prophecies, he wrote: "I prayed to the most merciful Lord about my heart's great desire, and He gave me the spirit and the intelligence for the task. . . . It was the Lord who put into my mind (I could feel his hand upon me) the fact that it would be possible to sail from here to the Indies. All who heard of my project rejected it with laughter, ridiculing me. There is no question that the inspiration was from the Holy Spirit, because He comforted me with rays of marvelous inspiration from the Holy Scriptures . . . encouraging me continually to press forward; and without ceasing for a moment they now encourage me to make haste."
Columbus realized that it was the Spirit of God who inspired, directed, and propelled him to persevere in "discovering" America. Columbus overcame obstacle after obstacle as he achieved his goals and paved the way for a new nation to be formed.
It is important to note that Columbus essentially failed in his expedition, in that he set out to sail to India. Yet God had a different plan. The Bible tells us that a man may plan his way, but the Lord determines his steps (Proverbs 16:9). This can greatly encourage all of us who trust in the Lord—our failures may be achieving His purposes in ways we cannot imagine. Certainly Columbus could not have imagined the nation that would be founded on biblical principles 300 years later in the New World.
Columbus was the first prominent European whose involvement in slavery was simply wrong. Yet, God used him. God doesn't excuse his sin and God doesn't excuse our sin. But God uses us, by His grace and for His glory. And we can trust Him to use us and enable us to overcome.
Sources:
CT.com
Christianity.com
The Light and the Glory by Peter Marshall and David Manuel
Christopher Columbus' Book of Prophecies by Christopher Columbus
(Photo Credit: Getty Images.)
Partner with Us
Intercessors for America is the trusted resource for millions of people across the United States committed to praying for our nation.
If you have benefited from IFA's resources and community, please consider joining us as a monthly support partner. As a 501(c)3 organization, it's through your support that all this possible.

Dave Kubal
IFA President
& CEO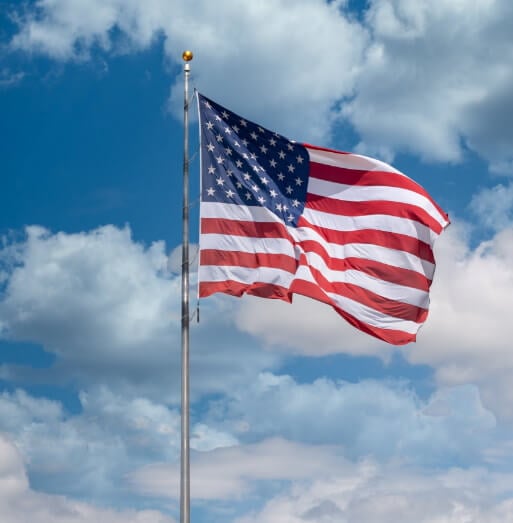 Become a Monthly Partner