ARE NEW PANDEMIC POLICIES ERODING THE BILL OF RIGHTS?
Camille Solberg, IFA Governmental Affairs Director
|
September 18, 2021
ARE NEW PANDEMIC POLICIES ERODING THE BILL OF RIGHTS?
Camille Solberg, IFA Governmental Affairs Director
|
September 18, 2021
I Prayed
have prayed
God, we ask You to overturn and remove laws and executive orders that restrict the liberties guaranteed to us in the Constitution. Thank You, God, for protecting our civil liberties and move our leaders, courts, and citizens to continue to support and defend the freedoms we have enjoyed for over two hundred years. In Jesus' Name, Amen.
In this challenging new season in the history of our nation, significant lines are being drawn—restricting our freedoms to assemble, speak freely, and make choices over a vaccine. We are quickly needing to make unprecedented choices. This is the reason our intercession is so vital and needed today. It allows us to go directly to our Father and petition God to act and seek His mercy for our country when things appear impossible. Psalm 119:126 states, "It is time for You to act, Lord; your law is being broken."
The bottom line is this: will we be coerced into action or choose based on informed and freely derived consent? Today vital and needed healthcare professionals are being walked out the door and terminated from hospitals and clinics based solely on the fact that they refuse to receive a vaccine! As a result, reports of new rationing of healthcare services. In recent days a hospital in New York lost their maternity ward nurses rather than be forced to take the COVID shots. So, they had to stop delivering babies!
View Comments (17)
The Covid-19 pandemic has negatively affected the freedoms of democracies across the globe. We watch in shock with respect to the Covid camps implemented in Australia. Covid-19 has created coercive opportunities to restrict our civil liberties in the name of a false security. Our prayers need to be focused on this rise of evil at home and around the world.
Unconstitutional restrictions imposed on travel, gathering in churches, eating in restaurants without a vaccine passport, masks, and other mandates have generated an unprecedented number of confrontations and lawsuits.
As an example, Liberty Counsel has been inundated with health care and other professionals seeking religious exemptions from the Covid-19 vaccine mandate. The same individuals who saved and risked their lives for over a year in hospitals serving those with Covid are now being forced to leave their roles if they refuse the vaccine.
In a big answer to our prayers, this week a New York Court granted health care workers relief against the vaccine mandate. Liberty Counsel Founder and Chairman Mat Staver said, "This is a great victory for all health care workers in New York who have sincerely held religious objections to the COVID shots. New York is required to abide by federal law and the U.S. Constitution to provide protections to employees who have sincerely held religious objections to the COVID shots. Governor Kathy Hochul and New York health care facilities cannot override federal law and force health care workers to violate their sincerely held religious beliefs by forcing them to inject an experimental vaccine. All New York health care workers have the legal right to request reasonable accommodation for their sincerely held religious beliefs and forcing COVID shots without exemptions is unlawful,"
Fox News Nashville reported that Wilson County Pastor Greg Locke was banned from Twitter on Tuesday for his belief in medical freedom. Pastor Locke believes the banning is a violation of his freedom of speech…." Locke said his ministry's attorney has filed a class-action lawsuit against the social media giant he calls "censorship Nazis." He believes after 12 years of being on the platform and gaining more than 100,000 followers, Twitter has banned him for being a "danger" and for dropping "gospel, political, and biblical bombs." He says he's the first pastor to be banned from the site."
For  more information on religious exception for the Covid shot mandates, go here. According to Liberty Counsel, most mandates are coming from employers and educational institutions. "In the employment context, Title VII prohibits workplace discrimination on the basis of religion. The First Amendment applies to public employers and educational institutions. The current 'Emergency Use Authorization' ('EUA') status of all of the COVID shots means that they cannot be mandated."
For additional questions, or to inquire whether Liberty Counsel can assist further if the employer or institution rejects your request for an exemption, please contact them at www.lc.org/legal-help, via email at [email protected]; or via telephone at 407-875-1776.
If you are a member of the clergy, Catholic, Protestant or Jewish here are some vaccine exception sample letters. "There is a three-pronged left-wing assault on liberty: in the name of public health (COVID-19); in the name of "anti-racism"; and in the name of saving the planet (climate change). By ratcheting up fear and hysteria, the Left is using each to end individual liberty, including freedom of speech, for the first time in American history." said Dennis Prager in his recent column, "Why Freedom is in Serious Jeopardy" .
Whether you are pro-vaccine or have concerns about this or any vaccine, this is about freedom. We need to work to preserve the freedom to choose medical treatment.
Be sure to visit the new Pray for America's Leaders website to pray for your state leaders and those from all over the Nation!
And join us live on Tuesdays and Thursdays at 12:15 pm ET —IFApray.org/LIVE or (713) 775-7430.
How are you praying for your constitutional rights? Please share in the comments section.
Partner with Us
Intercessors for America is the trusted resource for millions of people across the United States committed to praying for our nation. If you have benefited from IFA's resources and community, please consider joining us as a monthly support partner. As a 501(c)3 organization, it's through your support that all this possible.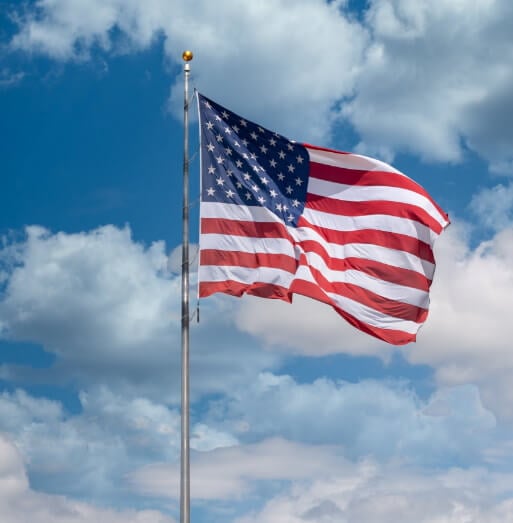 Become a Monthly Partner