October 17, 2020 | Karen Hardin, IFA Contributing Writer
Lord God, please open the eyes of those who have succumbed to the fear that has been spread and return us to a place of wisdom, common sense, and integrity.
black·​mail | \ ˈblak-ˌmāl – extortion or coercion by threats especially of public exposure or criminal prosecution
My husband and I went to a theme park recently. As we entered the park, we were reminded again and again—while outside in the fresh air–to keep our masks on. This was not because the park officials agreed with the mask mandate, but because they were forced to comply with it, or be shut down.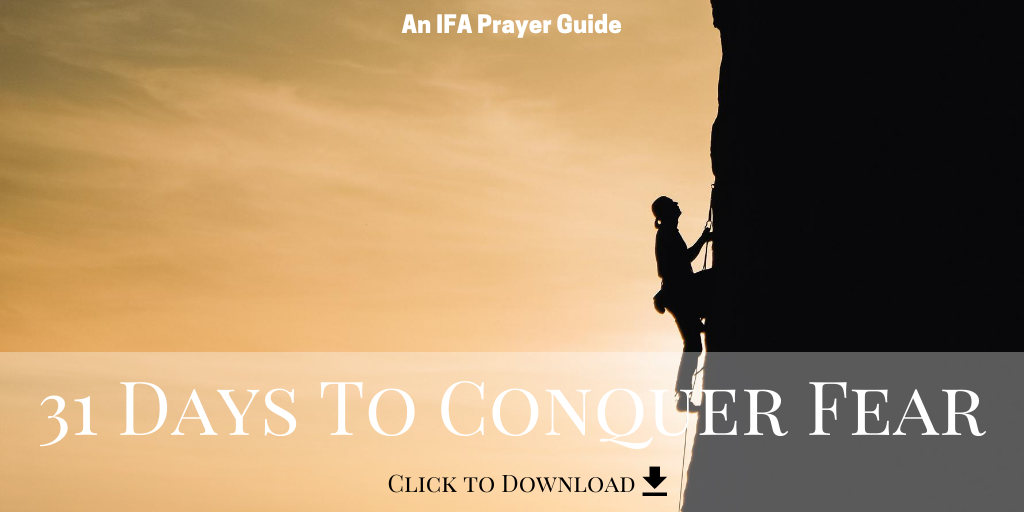 That is called coercion and blackmail. And it is happening all across our nation.
Businesses are not the only targets of these threats. Medical practitioners have been some of the hardest hit.
I wrote about my friend's daughter who needed a medical procedure this spring. Originally, she was told that she did not need to be tested for COVID before she could enter the medical facility. The next day,  she was told she had to be tested or treatment would not be given. When she questioned the practitioner, his response was, "This isn't coming from us. We don't agree with it. We are simply forced to comply or be shut down."
Over and over I hear the same frustration coming from business owners who are forced to require their employees and patrons to wear masks, even when they have caused harm. Such as when my aunt passed out in a local area Wal-Mart because of lack of oxygen. She was dutifully wearing her mask and now has a cracked pelvis because of it.
Or my friend who runs a beauty salon and began experiencing intense headaches. They became so severe she went to the doctor, concerned she might have an aneurysm. She was told the migraines were due to the mask she was required to wear at work. Her body was telling her something the CDC refuses to admit.
Are these mandates helping? Increased reports of migraines, nausea, and fainting due to masks isn't making the news, but ask your friends who are in jobs requiring them to wear the mask for hours at a time. This. Is. Not. Healthy.
Credentialed OSHA law experts, Tammy Clark & Kristen Meghan,  OSHA Occupational and Environmental Toxicologists, began to raise flags when medical experts, including Dr. Fauci, went from saying masks were not necessary to a complete flip-flop that everyone should be wearing them.
"Doctors specialize in medicine, but OSHA professionals, PPE experts like Kristen and myself specialize in PPE and respirators," Clark began.
"It was all very concerning to me because it didn't make sense. Originally when the experts including Dr. Fauci were saying, 'Healthy people do not need to wear masks. There is no need for that.' Then all of a sudden we started getting this COVID fatigue and we were kind of getting over it at about week 3, 4 and 5, right? All of a sudden now everybody flip flops… And I was saying Whoa! Whoa! Whoa! We don't just mask up. That is not only illegal and violates our civil liberties, it is incredibly dangerous and unsafe and unhealthy…"
Kristen Meghan continued, "In my career field I also used to work in hospitals, and I've sat on numerous infectious disease boards, and what I did is I sat and educated nurses, doctors, surgeons on how to deal with flu outbreaks and the SARS outbreak." She explained that in such instances PPE is a last resort.
"When you are dealing with infectious disease patients, these are not the masks that you wear. Even N95's are not fully rated to protect against the virus…They are not approved for this use."
"Not only is this a bad idea," she continued, "But there are numerous studies based off of flu outbreaks across the world several years ago that (show) not only do these e-loop masks and cloth masks not work, but they are increasing the spread through fomite transmission which is a form of cross contamination."
"These things increase the spread. You've re-inhaled your exhaustive gaseous waste. And you can increase your viral load," she continued. "So if you are ill, not only can you continue to spread it, because you are not understanding the hand hygiene, but you will be sicker longer," she concluded.
Numerous doctors have come out against masks. Yet we are told repeatedly that "all doctors agree" they work. This is more propaganda. Manufacturers have printed disclaimers on the boxes which state: "Warning: This product is an ear loop mask. This product is not a respirator and will not provide any protection against COVID-19 (Coronavirus) or other viruses or contaminants."
Del Bigtree, host of the show "The Highwire" did a mask safety test with his eleven-year old son when the mask mandate in their city changed which required children ten and up to wear them. Bigtree purchased a carbon dioxide monitor and had his son don one of the standard white masks.
At the beginning his son's CO² level registered 847. Within forty-five seconds his level had jumped several times until it reached 8486. The machine was not able to register higher and zeroed out. Who knows how much further it would have gone?
Compare those numbers to the OSHA warnings for carbon dioxide levels and potential health problems listed below:
250-350 ppm – Normal
350-1000 ppm – Typical level found in occupied places with good air exchange.
1000-2000 ppm – Level associated with complaints of drowsiness and poor air.
2000-5000 ppm – Level associated with headaches, sleepiness, and stagnant, stale, stuffy air; poor concentration, loss of attention; increased heart rate and slight nausea may also be present.
5000 ppm –Unusual air conditions where high levels of other gases could be present. Toxicity or oxygen deprivation could occur. This is the permissible exposure limit for daily workplace's exposures.
40,000 ppm – Exposure may lead to serious oxygen deprivation, resulting in permanent brain damage, coma and even death.
So, in just 45 seconds, his son's level was beyond a toxic and/or oxygen deprivation level.
Despite this, in many cities across America there are now mask ordinances in place, non-compliance fines, and signs posted, warning: "It is a violation of the law to enter the premises without a face covering."
Mask mandates persist even though evidence indicates the danger of these mandates.
But the masks are not the only areas in which American's are being blackmailed and held hostage.
Retail businesses in some states are required to limit the number of patrons inside their stores. When shopping this weekend, we discovered the doors of a shoe store were locked because they had reached the maximum of 20 inside the massive store. Locked. Isn't that a safety issue for those inside? Is this to protect us, or is this just one more intentional act to control, lock down, and cause businesses to fail to keep our economy from recovery?
These mandates are not about our protection, but about an agenda.
Let's consider the lack of logic behind the random rules, which change almost weekly:
Hotels can no longer serve breakfasts to their patrons because of COVID, but everyone uses the same coffee and creamer dispensers for their morning coffee.
Doors are locked inside areas at some medical facilities because they don't want to transmit COVID on the doors. Instead, everyone is required to use a wall phone–everyone must hold the receiver, dial, and speak into a mouthpiece that is not sanitized after each use, just to ask the workers inside to open the door we are not allowed to touch.
We must go in a store through one door, and exit through another—in some cases the doors are right next to each other. This accomplishes what?
We are forced to wear a mask into a restaurant as we are seated, but can take it off promptly after being seated.
A small fiberglass shield is placed between us and clerks at retail establishments. But if COVID is airborne, do these small shields do anything to protect them or us? Can't the tiny COVID microns go around it? Up and over it? Or are they somehow stopped in their tracks after particles escape from the ineffective masks we are forced to wear?
Think about it.
What happened to common sense? And yet we comply because of the threat of being denied service, removal, or even arrest if we don't.
Some of the areas of blackmail held over our heads if we don't comply include:
They may prevent us from flying on an airline in the future.
They may prevent our ability to travel on the interstate.
They may prevent our children from attending school.
They may prevent our ability to worship or attend church.
They may prevent us from receiving needed and sometimes life-saving medical treatment.
And the most extreme I have heard was they may shut off our access to our own bank accounts if we don't do what they say as we are move to a cashless society.
All these are stated as rules to "protect" us. More accurately, they are rules to control us. They are threats. This is how life under socialism and communism works.
But there's more. Even now, in some states, doctors are prevented from giving life-saving nebulizer or inhaler treatments to patients in need. Candace Owens, an asthmatic, experienced this recently when she was denied a simple breathing treatment in her doctor's office when the machine was sitting right there—unused. She was also told an ambulance emergency crew could not administer the needed treatment either, which had been standard operating procedure prior to COVID. Instead, she was told she had to go to an Emergency Room and pay thousands of dollars for a simple five-minute treatment. She could have died from their refusal to provide the simple treatment even though the ability to administer it was right in front of her. Doctors across the nation are now forced to comply with these nonsensical restrictions, risking patients lives, or have their licenses revoked.
What we are now experiencing are governors, mayors, and congressional leaders on the Left willing to let Americans die in order to press ahead with their political agenda—and then blame President Trump. There is only one word for those actions. EVIL.
Make no mistake, the threats they now apply to masks are simply a precursor for the untested vaccine which they plan to require. We will be forced to take it or be denied (fill in the blank.) America, we are being blackmailed. The question is—are we going to continue to comply?
Lord, we ask for Your divine intervention against this evil and against the lies perpetrated in the name of protection. Reveal truth. Expose the lies. We pray for all who have been denied medical treatment as this virus has been politicized to shut down our nation and to attack the president. Heal them, Lord, and allow them to receive what they need. Please open the eyes of those who have succumbed to the fear that has been spread and return us to a place of wisdom, common sense, and integrity.
Karen Hardin is a literary agent, author, and intercessor. Her work has appeared in USA Today, World Net Daily, Intercessors For America, Charisma, CBN.com, The Elijah List, etc. To order her new book: "INFECTED: How to Stop the Global Spread of Rage, Deception and Insanity" click here.
To join the city-by-city prayer movement to save our nation go to: www.city-by-city.org.
For additional information on her ministry, business or to sign up for her prophetic blog go to: www.karenhardin.com or you can contact her at www.prioritypr.org.
(Photo Credit: Unsplash.)