A Warning about Our Food Supply
IFA Staff
|
October 15, 2022
A Warning about Our Food Supply
IFA Staff
|
October 15, 2022
I Prayed
have prayed
Father, we pray that You would protect our crops and guard our food supply. Keep us from famine, Lord!
We received this warning from an intercessor recently. Have you heard from the Lord? Please share what He is saying in the comments.
View Comments (19)
"I am an intercessor who lives in Yuma, AZ, the winter vegetable capital of our nation. The farmers here are just beginning to till the fields to plant their crops. Last night there was a locust on my door. I have lived here 14 years and never seen one before. I am aware well-respected prophets have warned of coming famine. Although, I do not carry the office of prophet I am quite prophetic. I strongly sense the Lord witnessing to me to take this as a sign of warning and reach out to everyone I know to be praying! Thank You, Lord, that You allow nothing to occur here on earth without first warning Your people through Your prophet! We bless You, Lord Jesus, and know that You are using all the shaking going on in our world today ultimately for Your glory. I hope others will join me in asking the Lord to be merciful and protect the crops in Yuma from devastation from locusts. This would probably also affect crops in Mexicali which would affect Mexico too. Thank You to everyone!!" –Gail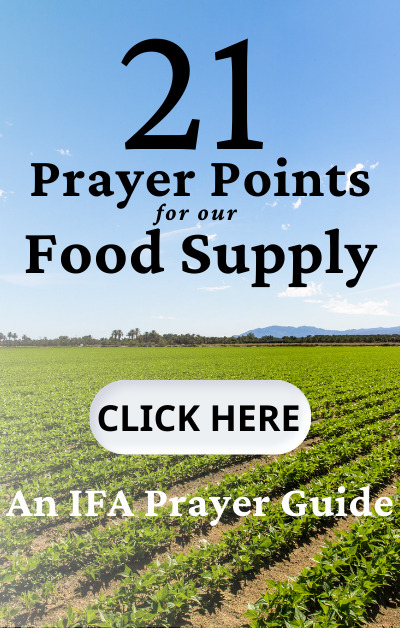 What a powerful word! As we join in prayer, let's also pray through these 21 prayer points for our food supply:
Pray that American farmland would remain in the hands of local farmers—not in the hands of oligarchs or companies with nefarious motives.
Ask the Lord to protect crops from fire, floods, and other hazards.
Ask the Lord to defend the famers from requirements that they switch to electric harvesting equipment which cannot be recharged on huge farms—and which cannot withstand the rigors of harvesting thousands of acres of crops quickly.
Pray that the Lord would station angels around our food factories, farms, and grocery stores.
Ask the Lord to protect our infrastructure, such as roadways, harbors, railroads, and other freight-handling systems.
Pray that harmful chemicals would be removed from farms, air, and even from processed food.
Pray for farmers to be vocal about the challenges facing the fresh food supply, and for people to listen.
Ask the Lord to put it on the hearts of the people's representatives to create legislation that protects our food supply and blocks any enemy attempt to steal our nation's food.
Pray that prices would come down on healthy food.
Ask the Lord to remind us, His people, to care for the poor; and that He would provide for every family to eat well, no matter their socioeconomic status.
Ask the Lord to give people wisdom to re-dig "ancient wells" and re-learn key information about how to grow and prepare our own food.
Pray that people's ability to purchase seeds would be protected.
Ask that actual, physical LAND would be given into the hands of the people of God, so that we can live more simply and have the space and ability to grow our own food again, where desired.
Ask the Lord to protect our water supply.
Ask Him to expose and remediate any environmental contamination that makes people sick through food or water.
Ask Him to heal the waters of our wells, cisterns, and public drinking water sources.
Pray that any attacks against food factories would be exposed, hindered, and prevented.
Ask the Lord to give Americans wisdom regarding what to eat in order to get and stay healthy.
Pray that Holy Spirit would pour out His anointing on us to care well for our bodies, which are His temple.
Ask Him to quicken our mortal bodies.
Pray that the Lord would help and inspire each of us make good food choices that are consistent with LIFE and health, not with sickness, death, and disease.
What are you hearing from the Lord on this issue? Post your comments below.
(Prayer points by IFA Contributing Writer Jamie Rohrbaugh. Photo Credit: Nicolas Lindsay on Unsplash)
Partner with Us
Intercessors for America is the trusted resource for millions of people across the United States committed to praying for our nation. If you have benefited from IFA's resources and community, please consider joining us as a monthly support partner. As a 501(c)3 organization, it's through your support that all this possible.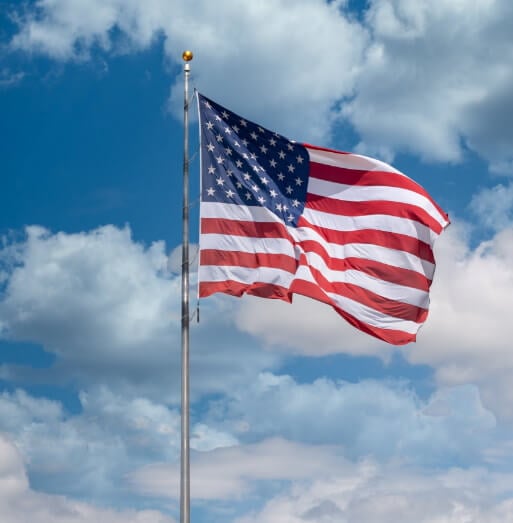 Become a Monthly Partner
You can post a prayer to share with others.
Linda L
October 16, 2022, 8:34 pm
Father, we pray that You would protect our crops and guard our food supply. Keep us from famine, Lord!
Christine S
October 15, 2022, 7:49 pm
Our Father Who art in Heaven, give us this day our daily bread. Father, we pray that You would protect our crops and guard our food supply. Keep us from famine, Lord!
Helen P
October 15, 2022, 2:22 pm
Today, working in my plants I saw a huge grasshopper. Swatted it, stomped on to several times to no avail. Finally had a plastic glove in hand to catch as I lifted foot. It was almost indestructible as I twisted it in half. They eat my flowers & kill the grass. If I had a garden I'm sure they would devour it also. Father, we pray that You would protect our crops and guard our food supply. Keep us from famine, Lord! By Your hand we all are fed. I give You honor and glory because You alone are worthy. Amen
Alan V
October 15, 2022, 6:16 am
Father, we pray that You would protect our crops and guard our food supply. Keep us from famine, Lord! Praise the Lord of Sukkot, who provides natural and spiritual harvests for the glory of His name.