5 Surefire Ways to Share The True Meaning of Christmas This Week
December 20, 2016
5 Surefire Ways to Share The True Meaning of Christmas This Week
December 20, 2016
I Prayed
have prayed
"The Son of God became man to enable men to become the sons of God." —C.S. Lewis
This morning before I exited our Publix supermarket, I paused to interact with an Indian lady I've befriended in customer service. No one was behind me in line, so I seized upon the divine appointment to tell her about Jesus and the message of Christmas.
View Comments (0)
For 60 seconds, I engaged her in a winsome way about mankind's sin and the prophetic promises that God would send a Savior to suffer in our place, take the judgment we deserve, forgive our sins and reconcile us to enjoy a relationship with the living God. A seed was planted, and I left, lifting a silent prayer and wondering if she had ever heard what I'd just shared.
Amidst the sentimental and somewhat silly mixture of "Santa," "Rudolph" and "Frosty" songs we'll encounter this busy week before Christmas, how many of us will take advantage of this season to simply tell people about Jesus? There really is no better time during the course of the entire year to do it.
Assessing America Today
Restoring the Christmas message is so important today because, while positive political change in America is encouraging, legislation and education cannot change the human heart; only regeneration can.
In our culture there's a satanic scheme to secularize Christmas and sanitize it of anything about Jesus Christ our Redeemer. I just met with the manager of our mall, respectfully questioning why they've eliminated all spiritual background music in their establishment this year. He was both embarrassed and convicted saying the decision came from the top.
In Acts 8, the secret to the impact and explosive expansion of the early church is revealed. Surprise. It was not primarily due to dynamic preaching by the apostles but rather the evangelistic lifestyle and missional mindset of Christians everywhere.
Acts 8:1-4 reveals all the people were "scattered" "except the apostles" and "those who were scattered went everywhere preaching the word" (Greek: "evangelizing"). Obviously the apostles did their share but the key to people being reached with the gospel was everyone evangelized.
This is how the church of our Lord Jesus Christ in three centuries overthrew the pagan Roman Empire through the power of the gospel. How God longs for His people to recapture this evangelistic lifestyle so people can come to faith in Jesus and be saved from eternal suffering in hell.
Those of us in positions of leadership must lead the way. It's not enough to talk about the grandeur of the gospel in sermons or give evangelistic invitations once or twice a year, but we must model it in our daily lives.
The late John Wimber, founder of the Vineyard movement, used to say repeatedly there were two things pastors generally don't do. One, pray. Two, evangelize. Ouch.
Once when I was speaking at a conference in England to about 3,000 people, I asked how many in the gathering had ever been proselytized by a Mormon or a Jehovah's Witness. Virtually all in the auditorium raised their hands.
Then I asked how many had ever heard the gospel having been personally approached by a Christian who was not already an acquaintance. About 70 people raised their hands.
Seventy out of 3,000. I would like to think that the group I was talking to was not typical of the general population. But I'm afraid it was. I have seen numerous surveys showing that almost 90 percent of all churchgoing Christians have never led another person to Christ. If only 10 percent of the church is evangelizing, no wonder so little evangelizing is getting done.
"How then shall they call on Him in whom they have not believed? And how shall they believe in Him of whom they have not heard? And how shall they hear without a preacher (evangelizer)? And how shall they preach (evangelize) unless they are sent? As it is written: 'How beautiful are the feet of those who preach the gospel of peace, who bring good news of good things!'" (Rom.10:14-15).
This is our week to rise to the occasion. Let's make a quality decision we will not be so distracted and busy "getting ready for Christmas" that we'll miss opportunities to share the phenomenal good news of our Messiah.
Five Surefire Ways to Share the True Meaning of Christmas This Week
1. Begin this week with prayer for God to help you recognize divine appointments, then share the gospel naturally, enjoyably and relationally.
The Bible teaches us that "we are His workmanship, created in Christ Jesus for good works, which God prepared beforehand, so that we should walk in them" (Eph.2:10). I've said for decades that many opportunities for sharing Christ come disguised as unwelcome interruptions in our life.
Each day, I spend about 30 minutes walking inside of our mall, which gives me tremendous contact with lost people. A few days ago I greeted a fellow I see regularly who is a rabid right wing, progressive Democratic socialist supporter of Bernie Sanders.
I will confess, I did not have any natural desire to spend much time with him, but prompted by the Holy Spirit, I invited him to walk with me, which provided a fantastic opportunity to both listen to him as well as share for at least 25 minutes.
Children are out of school with parents and grandparents everywhere this week. Recognize the opportunity to smile, compliment them, then bend down and ask the little ones whose birthday comes on Christmas?
"Mickey Mouse?"
If they get it right, affirm them and take a minute or two to interact with them and the adults on the true meaning of Christmas. If they don't get it right, turn the conversation skillfully, as Jesus did with the Samaritan woman at the well (Jn.4) to point them to our magnificent King.
Get ready to be interrupted with your busy schedule of shopping and moving about this week to share something about Jesus with those He brings into your path. This is the adventure of lifestyle evangelism.
2. Be intentional in greeting people and looking for ways to creatively share about Jesus.
In the Sermon on the Mount, Jesus said, "And if you greet your brothers only, what are you doing more than others?" (Matt. 5:47).
"But Larry, I'm hesitant and afraid to take initiative like this! I don't want to be misinterpreted. I'm not bold or outgoing."
Remember Paul's words to the somewhat timid Timothy? "For God has not given us the spirit of fear, but of power, and love, and self-control. So do not be ashamed of the testimony of our Lord …" (2 Tim. 1:7-8).
Even Paul asked the Christian community to pray for him in this area. "Pray for me, that the power to speak may be given to me, that I may open my mouth boldly to make known the mystery of the gospel" (Eph. 6:19).
Last week I had a certain not-so-pleasant procedure that comes when you hit 50. When they wheeled me into the operating room, Christmas music was playing, and the four people gathered there heard me say the following when the doctor asked, "Do you have anything to say before you go out?"
"Yep! Jesus Christ is my Lord and Savior!"
Did you notice that when Lamar Jackson won the Heisman Trophy as the best college football player in America, the first thing he did on ESPN national TV was boldly declare his thanks to Jesus Christ as his Lord and Savior?
Let's be similarly bold this week. When you're out in public, smile and convey a genuine, "Merry Christmas!" to people you encounter. And if the door opens for you to engage people with sincere questions about their holiday plans, look for creative ways to insert something about the meaning of Christmas and how Jesus changed your life.
Wasn't it encouraging these past couple of weeks to watch President-elect Donald Trump speaking in "Thank you" rallies all over the nation with the words "Merry Christmas!" prominently displayed on his podium? Let's jettison any political correctness and timidity to follow his lead.
3. Share the classic "One Solitary Life" poem creatively portrayed on YouTube with your family and friends.
This masterpiece is now a two-minute presentation that brings home the Christmas message simply and beautifully on a professionally done video. What a wonderful investment of time to sit down for an hour and send it forth to people you love who may not be genuinely born again.
4. Look for opportunities to reach out to the less fortunate with the love and transformative message of Jesus Christ.
"Religion that is pure and undefiled before God, the Father, is this: to visit the fatherless and widows in their affliction and to keep oneself unstained by the world" (James 1:27).
"But when you prepare a banquet, call the poor, the maimed, the lame, the blind, and you will be blessed, for they cannot repay you. You shall be repaid at the resurrection of the just" (Luke 14:13-14).
No doubt the majority of us will be gathering with family and friends to feast and celebrate during this Christmas week. But let's not lose sight of the less fortunate who need to be encouraged, given hope, receive some gifts plus told the message of our magnificent Messiah.
Last night my wife, daughter and I brought an assortment of wrapped Christmas gifts and tree decorations to an inner-city family in need of some Christmas cheer. We had a blast just getting to know the kids and moms better. When we returned home, the father of some of the children called us to thank us and say that he felt when he met us that "It's time for me to get my life right with God." We were elated. Salvation is coming to this precious family.
A friend of mine who's a leader in a Christian motorcycle ministry told me they're holding a dinner and inviting the Outlaws motorcycle gang. Don't you just love it?
Look around your sphere of influence and see if there's someone sick, a needy elderly couple, widow, family, shut-in, homeless person, senior center, single mom, disadvantaged youth or others you can surprise with God's love and the gospel.
5. Invite somebody to your church.
Most of us know people who are either running from God or have conveniently airbrushed Him out of their lives. Maybe they've sinned repeatedly and believed the lie that God is done with them or quite possibly have never encountered a life-giving community of genuine followers of Jesus.
If ever there was a time when people are open to attend a church service or Christmas presentation it's this Sunday. In the middle of all our busy preparations, let's pray and reach out to those in our neighborhood, school, business and network of relationships and invite them to what could be a turning point for their lives.
Around this time of the year, almost 48 years ago, I was a college student at Cleveland State University, lost and on my way to an eternity in hell. The rock band I was in, the "Lost Souls," had fallen apart and I was a discouraged, extremely confused young man. I was a Catholic with 12 years of Catholic education who attended Mass every week, but I was not born again.
One blustery morning as I drove on the freeway to C.S.U., my car broke down and I ended up in the snowy cold attempting to hitch a ride to extricate myself from the mess.
An elderly black man eventually pulled up in his dilapidated car and offered me a ride ,which I now look back on as a turning point in my life.
Why?
This unassuming, African-American minister with a storefront church in the inner-city of Cleveland extended an invitation to me to come to his Sunday service. I told him because he was kind enough to help me by giving me a ride that I would come. That church invite was the starting point for my Christian life.
Here's the deal: Jesus told us, "Do you not say, 'There are yet four months, and then comes the harvest?' Listen! I say to you, lift up your eyes and look at the fields, for they are already white for harvest" (John 4:35). This week, let's do as He says, and may there come many sons of God who discover the Son of God because of our evangelism this Christmas season.
Larry Tomczak is a cultural commentator of 43 yrs, Intercessors for America board member and best-selling author. His new, innovative video/book, BULLSEYE, develops informed influencers in 30 days (see www.bullseyechallenge.com). Click (here) for his "Here's the Deal" weekly podcast.
Partner with Us
Intercessors for America is the trusted resource for millions of people across the United States committed to praying for our nation. If you have benefited from IFA's resources and community, please consider joining us as a monthly support partner. As a 501(c)3 organization, it's through your support that all this possible.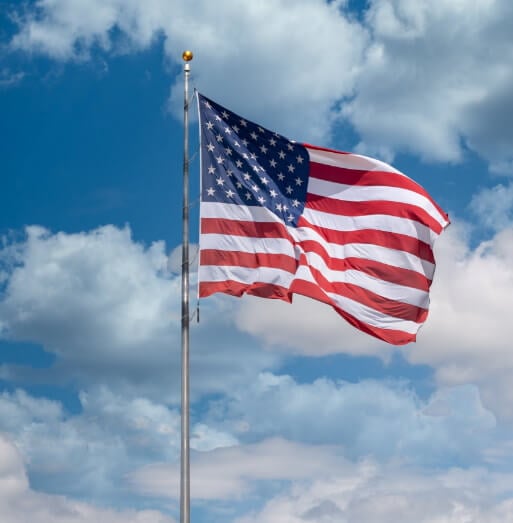 Become a Monthly Partner