21 Days of Gratitude – Will You Join?
Suni Piper, IFA Contributing Writer
|
November 25, 2021
21 Days of Gratitude – Will You Join?
Suni Piper, IFA Contributing Writer
|
November 25, 2021
I Prayed
have prayed
Lord, thank you for who You are. We pray that You would be in the center of it all during this holiday season.
What would our lives look like if we were mindful that our actions, our thoughts, our time, our investments…were a direct reflection of what HE has done for us? What if we were firmly anchored – not on our stuff, our jobs, our family, our status – but on Him?
Who has the pleasure of your attention?
"Worthy are you, our Lord and God,
to receive glory and honor and power,
for you created all things,
and by your will they existed and were created." Rev 4:11 ESV
View Comments (24)
Who has access to the throne of your life?
So be very careful! Don't forget the covenant the Eternal your God made with you; don't make yourselves an idol in the shape of anything. The Eternal your God has commanded you not to! The Eternal your God burns with jealousy when you're not completely loyal to Him. Dt 4:23-24 VOICE
What have you have placed on the altar of your life?
At each and every sunrise you will hear my voice
as I prepare my sacrifice of prayer to you.
Every morning I lay out the pieces of my life on the altar
and wait for your fire to fall upon my heart. Ps 5:3 TPT
Where and to whom are you anchored?
This hope [this confident assurance] we have as an anchor of the soul [it cannot slip and it cannot break down under whatever pressure bears upon it]—a safe and steadfast hope that enters within the veil [of the heavenly temple, that most Holy Place in which the very presence of God dwells], where Jesus has entered [in advance] as a forerunner for us… Heb 6:19-20 AMP
Will you take a personal inventory on how your life is established, to whom you are living for? It's not about the right agenda, the right party, the right narrative…the truth is only ONE is to be Lord over our lives, only ONE who is to have our FIRST commitment. It is from THIS place that our story, our focus, and our commitments should be established.
A Sacrifice of Praise
This is the month of November, a perfect and normal time to focus on gratitude. What would happen if PRAISE and THANKSGIVING became your starting point each day? What would your life look like if you CHOSE to PRAISE no matter the bad report, no matter the state of your emotions, no matter what storm you are presently facing, no matter the turmoil of our world today? A sacrifice, by definition, costs us something. So choosing to praise even when our lives and feelings don't align, is truly a sacrifice.
Through Him, therefore, let us at all times offer up to God a sacrifice of praise, which is the fruit of lips that thankfully acknowledge and confess and glorify His name. Heb 13:15 AMP
So let's go outside, where Jesus is, where the action is—not trying to be privileged insiders, but taking our share in the abuse of Jesus. This "insider world" is not our home. We have our eyes peeled for the City about to come. Let's take our place outside with Jesus, no longer pouring out the sacrificial blood of animals but pouring out sacrificial praises from our lips to God in Jesus' name. Heb 13:13-15 MSG
He wants your heart, your devotion, not a life simply lived by going through the motions. He doesn't want you because you are a "good Christian". He wants you because you are His; He wants access to your heart!
Going through the motions doesn't please you,
    a flawless performance is nothing to you.
I learned God-worship
    when my pride was shattered.
Heart-shattered lives ready for love
    don't for a moment escape God's notice. Ps 51:16-17 MSG
Starting from a place of praise will cause your heart to overflow, it will cause your outlook to change and your perspective to skew towards His. It will empower you!
Enter into the secret place, lift high your hands in praise, sing psalms of worship and adoration! Start a gratitude journal, create a worship playlist, dance, kneel, draw, paint, create a special space to sit alone with the Creator of the universe – the One who created you and calls you by name. Bask in the presence of the One who knows you intimately and wholly (Psalm 139)!
You can pass through his open gates with the password of praise. Come right into his presence with thanksgiving. Come bring your thank offering to him and affectionately bless his beautiful name! Ps 100:4 TPT
Will you join me in 21 days of gratitude? I think it could be the beginning of a fresh outlook. Let us know in the comments below!
(Suni Piper is a writer and passionate intercessor for the nation and for the Church. She is determined and surrendered to be a voice of truth and encouragement to the Body of believers. Follow Suni at her website ASurrenderedLife.com.)
Partner with Us
Intercessors for America is the trusted resource for millions of people across the United States committed to praying for our nation. If you have benefited from IFA's resources and community, please consider joining us as a monthly support partner. As a 501(c)3 organization, it's through your support that all this possible.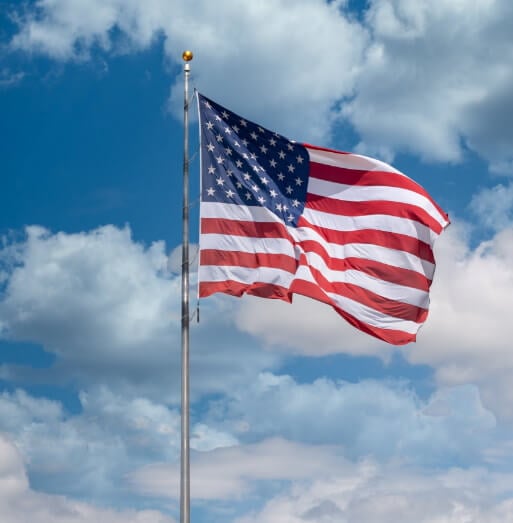 Become a Monthly Partner
You can post a prayer to share with others.
HENRY T
November 25, 2021, 11:35 am
Today, Thanksgiving is celebrated in the USA. Remembering that the pilgrims, 400 years ago celebrated this dinner giving thanks for the Provision in times of scarcity. Today we pray giving thanks for the prophetic word given to this great Nation, that the God in whom its first inhabitants trusted will not be ashamed nor will the evil one reign forever. We pray prophetically Isaiah 45: 1-3 "Thus says the Lord to his anointed, to Cyrus, whose right hand I have grasped, to subdue nations before him and ungird the loins of kings, to open doors before him that gates may not be closed: "I will go before you and level the mountains, I will break in pieces the doors of bronze and cut asunder the bars of iron, I will give you the treasures of darkness and the hoards in secret places, that you may know that it is I, the Lord, the God of Israel, who call you by your name." ‭‭Isaiah‬ ‭45:1-3‬ ‭ The 1st Ver. declares the call of "CIRO" (USA) AND ITS LEADERSHIP IN THE NATIONS, AND THE DOORS HAS BEEN IN ITS FAVOR, especially the door that was opened in 1948 and 2018 with ISRAEL, the door of the State and the door of David in JERUSALEM. The 2nd Ver. Declares what the Lord will do before your eyes. That we declare todat for you USA - EL SHADDAI, WILL STRAIGHTEN THE TWISTED PLACES - EL SHADDAI, WILL CRACK BRONZE DOORS - THE SHADDAI, WILL MAKE PIECES THE IRON LATCHES USA, CIRO: THE SHADDAI GIVES YOU THE HIDDEN TREASURES, THERE WILL BE KNOWLEDGE AND REVELATION IN SCIENCE LIKE IT HAD NEVER BEEN SEEN BEFORE, THIS IS ACCELERATING, IT WILL COME TO LIGHT SOON. This is because of Israel whom you have loved so much. AMÉN 🙏🏼
Alan V
November 25, 2021, 9:55 am
Lord, thank you for who You are. We pray that You would be in the center of it all during this holiday season. Praise the God of Presence and Fellowship. Thank you for the great honor of being made in Your image. That was not our works or our will but Your own. Thank You for such a priceless gift. Thank You for President Washington's Thanksgiving Proclamation of October 3, 1789.
Allena J
November 25, 2021, 7:59 am
I will enter His gates with Thanksgiving in my heart, I will enter His courts with praise. I will say this is the day that the Lord has made. I will rejoice for He has made me glad. We bring the sacrifice of praise into the house of the Lord. And we offer unto You the sacrifices of thanksgiving and praise. Give thanks to the Lord for He is good. His love endures forever. Hallelujah and Amen.
Julia R
November 25, 2021, 6:41 am
Lord, thank you for who You are. We pray that You would be in the center of it all during this holiday season. May our hearts and our focus be on You, and not on ourselves, our situations, but may we truly praise and worship You with our whole hearts.
Steve H
November 25, 2021, 6:33 am
Abba Father, I thank you for watching over us, especially in this past 15 months. Lord You have been there every step of the way. In our family's darkest hours You were there, holding us up with Your mighty right hand. The enemy wanted to take us out as a family, but YOU said NO. I thank you Father for exposing the lies of the evil one and returning our boys home. You have shown Your hand at work, restoring and strengthening us. I thank You, I thank You, I thank You. Father keep your hand upon this nation. Forgive us from sinning against You. Restore this nation and bring it's people back to You, on our knees, asking forgiveness and for You to save our nation. Praise You Lord forever more. In Jesus name Amen.