Antony Blinken
Secretary of State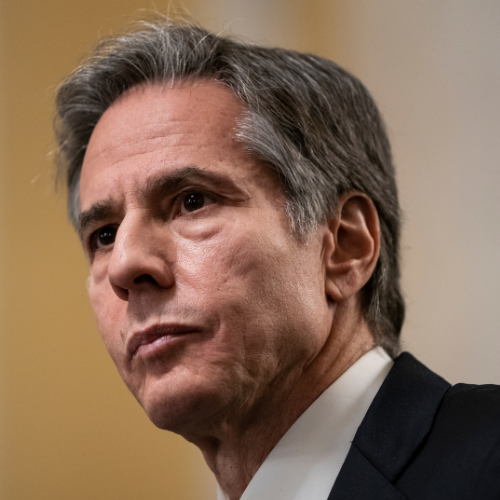 Address:
U.S. Department of State 2201 C Street
N.W. Washington, DC 20520
I Prayed
have prayed
Submitted Prayers (2,179) for Antony Blinken
Darlene E
August 29, 2023, 4:37 pm
Father, I pray for Secretary of State, Antny Blinken. May he see himself as a sinner, in need of a Savior. May he there is no hope for eternity unless he embraces Jesus and makes him Lord of his life. Touch his heart with repentance and a love for you.
Todd U
August 25, 2023, 11:56 am
God will end the destruction of the people of Ukraine, stop the war, prevent nuclear war, and stop the failing expenditure of trillions bringing America to ruin
Darlene E
August 15, 2023, 1:00 pm
Father, I pray for Antony Blinken. Give him a hunger and thirst for righteousness and repentance. Remove the veil so he may see truth that you reveal. May he see his life as empty without you.
joyce B
August 2, 2023, 5:40 am
COMMUNISM, MARXISM, SOCIALISM HAS NEVER WORKED AND NEVER WILL!! REPENT BEFORE IT'S EVERLASTINGLY TOO LATE!!! Jesus is coming back very soon, and we will all be held accountable for everything we have done on earth. WHAT WILL YOU TELL HIM? He already knows the truth, and He knows your every thought.
Darlene E
July 28, 2023, 2:58 pm
Father, I pray for Secretary of State Antony Blinken. May he seek you humbly for wisdom in his office. Give him repentance for seeking money and power over life with you and righteousness for our nation. May he see he has no real life outside of life in Jesus. Protect him and his family.
Trudee N
July 28, 2023, 11:08 am
Father, I pray that Secretary Blinken will seek God's guidance as he represents the U.S. at the ministerial meetings in Australia. I pray he will represent the U.S. well with courtesy and strength. Lord, please draw him to Yourself. May he know Jesus as His Lord and Savior. Amen.