Antony Blinken
Secretary of State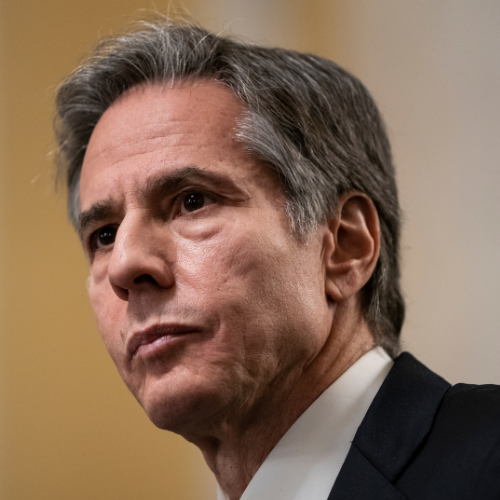 Address:
U.S. Department of State 2201 C Street
N.W. Washington, DC 20520
I Prayed
have prayed
Submitted Prayers (2,108) for Antony Blinken
Leigh H
June 27, 2022, 5:53 am
Dear Heavenly Father, I pray today for Antony Blinken, asking that he comes to a saving knowledge of You, someone comes along side him and shows him the Way to You/ Plants a seed that grows and becomes a deep abiding faith in You. That he comes to you and asks for Your wisdom in his decisions and actions for himself, his family and this country. Have him realize how much he is loved by You, our Heavenly Father and protect him from those who would injure him. In the name of our Savior, Jesus Christ. Amen!
Annette R
June 15, 2022, 11:21 am
Gods judgement on Anthony. he would be convicted from the Holy Spirit. Heart will change. He will step down.
Victoria S
June 8, 2022, 4:48 pm
Precious Heavenly Father, I thank and praise you for raising up Secretary of State Antony Blinken for such a time as this! Father, allow this man to come to know you as his heavenly father. Open his spiritual eyes and ears! I pray that not only Secretary of State Antony Blinken, but also all of his co-workers and loved ones come to know Jesus Christ as their Lord and Savior. I pray that you inspire Antony Blinken in all the details of his life so that he might learn to live his life for your glory, Lord Jesus! Teach him to stop fearing those who can only kill his physical body. Give him grace to learn to fear his Creator, the Lord of Lords, Jesus Christ! May the fear of the Lord allow the spiritual eyes and ears of Secretary of State Antony Blinken to be opened! May he begin living in obedience to the Holy Spirit. May his life become a holy life, lived for the glory of the Lord Jesus Christ!
Loretta T
June 7, 2022, 7:39 am
Lord please send Anthony The Spirit of Wisdom and a Revelation of the knowledge of Christ, that his heart would understand his need for You LORD and respond to You LORD.
Dorothy F
June 5, 2022, 10:16 am
Heavenly Father we ask that Mr. Blinken be granted divine wisdom in all his dealings whether in public or private, as Your wisdom and Your Will be done! Thank You for allowing us to approach Your Throne with these petitions, in the Mighty Precious Name of Your Son Jesus! Amen,
Tammy B
May 30, 2022, 4:20 am
Father God, I ask that you give Secretary of State, Antony Blinken, supernatural wisdom, so that he may guide our country according to Your will. In Jesus' Name, Amen. Thank You Father.