Lloyd Austin
Secretary of Defense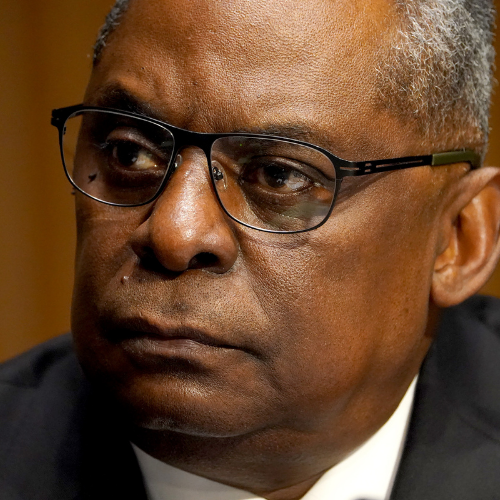 Address:
1400 Defense Pentagon
Washington, DC 20301
I Prayed
have prayed
Submitted Prayers (454) for Lloyd Austin
Darlene E
March 17, 2023, 4:21 pm
Father, I pray for Secretary of Defense Lloyd Austin. May he see himself as you see him, knowing he has nothing to offer you. Bring him to salvation and trust in Jesus and a walk in integrity. May he humble himself before you, putting aside any idols that stand between you and him.. May he seek you for wisdom in leading our nation.
Trudee N
March 17, 2023, 4:20 pm
Father, I pray for General Austin to have Your wisdom regarding the situation with the drone that was downed by the Russian aircraft. If recovery of the drone is possible and if this recovery will keep important technology out of the hands of the Russians, I pray it will proceed. I pray him to give wise counsel to President Biden. Most of all I pray that General Austin would have an encounter with the risen Jesus that will turn his eyes to eternity. May he realize that he needs a savior and call upon Jesus. In His name I pray, Amen.
Trudee N
March 10, 2023, 3:52 pm
I pray that Secretary Austin would be well informed, accurately, about foreign affairs and respond appropriately to international risks and threats. May he open his heart to hear God's message in His Word. May he come to know Jesus as his Lord and Savior. In Jesus' name, Amen.
Trudee N
March 3, 2023, 4:33 pm
Father, I pray for Secretary Austin that he will be drawn to Your light and have an encounter with the living Savior, Jesus Christ. May he not "forsake the path of uprightness to walk in the ways of darkness, rejoicing in doing evil and delighting perverseness" (Proverbs 2:13-14). May he come to love Your light and allow that light to direct all that he does. In the name of Jesus, Amen.
Allena J
March 3, 2023, 7:24 am
Lord, Lloyd Austin needs You. Turn his mind and thoughts to seek You and Your righteousness just like Daniel did. Lord, he has turned his back on Your holy ways, what Your Word says, and all that is right and good. Father, You hold each of us accountable for our words, thoughts and actions. O Mighty King and Savior of men's souls, cause this man to repent and turn to You, turning away from the darkness to Your glorious light. In Jesus' Name. Amen.
Trudee N
February 24, 2023, 3:02 pm
Father, I pray that You would give Secretary Austin Your wisdom as he navigates the troubled waters of international relations which seem to be deteriorating. We know that he need only ask and You will supply wisdom ("If any of you lacks wisdom, he should ask God, who gives generously to all without finding fault, and it will be given to him." James 1:5). But with asking for wisdom comes the necessity of being willing to act on that wisdom. May Secretary Austin hear Your voice clearly and act in accordance with Your will. I pray in Jesus Name, Amen.