Lloyd Austin
Secretary of Defense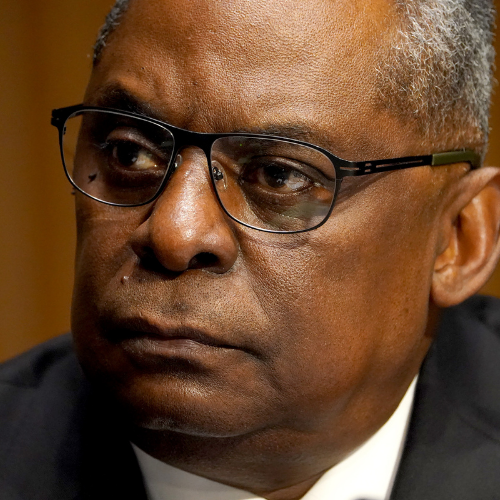 Address:
1400 Defense Pentagon
Washington, DC 20301
I Prayed
have prayed
Submitted Prayers (405) for Lloyd Austin
Phillip B
June 18, 2022, 1:12 pm
Only you Father can change the hearts of these people. I ask you to do this and to open their eyes to see the truth
Annette R
June 15, 2022, 11:23 am
Gods judgement on this man. he would be convicted from the Holy Spirit. Heart will change. He will step down and be judged for the abuse he has caused and allowed on this nation. He deserves prison for treason and that the tables will turn on him. Military commanders will cause so much pressure and confrontation on this person, he is judged by military and go to the brig.
Dorothy F
June 5, 2022, 10:23 am
Heavenly Father we ask that Sec. of Defense Lloyd Austin turn away from any evil he seeks to perpetuate. Turn his eyes towards the heavens and You Father God for guidance in his position. Convict him in all areas of his life and dealings both public and private. We humbly ask these things in the Mighty Precious Name of Your Son Jesus! Amen!
Donna C
June 1, 2022, 7:30 am
Father God, May Sec. of Defense Austin be drawn closer to You. You are the light of the world and our great Defender. May he be strengthened by the truth that as a "Defense" leader, he is part of the Army of God to defend the USA and defend all who live within its boundaries. May he hear Your guiding words align with Your army and follow your directives above all others. Thank you Father for loving this man so much that You sent your only Son to die for him. There is no greater love than this. Amen
Allena J
May 17, 2022, 11:12 am
Lord, Grant Sec. of Defense Austin courage, integrity, wisdom from above, and the ability to see Your truth in every matter. May he uphold his vow to defend and protect the Constitution of these United States. Light his path so that he walks uprightly, with righteousness in his heart. In Jesus' Name. Amen.
Allena J
May 10, 2022, 11:20 am
Father, I bring before You Sec. of Defense Austin. Open his eyes to see Jesus and Him crucified, dead, buried, risen and alive. Give him dreams and visions of Jesus. Open his heart to believe the Truth of this good news. Lord, the morale in our military is very low. Speak to the Secretary's hearts that this must change. Show him Your way of doing things. Open his heart and mind to new ideas. Take him out of his prejudicial thinking about people of faith. Protect him, his family, his staff. Set them all on a path of righteousness for Your Name's sake. In Jesus' Name. Amen.