Lloyd Austin
Secretary of Defense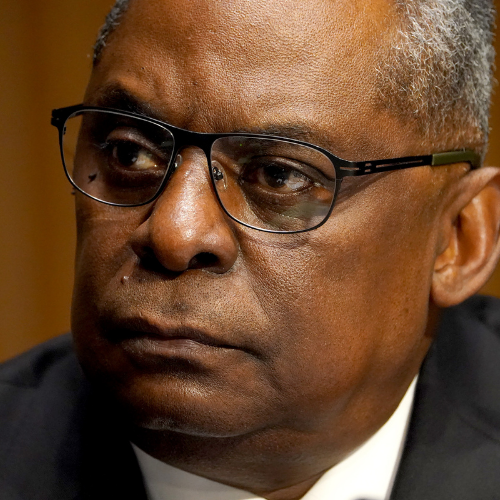 Address:
1400 Defense Pentagon
Washington, DC 20301
I Prayed
have prayed
Submitted Prayers (438) for Lloyd Austin
Allena J
November 17, 2022, 8:12 am
Father, Sec. of Defense Austin has a veil over his heart and mind. He has chosen to turn his back on Biblical truth and go the way of the world, it seems. Only You know what is in a man's heart. I see the veil of deception and lies clouding him. Lord, You are the one who can change him. His soul is in danger of hellfire and damnation. Lord, would You open his hardened heart to Your truth? Transfer him from the domain of darkness into the Kingdom of Your dear Son Jesus. Cause him to be a different man. In Jesus' Name. Amen.
Darlene E
November 13, 2022, 4:43 pm
Father, I pray that you would turn Lloyd Austin's heart to righteousness. Give him a heart to seek you for your wisdom. May he honor our constitution and make his decisions accordingly. May he desire to see our armed services strong and not concentrate on pronouns and white supremacy. May he have a heart to unify our country.
Allena J
October 27, 2022, 7:52 am
Hebrews 4:12 For the word of God is living and active and sharper than any two-edged sword, and piercing as far as the division of soul and spirit, of both joints and marrow, and able to judge the thoughts and intentions of the heart. 13 And there is no creature hidden from His sight, but all things are open and laid bare to the eyes of Him with whom we have to do. Lord, cause Sec. of Def. Austin to look to You in all he thinks, intends and decides. Grant him wisdom, strength, courage and uprightness of heart. Help him to do what You want him to do. Show him the right way to go. Bend his stiff neck. Show him that he must answer to You for all he has said and done, for You know the thoughts and intents of his heart. In Jesus' name. Amen.
Virginia C
October 23, 2022, 10:08 pm
Dear God, All authority is Yours, but You have given authority to leaders to protect and guide us. Today, we ask that You would give all our leaders wisdom, discernment, strength, and resolve. Give our government leaders wisdom to ensure that our Constitution is being followed to the letter in order to meet the needs of the citizens. Lord, keep them focused on You, protecting all citizens, even those in the womb, from harm. And Father God, give courage, hope, generosity, and kindness to follow You in all our leaders do. Give a loving, kind heart to our leaders so that they will commit their way to You as their Lord and Savior and that they will trust only in You. Guide them, Lord, lead them in the narrow way, in Your way, and away from the sinful world. And Father God, if they have stumbled and turned from You, bring them back to You, enfold them with the Holy Spirit to guide, guard, and direct them in Your way. In Jesus' Holy Name, Amen
Bridget B
October 22, 2022, 12:42 pm
Thank you, Father God, for LA. Am believing you hold this man in the palm of your hand. Holy Spirit, have a free hand in LA life. Am believing the truth will be exposed in his walk with you. Salvation, healing and deliverance. Father, save him or remove him. In His grip, br
Susan C
October 22, 2022, 8:40 am
Dear Heavenly Father, Your Word says, "Hope deferred makes the heart sick, but desire fulfilled is a tree of life." My heart is sick at the present condition of our country. I pray You will awaken Lloyd James Austin III to the truth of his part in our decline. I pray You will fill him with Godly sorrow and lead him to repent and know Your salvation. Salvation is Your gift Lord, I pray You will press into this man and make him Your own. I pray in the Name of Jesus Christ. I pray in Holy Spirit Power. I pray this and so much more to Your Glory and the good of America. Amen