Lloyd Austin
Secretary of Defense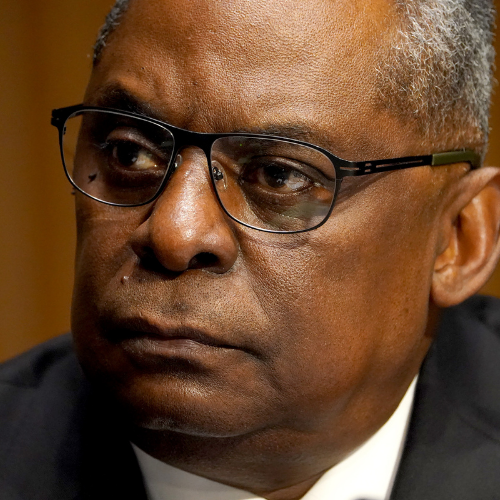 Address:
1400 Defense Pentagon
Washington, DC 20301
I Prayed
have prayed
Submitted Prayers (483) for Lloyd Austin
Bonnie W
September 27, 2023, 8:26 am
Holy Spirit, we ask You to fill our city, state, and national governmental leaders with wisdom, understanding, discernment, and knowledge.
Darlene E
September 26, 2023, 12:22 pm
Father, I lift up Lloyd Austin. I pray you would touch his heart with truth. May he bow humbly before you, the God of the Universe and Savior of sinful men. Show him himself as you see him and not as he sees himself.
Allena J
September 26, 2023, 7:05 am
Lord, I pray that Gen. Austin would protect and defend our U.S. Constitution in and through his work in the defense department. Open his eyes to see Your hand moving. Turn his neck that he does Your will for Your glory. Protect him. Keep him from bribery. Cause him to strengthen our defense department, all the workers and all the military personnel. May they be strengthened in heart. Lord, be our defense through them. Amen.
joyce B
August 31, 2023, 11:03 am
JESUS IS COMING BACK VERY SOON, AND WE WILL ALL BE HELD ACCOUNTABLE FOR EVERYTHING WE HAVE DONE ON EARTH. WHAT WILL YOU TELL HIM? He already knows everything you have done to harm our country, and He knows your every thought. HOMOSEXUALITY HAS NO PLACE IN OUR MILITARY!!! You are for Him or you are for Satan. REPENT BEFORE IT'S EVERLASTINGLY TOO LATE!!!
Darlene E
August 29, 2023, 4:39 pm
Father, I pray for Secretary of Defense Lloyd Austin. May he see himself as a sinner, in need of a Savior. May he there is no hope for eternity unless he embraces Jesus and makes him Lord of his life. Touch his heart with repentance and a love for you.
Todd U
August 25, 2023, 12:03 pm
God will cause him to see the importance of the basic role of the military and not attempt to use it as a vehicle for social change against your principles