Merrick Garland
Attorney General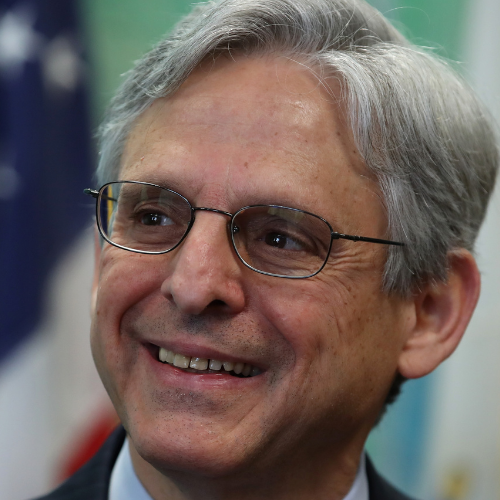 Address:
U.S. Department of Justice 950 Pennsylvania Avenue
Washington, DC 20530
I Prayed
have prayed
Submitted Prayers (1,785) for Merrick Garland
Allena J
May 17, 2022, 11:11 am
Lord, Grant Attorney Gen. Garland courage, integrity, wisdom from above, and the ability to see Your truth in every matter. May he uphold his vow to defend and protect the Constitution of these United States. Light his path so that he walks uprightly, with righteousness in his heart. In Jesus' Name. Amen.
Richard and Linda N
May 12, 2022, 1:27 pm
First of all, we thank God he didn't get on the Supreme Court! There is a lot in Scripture about unjust judges, but he's still in a position to do immense harm, such as persecuting mothers and families. We ask You, Almighty God. to humble him and bring him under the Cross of Christ, and to save his soul. Use him, in spite of himself, to bring justice to this nation. Stretch out Your Hand and halt his ungodly activities or cause them to crumble. Lord, have mercy on this nation.
Allena J
May 10, 2022, 11:30 am
Father, I bring before You Merrick Garland, AG for the United States. His is a far-reaching position. The DOJ has become way too large, Father. They have enacted a new office entitle Department of Environmental Justice. This has far-reaching impacts and probably too much control over communities that tend to have health issues, poverty, etc. Lord, it is time to dismantle this huge DOJ. Influence staff and leadership alike to show them that the way to better a community is to "show them how to fish," but not do the fishing for them. I ask You to limit, even thwart some of their plans, which may have good intentions, may lead to more government control in the end. Lord, I don't know how we came to this point in our country, but I ask You to tear this one down. Deliver Garland and others from evil. Show them the way of Truth and Righteousness. May God's glory hover over every member of this department. May they all bow their knees to the King of Kings and Lord of Lord. I ask this so that we may live a peaceful and quiet life in full observance of our religion. In Jesus' Name. Amen.
Susan C
May 6, 2022, 2:02 pm
Dear Heavenly Father, Jesus said to the church in Sardis, "Wake up and strengthen what remains, which was about to die; for I have found your deeds incomplete in the sight of My God. Remember, then, what you have received and heard. Keep it and repent. If you do not wake up, I will come like a thief and you will not know the hour when I will come upon you." (Revelation 3:2-3) I pray Merrick Garland will hear these words and they will penetrate into his spirit. May he wake up, be filled with Godly sorrow and repent. I ask that it be in Your good pleasure to draw him into a right relationship. I pray this in the Name of Jesus Christ, for Your Glory and the good of this nation. Amen
Allena J
May 3, 2022, 11:19 am
Father, I lift up Attorney General Merrick Garland to You. He needs to hear from You. Open his heart, his mind, his spirit to the things of heaven above. Shake him so that he will choose to hear from You. Send Holy Spirit to speak to him. He needs the wisdom from above; he needs Your truth; he needs to know what You want and the courage to do it in face of opposition. Soften his heart so that it is pliable in Your hands. Show him what true terrorism is, Lord. May the fear of God fall upon him and his staff. Lord, he has said things that redefine lawful dissent. Lord, I ask that You show him how to retract this statement. Otherwise, Lord, what he intended for evil may fall back on him and his family. I forgive him. Deliver him from evil. Lord, may he do what is right in Your sight so that we may life a life of peace and in full observance of our religion. Use him for Your purposes. Let Your Kingdom come and Your will be done in His life. In Jesus' Name, by His authority and His blood, I ask these things. Amen.
Rita W
April 22, 2022, 3:04 pm
Father take the scales off of the eyes of Merrick Garland and allow him to see your truth. Forgive each leader for neglect to seek your face. By your grace and mercy draw them by your spirit.