LET GOD ARISE, AND HIS ENEMIES BE SCATTERED
September 23, 2021
LET GOD ARISE, AND HIS ENEMIES BE SCATTERED
September 23, 2021
Pray
have prayed
Lord, You have given us authority to speak Your Word and Your will over the earth. You said that, if we speak to a mountain and do not doubt in our heart, but we believe that those things we say will be done, then we will have whatever we say. We govern over the earth today in Jesus' name accordingly.
Beloved intercessor, are you full of righteous indignation because of the mountains of sin, iniquity, lawlessness, injustice, and perversion in America today? If so, then today I invite you—no, urge you—to join me in SPEAKING to these mountains, so we can see them removed and righteousness set up.
In Mark 11:22-24, Jesus taught us to speak to the mountains we want removed. This passage says:
"So Jesus answered and said to them, 'Have faith in God. For assuredly, I say to you, whoever says to this mountain, 'Be removed and be cast into the sea,' and does not doubt in his heart, but believes that those things he says will be done, he will have whatever he says. Therefore I say to you, whatever things you ask when you pray, believe that you receive them, and you will have them" (Mark 11:22-24 NKJV).
The speaking that Jesus taught us about is not wishful speaking nor wishful thinking. Instead, it is authoritative.
When God created the earth, He spoke—and things appeared. He simply said, "Light, BE!" … and light suddenly appeared. This is actually the same type of authoritative statement Jesus taught us to use in prayer, when He taught the disciples how to pray: "Your Kingdom, COME! Your will, BE DONE on earth as it is in Heaven!"
If we are to follow Jesus' example of commanding the will of God to "BE DONE!" on the whole earth, then we definitely need to be speaking to the United States of America, commanding it to conform to the image of Christ and His Kingdom.
So today, would you join me in using the weapons of our warfare together? Let's corporately declare the following over our beloved nation:
In the mighty and precious name of Jesus Christ of Nazareth, I speak to these United States of America and I say:
"Let God arise, let His enemies be scattered; let those also who hate Him flee before Him. As smoke is driven away, so drive them away; as wax melts before the fire, so let the wicked perish at the presence of God" (Psalm 68:1-2).
"But let the righteous be glad; let them rejoice before God; yes, let them rejoice exceedingly" (Psalm 68:3).
I speak to the mountains of sin, iniquity, lawlessness, injustice, and perversion in America today, and I say: Be removed and be cast into the sea! (See Mark 11:22-24.)
Let justice run down like water, and righteousness run in America like a mighty stream! (See Amos 5:24.)
Let the righteousness of Christ be manifest and magnified, and let His righteousness exalt our nation! (See Proverbs 14:34.)
Light of Christ, SHINE in our nation today, and shine into the hearts of all her people!
Wisdom from above, BE in Jesus' name in America today!
Discernment, discretion, and understanding from God, BE! In Jesus' name in the American people!
Unity of God around the Word of God, BE in the Body of Christ in Jesus' name!
Let the blood of Jesus cover and atone for our sins as a nation and as God's people.
Let righteous judges who will not pervert justice rise up!
Let righteous legislators who will govern according to righteousness, and according to the Constitution, rise up!
Let every wicked politician be removed from office now in Jesus' name! Politicians, we speak to you and we say: Be saved or be removed, in Jesus' name!
Let every plot, trick, and machination of the wicked be exposed and revealed and come to light, in Jesus' name!
Let righteous indignation rise up in the hearts of those in power, and let GODLY JUSTICE be executed to every criminal in every level of government affairs!
Let those who are bound by the plotting of the wicked be FREED in Jesus' name.
Let the righteous who are bound be BROUGHT OUT into prosperity, and let the rebellious dwell in a dry land. (See Psalm 68:6.)
Let evil rulers be replaced with godly ones in Jesus' name. Godly rulers over this nation, its states, and territories, BE! in Jesus' name!
Let godly rulers fill all the seats of every school board, every mayor's office, every state legislature, and every governorship in America!
Let JUSTICE and TRUTH be done for the American people, in Jesus' name!
Election integrity for ALL elections, BE in Jesus' name!
Individual godly freedoms, BE PROTECTED in Jesus' name!
Ungodly mandates, laws, and executive orders, be removed, null and void, and broken and of no effect, in Jesus' name!
Let the vindication of the Lord come forth now, in Jesus' name! Holy vindication, BE!
Let jobs, thriving businesses, and profits BE RESTORED to the American people NOW, in Jesus' name!
Let every military defeat be turned around into GOD'S own victory, in Jesus' name!
Let the honor and integrity of America be restored NOW, in Jesus' name!
Let the power of our Constitutional Republic be returned to the people NOW, in Jesus' name!
Beloved, your words have power. Now is the time when we need to be speaking these decrees, as well as every other godly command you can think of, over our nation. I encourage you to dig deeply into the Word of God in this hour and find the authoritative statements in Scripture that apply to our nation. Speak those commands out loud, and stay firm in faith.
Remember the words of Jesus: Whatever we SAY, if we do not doubt in our heart but BELIEVE, we will have whatever we say.
What are you speaking over America today? Leave a comment below and share your favorite "Light, BE!" type of declaration or decree!
Jamie Rohrbaugh equips people to walk in the manifest presence of God. She blogs for a global readership at FromHisPresence.com, where she writes about prayer, the prophetic word, living supernaturally, inner healing, and Kingdom wealth. She is a frequent contributor to Charisma Magazine, The Elijah List, Spirit Fuel, and various other ministry outlets. Her podcast, Take Your Territory with Jamie Rohrbaugh, can be found on iTunes and Spotify. Download her newest FREE study guide, 80 Confessions of Your Supernatural Identity in Christ, here.
Partner with Us
Intercessors for America is the trusted resource for millions of people across the United States committed to praying for our nation.
If you have benefited from IFA's resources and community, please consider joining us as a monthly support partner. As a 501(c)3 organization, it's through your support that all this possible.

Dave Kubal
IFA President
& CEO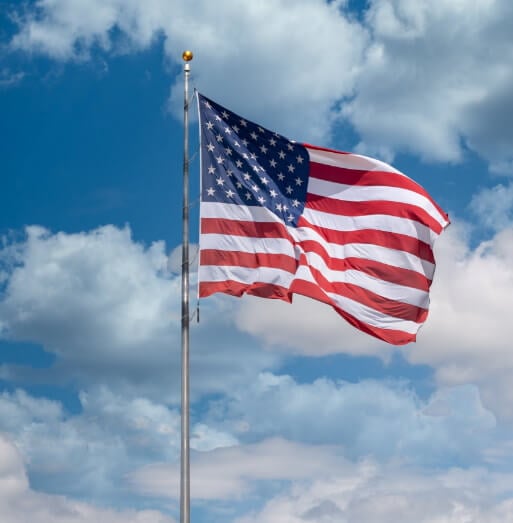 Become a Monthly Partner