January 20, 2021 | Shelley McLaughlin, IFA Contributing Writer
Father – thank you for helping us settle down, plant good spiritual seeds and be fruitful in Your Spirit even in the face of adversity. Forgive us for how we have talked to You, about You and to and about each other.
For the last 22 months, the Lord has repeatedly spoken Isaiah 43:19 to my heart: He is doing a new thing, will make a way in the wilderness and constantly asking if I do not perceive it? As soon as I get a glimpse of His hand at work, the world clouds my vision again. I get discouraged. I get frustrated. Then up pops that verse again when and where I least expect it.
Lather, rinse, repeat.
Everyone loves their routine and peace. Disruption is annoying, uncomfortable, and stressful. But in order to rescue us from false peace, fake safety, and the counterfeit security we have built up around ourselves, He is tearing everything back down to the foundation. He is building a new wall of fire around us and will show the world who He is before this is all over.
People all over the world are reading Exodus 10-13 this week, even as we go through the Exodus for the Rest of Us. Locusts, palpable darkness, a foreboding warning that economic tumult for the Egyptians is coming soon topped off with a really serious final blow all serve as mile markers on His path to deliverance.
Can you feel the darkness? If so, you might still be tangled up in Egypt – caught up in the thorns, cares, and love of this world and her systems passing away before our very eyes day by day instead of focusing on the world to come where the one true King of this World reigns.
The last 3 plagues were designed to demonstrate God's supremacy and sovereignty. He gave Pharaoh strength to battle Him as He played to his ego. Pharaoh responded as expected.
This is a huge warning to all of us: if you continue to walk in pride with an unrepentant heart and refuse to turn to Him, He will eventually give you what you ask for – death. Egypt was a culture of death – a people who celebrated it. There was no life there. Even the people who were delivered into the wilderness who mourned for their previous life died and were buried in the sand because even though Pharaoh let them go, they couldn't let go of Egypt.
Egypt represents the world systems, which are still a culture of death trying to cheat death. All of its systems are rooted in death. But the Kingdom is already here with more to come.
Jeremiah 16:14 ("Yet behold, the days are coming, declares the LORD, when they will no longer say, 'As surely as the LORD lives, who brought the Israelites up out of the land of Egypt.'") and 23:7 prophesy that one day God will bring deliverance for all of His people from every place He has scattered them.
When God speaks twice, listen carefully. 
This end time event includes deliverance from both Egypt and Babylon. Jeremiah 46 outlines a prophecy specifically against the god of Thebes named Amon (which means multitude). He remedies the situation by sending judgment against the multitude in the form of King Nebuchadnezzar.
What happened before will happen again. Biblical prophecy allows us to see the world with spiritual eyesight and stay calm when the world is doing it's world thing and governments are transitioning.
Almighty God sends a sweeping governmental change in Jeremiah 46, which is repeated in Revelation. Paul reminds us in Romans 13 that it is God who appoints leaders over us. You either believe God's Word or you do not. Throughout His Word it is clear that He allows different people at different times for different purposes. So either you believe that in Him all things work together for the good of those who love Him and are called according to His purpose, or you don't.
You may believe this election was stolen. You may be angry that things changed. You may be fearful of the future. You may be frustrated that things could get worse before they get better. You may be angry that God didn't answer your blood, sweat, and prayers. You may be angry that God is bringing about your deliverance in a way you didn't expect.
So what will you do? You can throw a temper tantrum. You can fight against Him if you want to. You can try to do it your own way and in your own strength until you are worn out. Or you can trust in Him that His interest and plans are for your benefit.
Habakkuk cried out to God to fix injustices and unrighteousness. God responds basically with "Sure – I will send the Chaldeans in. Brace yourselves. Glad you asked Me to come in and help clean up the mess y'all made down here. I've been waiting for you to ask and glad you did!" Habakkuk is a little freaked out at this alarming change of events, but settles down, then praises and trusts God. He remains watchful at his post to see the work of the Lord.
If Habakkuk had been texting with God that day, it probably would have looked like this picture to the right.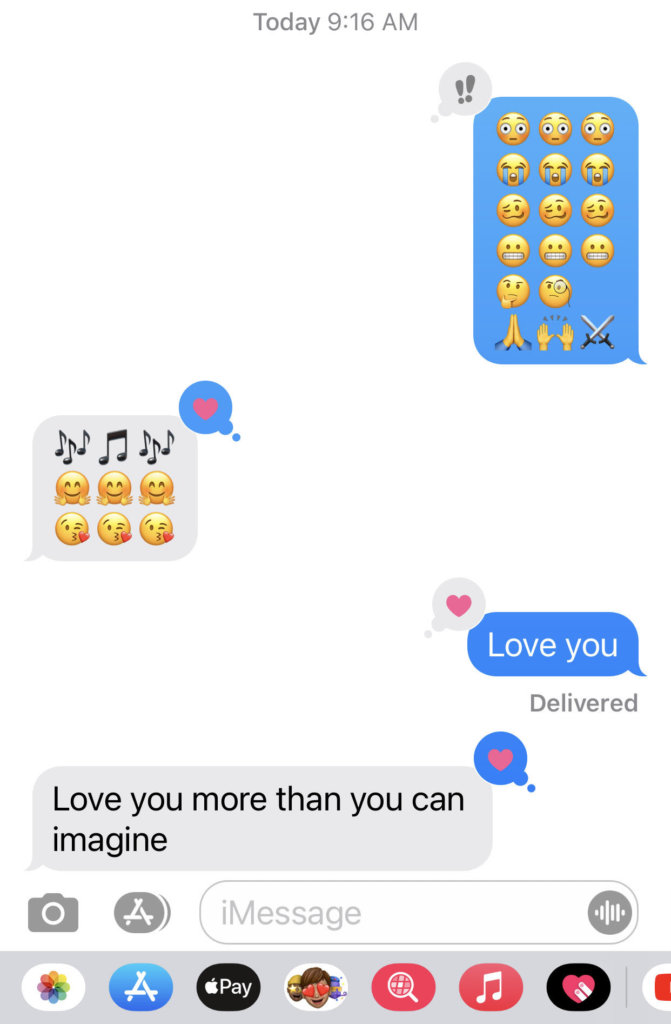 So instead of sitting and wailing, as God's children be the salt and light of this earth He asked you to be! Be different. Instead of sitting in darkness, use your spiritual eyes and perceive that God is doing a new thing. Bring light to your home, neighborhood, city, and state. Be an instrument for Him. Bear His image well. We have cried out for Esthers and Deborahs, for Daniels and Davids. Remember that it is when we are in captivity and oppression that God raises up the Josephs, Daniels, Esthers, Deborahs, Samsons, Gideons, Jaels, and Davids.
How do we do this? Jeremiah 29 provides a good explanation of what we are to do now:
Build your home and settle down. Literally – settle down, people.
Plant gardens and eat their produce. Eat smart. Improve your health.
Grow your family – increase and do NOT decrease. Strengthen spiritually. Guard peace.
Pray for the prosperity of your leaders and the city/state in which you live.
Do not listen to false prophets and diviners who predict a false future.
Be patient in affliction because after 70 times have past, He will come back for us because His goal is to prosper us and not harm us. That could be 70 days, weeks, months or years and the sooner we adjust our attitudes, our words, and behavior the faster that day comes.
So with regard to number 4 let us pray like never before for God's hand to move in this next administration.
Is His arm to short to do that? Nope.
Would you be able to better discern a move of God at that time and give credit where credit is due? Probably.
Was Nebuchadnezzar difficult – yes, at first he certainly was. Nobody likes threats and furnaces. And he clearly goes a little crazy while in office, but at the end of it, just like Pharaoh, he admits Yahweh, the God that we serve, is the one true God. Just like everyone will have to acknowledge one day.
Nebuchadnezzar's prayer is recorded in both secular writings and in Daniel 4. God is able to humble those who insist on walking in pride – regardless of their position here on earth.
God doesn't work in a binary system. He is one. He works in a system of unity. In Him there is no division – no Jew or Greek, male or female, black or white, Democrat or Republican, East coast or Deep South. We are called to work where we see the Father working, because we are called to imitate Christ. He and the Father are one – and we are one with them only when we act, move, think, operate, talk, and, most importantly. love like they do.
Take care that you are not walking in pride deciding what is best when we are not to call good, evil or evil, good. God does not do evil things. He only does things for our benefit. To believe anything else is walking in the pride of your own heart and in your own limited knowledge.
So pray for this incoming president and his staff as much, if not more, than you prayed for President Trump and his staff. Fight for him and for all those in leadership. Intercede and ask God to move our leader's hearts like a river – to change the current and steer it back into His direction. Pray for your cities. Pray for this nation. Pray for His true restoration which always comes after any tribulation that is poured out.
Quit falling into the trap to fight flesh and blood. That's NOT what we are fighting against. Stop shadow boxing with that lie, get in your closets, wear your armor, sing, pray, petition, intercede, bless and do not curse.
Merciful people receive mercy, even when it looks like judgment to everyone else. The pure in heart are blessed enough to see the move of God. The peacemakers are called the sons of God and all of creation is groaning for them to be revealed.
Make peace with God and your neighbor. Settle down and tend to your spiritual garden. Grow the excellent fruit of righteousness and share the abundance of your spiritual produce with them. Don't let the enemy use this moment to let your love grow cold.
Father – thank you for helping us settle down, plant good spiritual seeds, and be fruitful in Your Spirit even in the face of adversity. Forgive us for how we have talked to You, about You, and to and about each other. Forgive us if we have not represented You and Your kingdom well. It is confusing down here right now and we don't know what we are doing. Thank you in spite of that for looking on us with your steadfast love, mercy, and compassion.
On this Inauguration Day, we perceive that You are clearly doing a new thing and we believe that no man is able to ascertain their future. We fervently pray for Your protection, Your health, and Your blessing on Joe Biden, Kamala Harris, and their incoming administrations. We ask that policy developed in alignment with Your will would be fruitful and that policy not of Your will would die on the vine. We ask that You move their hearts like a river, order their steps, continue to flush out corruption in all areas, and bring Your truth and Your healing to our divided and wounded nation. Thank you for the lessons that you taught us in 2020 to clarify Your Kingdom vision. Thank You for helping us get our priorities straight. Thank You for reminding us how to live within Your Kingdom even in our days of exile. Thank You for helping us during this time to serve You as a great host of witnesses to Your true nature so that those living in darkness can see a great light.
Shelley McLaughlin is a passionate IFA intercessor and devoted student of the Word. (Photo Credit: Unsplash.)
How were you encouraged by this article? Share in the comments below!