URGENT: PRAY FOR THE CHILDREN
Shelley McLaughlin, IFA Contributing Writer
|
October 26, 2021
URGENT: PRAY FOR THE CHILDREN
Shelley McLaughlin, IFA Contributing Writer
|
October 26, 2021
I Prayed
have prayed
Abba Father - Help us to be brave.  Help us to take our stand. Help us to trust in You, and not man. Strengthen our faith, our hands, help us build the wall through prayer, intercession and song and embrace Your one true love that sends our fear packing. Help us to pray for all the children around the world.
On Tuesday, October 26th, the FDA will vote on whether or not to allow children to receive Covid-19 vaccinations. This is exactly three years after a prophetic event warning about where we would be today. One week later, on November 2 & 3,  the CDC Advisory Committee on Immunization Practices panel will provide their recommendations on the results of the FDA vote.
In October of 2018, I attended the National Day of Prayer conference in Northwest Arkansas.  I had called my friend Pastor Arthur Hunt, Jr., the National Day of Prayer Arkansas State Coordinator, with an urgent prayer need a week before—the use of aborted fetal cell lines in vaccines.
View Comments (32)
After praying about it for several days, he called me back and agreed it was a serious issue. He asked if Habakkuk 2 meant anything to me – and it absolutely did because it was what my organization had been praying for years. He advised me to write the message plainly on the tablets and run to Arkansas for the conference to raise awareness about this deep concern. He had an exhibit booth and agreed to allow me to pass out a one-page paper describing the use of aborted fetal cell lines in vaccines and talk to conference attendees about what our Christian response to this should be.
By the second day, I thought it was a little odd that at a conference designed to promote a national day of prayer, I had not witnessed any corporate prayer. It was my first time attending so I thought maybe this is what they do—but there was no prayer for the dinner the night before, or prayer the next morning, or even at lunch time that I observed.
Meanwhile, all day long I kept hearing the same thing in my spirit over and over again: "Get on your knees and pray."
Since I was the new kid on the block and my topic of concern on the use of aborted fetal cells in vaccinations was already making me – strange, so I ignored His little voice.  My topic had generated some anger from people – not because of the topic of the source of the cells, but because it was upsetting to have something that appeared to be anti-vaccination.  After two decades of raising awareness with the general public, I was troubled that Christians were seemingly unconcerned about the use of aborted fetal cells in vaccinations.
(Editor's note: And now we know that many babies have not been aborted, but born alive in order for their organs to be harvested. See COVID VACCINE LINK TO INFANTICIDE–A TRUE HORROR STORY.)
The next morning, at breakfast at the hotel, Arthur and his roommate, Eric, struck up a conversation with me. Arthur headed back to the conference to set up his booth for the day. I stayed behind to continue the conversation with Eric as we finished our breakfast.
I asked him, "Is it normal for them not to pray during the conference because I think that's strange, and I kept hearing His voice tell me to get on my knees all day yesterday. I didn't do it though."
Eric put down his fork and stared at me.  He said, "I heard the same thing, but did not do it either.  So, we need to repent right now for not acting quickly when we heard it and obey Him.  Let's head back right now. If we hear Him again, let's just do what He says."
We headed back to the site of the conference and went in separate entrances.  As soon as I walked through the door I heard "Get on your knees and pray." I texted Eric and he said, "I heard it too. I'm going to the front steps to kneel on the other side of the column."
I walked straight to Arthur's booth and told him I had to go to the front, kneel down, and pray.  He was concerned because there had just been a synagogue shooting in Pennsylvania so security at the conference was likely heightened.  I kept hearing it stronger and stronger and frantically told Arthur I had to go up front. He cautioned against it once more. Finally, I took off my shoes and said, "I'm sorry to be weird, but I have to obey Him," and knelt down to pray. Eric was already up on the stairs on the left-hand side of the stage.
I began to pray, and the speaker suddenly stopped mid-sentence. There was no way he could see Eric behind the column, or see me where I was either.  He paused for a few seconds then said, "I believe the Holy Spirit wants us all to get on our knees and pray."
Over 300 people scrambled to the floor like it was a tornado drill and prayed diligently for the next 10 minutes.  Arthur, in shock, grabbed my hand and said, "Get up…you are going up to the steps to pray right now." He ran me up to the right-hand side of the stage. I was sobbing. It literally felt like a wind was about to blow right through the place.
I texted Eric to let him know I was now at the stage.  He texted back, "Do you see what God has done? This is amazing!"
I asked God: "What do you want me to pray?" The Holy Spirit answered: "Isaiah 49." I texted Eric and asking him to please pray it in Hebrew, while I prayed it in English.  He agreed.
I didn't know what was in Isaiah 49 when I started because I was so flustered as I pulled up my Bible App.  Tears were going everywhere and making little puddles on the steps. I cried so hard because I could hardly believe what was happening.  It is one thing to think you have heard from God, it's another feeling all together to watch Him move.
Our organization's prayer and intercession for years was that the Church would rise up to address this issue of using aborted children in this way, that God would make a way. No matter how many pastors or churches or church/faith leaders we spoke to, they always closed the door on our warnings.
Arthur was the first exception and IFA the second exception to that. They listened years before we knew what was coming to the world stage with Covid.
As far as I am concerned, the God I serve answered me on October 30, 2018.  It is His nature to tell us the end from the beginning: a test is coming, pass the test, I will be with you when the waters come up to your neck and you are required to walk through the fire or the valley of the shadow of death.
Every time I confessed my fears regarding the looming judgment that we didn't have all the details for but clearly saw the writing on the wall and knew it would come as a result of this practice: He would gently answer, "Shelley, I know how to separate my people."
So, when I got to Isaiah 49:25, I completely lost it and could hardly speak the words:
"Indeed, this is what YHVH says:
"Even the captives of the mighty will be taken away, and the plunder of the tyrant will be retrieved; I will contend with those who contend with you, and your children I will save."
Three years ago, this was a weird topic. Now the whole world is talking about and wrestling with this topic, especially…His Church. Praise Him – only He can make something grow in His timing!
This week on Tuesday, October 26th, the FDA will vote on whether or not to allow children to receive Covid-19 vaccinations. This very same day is exactly three biblically prophetic years since that event in Arkansas. One week later, on November 2 & 3,  the CDC Advisory Committee on Immunization Practices panel will provide their recommendations on the results of the FDA vote.
This weekend I heard His voice again to sing for the children.
Only a couple of chapters before in Isaiah 47, God issues a stern warning to Babylon regarding what will happen to their children if they continue to dabble in sorcery. The word used for sorcery in the Septuagint in this chapter is "pharmakeia," the same word used in Galatians 5:20, Revelation 9:21 and Revelation 18:23. Their end is announced in Revelation 22.
Pharmakeia is also used in the Septuagint at the beginning of Exodus as God initiates His conversation with Pharoah through Moses with the plagues in Exodus 7:11, Exodus 7:22, and Exodus 8:18 .  The Israelites experienced the tribulation of the first three plagues with the Egyptians – but then at the fourth, God separated His children from the children of Egypt. During the third plague, or third wave, the magicians realized their sorcery had no power to stop or replicate what God was doing.
The sorcerers of today are also beginning to realize that their magic arts cannot stop transmission or contraction of the disease for those who choose to participate in their products. They have encouraged people to take them so they don't have to be hospitalized, but that has fallen through as well. Revelation 18 informs us that they will not stop – and that Babylon is already fallen…they just don't realize it yet. The only option for His people is to come out of her.
This is a warning to hit the ground this week and pray for His mercy once more – in unity using His own words to remind Him of His promises but more importantly to remind us of them. Who knows what His answer will be? But we can absolutely ask Him to stand and move in His great mercy – and should.
Regardless of what modern "Egypt" and "Babylon" decide in their wisdom, God will still be God. He does not change. His word, His wisdom, and His knowledge will prevail. He works all things together for good, for those who love Him and are called according to His purpose. Even – and especially – if His judgment falls on the righteous and the unrighteous.
So guess what, Church?
He's got the whole world in His hands still. And YOU, as the Body of Christ, ARE HIS HANDS! We are commanded to be strong and courageous – so quit wringing them!
We have zero reason to freak out with the anticipated verdicts of either of these committees over the course of the next week – because HE is our rock, our joy, our strength, our shield. He is completely not freaked out at all.
He is just watching us to see what we will do. Will He find faith? His eyes are roaming the earth right now in search of it.
We are called to be different – so let's be different! Let us raise our arms in praise to HIM over the course of this next week and keep our arms lifted in song with requests for YHVH to push Amalek back.
What to pray? Isaiah 49.
What to sing? Psalm 136.
Psalm 136 repeats the phrase, "Give thanks to YHVH for He is good, and His steadfast love endures forever."
According to 2 Chronicles 20, this phrase causes the enemy to become confused and take themselves out – including Amalek. If you don't want to make up your own tune, try this Joshua Aaron version here and score some bonus points for singing in His language – Hebrew.
Prayer:

Thank You YHVH for giving us all the opportunity to allow us to have a conversation about what we will and will not choose to participate in when it comes to the way all children You so skillfully create in Your image in their mother's wombs are treated.  We thank You that You leave no one behind in the conversations we have down here and cause us to face the truths that have been concealed from us. We thank You for bringing them out into the light of day.  We thank You and praise Your Holy Name for allowing us this opportunity to stand for Your truth.

Abba Father – Help us to be brave.  Help us to take our stand. Help us to trust in You, and not man. Strengthen our faith, our hands, help us build the wall through prayer, intercession and song and embrace Your one true love that sends our fear packing. Help us to pray for all the children around the world.
We know from Acts 16 that the pattern is when Divination (Sorcery) is cast out, you get placed in prison. You are in a tight spot.  But when you sing songs to Him, He breaks the chains and extends the opportunity for you to convert your captors.  He never wastes your pain or suffering or struggle – so fight a good fight of faith in Him to prevail.
Sing. Sing. Sing.
Cheer Him on because the battle is the LORD's.
Perhaps He will move and perhaps the end of Isaiah 49 will be witnessed by the nations and be a light to them:
"Then all mankind will know that I, YHVH, am your Savior and your Redeemer,
the Mighty One of Jacob."
Shelley McLaughlin is a passionate IFA intercessor who loves meditating on His Word.
Partner with Us
Intercessors for America is the trusted resource for millions of people across the United States committed to praying for our nation. If you have benefited from IFA's resources and community, please consider joining us as a monthly support partner. As a 501(c)3 organization, it's through your support that all this possible.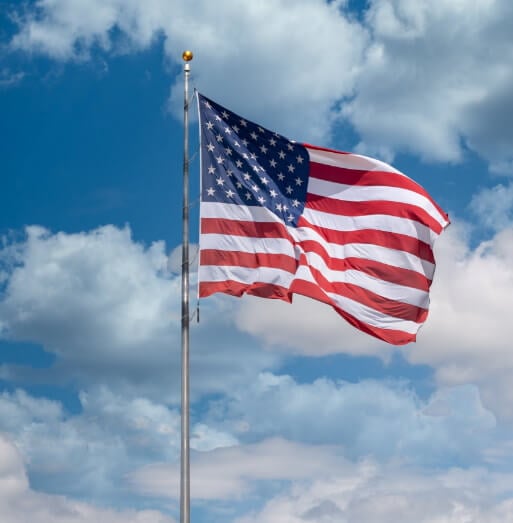 Become a Monthly Partner