THE TRUTH IS: PERFECT LOVE CASTS OUT ALL FEAR
Shelley McLaughlin, IFA Contributing Writer
|
September 18, 2021
THE TRUTH IS: PERFECT LOVE CASTS OUT ALL FEAR
Shelley McLaughlin, IFA Contributing Writer
|
September 18, 2021
I Prayed
have prayed
Father, thank You that we are a chosen people, and You are the King of the universe. Cause us to understand and walk in the identity you have given us.
Being scared is unwise.
Fear is a motivator and will herd you around if you let it.  Fear will help you make poor decisions about your future.  Fear will paralyze you and prevent you from living life's purpose as your Creator intended.  Fear causes adverse physical, mental, and behavioral health conditions. Fear causes disease to manifest and can actually kill you.
View Comments (5)
And sadly, fear has become an idol in our culture that we refuse to release back to Him. His people embrace fear and wrap it around them in a false identity and then bear false witness to the world.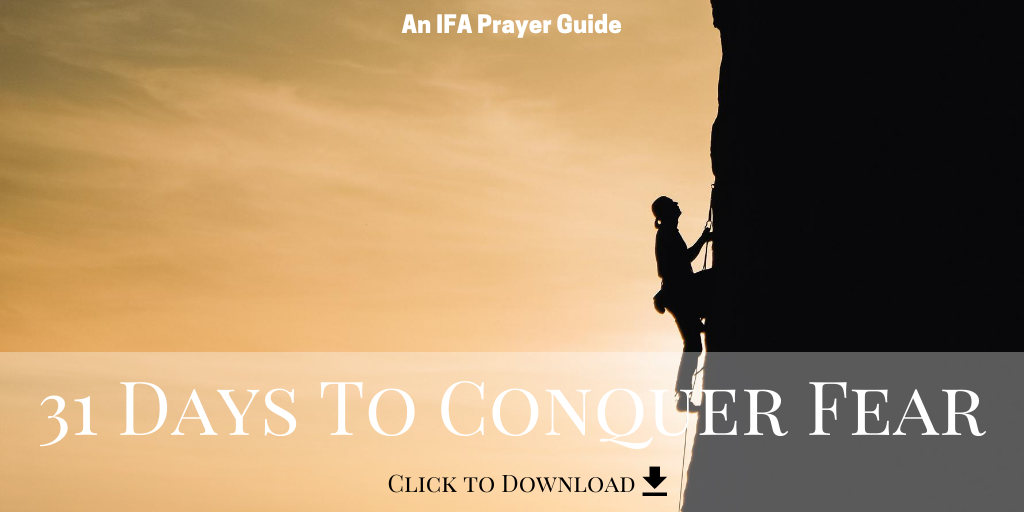 The world can be a scary place. Big things like skyscrapers or planes crashing to the ground is scary. Microscopic things like viruses are too.
Why? Because humans are scared to death, of death.
Are God's people supposed to be scared to death of death? Nope.
Are God's people supposed to be scared to death of the way we are going to die? Nope.
Are God's people supposed to be scared about anything? Nope.
We are repeatedly commanded NOT to be afraid of anything because the God we serve is bigger than skyscrapers, viruses, hurricanes, asteroids and exploding suns, or whatever news people use to make us scared.
We are told to become wise in His wisdom, not wise in our own eyes, or ways.
In the future, Yeshua tells us himself men will faint with fear and anxiety for what they see coming on the world. So, whatever is going on now is just the world being the world. But something is coming that IS truly frightening for people – even mighty kings. But we are not supposed to be afraid.  Yeshua tells us that at that same time, His people are to stand and look up as their redemption draws near.
Faith in Him and His Word helps you stand firm and fight the good fight against the real enemy, which is not people.  Faith gives you a backbone when all your other bones are shaking in your boots.  Faith without works is also dead and useless.  Faith is active and easily replaced with the word – loyalty. The Creator of the Universe has given everyone a measure of it. We all have it.
Now, what will we do with our faith for such a time as this?
Will we praise Yahweh for creating us in this generation to serve Him or will we wring our hands and cower to all the scary things? He created us and knows us well – and even expressed concern that He may not find faith on the earth when He returns! Doesn't that make you sad that He would think that after He was so faithful to us?
Faith, along with hope and love, is one of the big three remaining after everything in this world falls apart. The greatest of these three is love.
Perfect love (agape, from agapeo) casts out fear. Christians throw that phrase around like confetti when people are scared but rarely stop to think what that even means.  How can we wrap our heads around staring the Godzilla of Death in the face with gnashing teeth and think "God loves me so these drooling, snarling teeth do not bother me at all because (and then we say it and try to believe it) perfect love casts out all fear."
This kind of love is the love that grows cold for most, and is lost to the Church at Ephesus. Agape, from agapeo.
If we admit it, we are still afraid, despite these bold words or all of the commandments God gave His people NOT to fear because He is with us and will uphold us with His victorious right hand. We just need to be still. We need to know (Yada – intimately know) that He is God. We say them with our lips while our hearts are gripped with fear.  He has never been after our lips. Our Father wants our undivided attention, our undivided hearts where He and His Son can make a home that will stand.
We overcome with the blood of the Lamb and the word of our testimony. We do NOT, then, overcome with the word of someone else's testimony. Our own personal testimony is developed through trial and error then getting back up again in His grace, forgiveness, and mercy, having learned how to walk more uprightly. Taking the next test designed for us gives us the opportunity to DO things in great faith. This test, and passing it, helps us yada (intimately know) deep in our hearts that Yahweh gives us the victory through our Messiah Yeshua – to overcome our overwhelming fear of death as Hosea prophesies, and Paul recalls.
Our testimony is NOT developed by declaring and decreeing our own preferred future, our own preferred will for what we want for our lives, as opposed to His perfect will for us.
That's witchcraft and rebellion, idolatry and pride talking. And the Church today is steeped in this. We repeatedly fail to allow room for the Holy Spirit to move because we refuse to leave the decision up to Him the way Christ taught us: Father, if it be your will let this cup pass from me….nevertheless, not as I will, but as You will. Because we are afraid and don't like handing over our fear and comfort idols.
When we experience trial and tribulation it is uncomfortable but gives us a GREAT opportunity to find out how we got here and what we need to do to emerge from it – lessons learned. Will we ever learn?
Therefore, since we have been justified through faith, we have shalom (restoration to wholeness) with God through our Lord Jesus Christ, through whom we have gained access by faith into this grace in which we stand. And we rejoice in the hope of the glory of God. Not only that, but we also rejoice in our sufferings, because we know that suffering produces perseverance; perseverance, character; and character, hope. And hope does not disappoint us, because God has poured out His love into our hearts through the Holy Spirit, whom He has given us. (Romans 5:1-5)
If the Holy Spirit truly lives inside you, key word – if, and you believe that same Holy Spirit raised Christ from the dead; you have absolutely ZERO business being afraid of whatever you think man, or beast, or virus, or asteroid can do to you. You are appointed to die once. You are going to die.  Your hope and faith should anchor you to the love of your Savior and keep you there. No. Matter. What. Comes.
So, what is love anyway? The world will tell you love is love – is that His truth – is it all the same?
In Yahweh's eyes, love is loyalty and obedience. Obedience to Him is better than sacrifice.  It is a sweet-smelling aroma for Him.
Our prayers stink when we are disobedient to Yahweh's Holy Law. Our hypocrisy – asking for people to keep rules God gave us when we don't keep and guard the rules God gave us – make us stink to both God and man. Our religious pride is a poor air freshener covering up that stink, too. Everyone knows it's there. Even us. Because we are the ones who sprayed it around to cover up our own stench.
Yahweh said for us to fear Him, to love Him (agapao) with all our heart, soul and strength and love our neighbor (agapao) as ourselves. Yeshua only spoke what the Father gave Him to speak and defined these as the two greatest commandments, noting that all the Holy Laws of Yahweh (Torah) and the Prophets hang on these two laws. These are the big two – defined by the Ten Commandments and the details of smaller instructions, judgments, and precepts in Yahweh's Terms and Conditions box that you checked upon baptism into the faith.
If you need to review the Terms & Conditions, this site has a great visual representation of this key point.
Is God's love unconditional? YES! He loves you no matter what you decide to do and if you decide you want to be disobedient, you can absolutely do that. He will let you. You have the freedom to obey or not. Nothing will change how much He loves you. He will fight for you – and will discipline you with tribulation and trial to help you repent and follow His instructions. The Holy Spirit inside you demands holiness to prepare you to stand before Him one day – loving Him as much as He loves you.
However, His grace which allows the Holy Spirit to perform the work of perfecting obedience in us is not a license to sin. It is a license to learn how NOT to sin. Despite all the love our Creator has for us, if we do not return that love obediently to Him, we will be separated from Him, cast out due to lawlessness. He will not know (intimately know – yada/ginosko/eido) us.  He will not perceive us as His own.
Yada, ginosko, and eido all refer to an intimate knowledge – including one that brings forth life.  For example, Adam yada yada yada'd Eve and she bore a son.
Intimate knowledge of Christ brings forth the deliverance of eternal life. Worshipping Him in Spirit and Truth brings forth life eternal, both gifts given at Shavuot/Pentecost.
These verses in the Gospel should give you a healthy fear and respect for your Lord and Savior that motivates you to repent and walk in uprightness of heart pursuing the LORD in all His ways, not yours.  Here He is speaking to people who truly thought they KNEW Him that were asking to enter the Kingdom, not people who don't care about the Kingdom.
Yeshua defines love as keeping His commandments. He said nothing apart from what the Father told Him to speak. He did not come here to destroy God's Holy Laws, or the words of the prophets. He came to set us on a course for restoration to the Father and open up this gift to the whole world. He came to remove the convoluted empty works of religion and clarify what Yahweh wants us to do and to obey. He expects us to walk in obedience to God's Holy Laws as He did. He did not do it for you. He set an example for you. His work is done, our dirty laundry still needs to be washed in His blood, His Truth and His Ways – and He is not your maid.
John tells us this is how we know that we have come to know Him – if we keep His commandments. Whoever says they know (ginosko) Him but doesn't keep His commandments is a liar and the truth is not in him.
What is true can be made from the truth, but still be a lie.  When people who want to remain in disobedience use the excuse, "There is no way for anyone to keep the whole Law," that is TRUE!
Yeshua did not keep the whole law either. He wasn't a woman, a farmer, a lender, a king (yet) or a Levitical priest.  However, He did keep the laws pertaining to Him.
I don't have to obey one law in the state of New York since I live in Louisiana.  I don't even have to obey laws that apply to the residents of New Orleans because I don't live there either.  I don't have to obey all the 3 million+ laws recorded in the IRS code because they don't all apply to me. Yet – I can still be a law-abiding citizen of the United States of America.
You are to keep the laws that apply to you and ignorance of God's word is no defense – especially for this generation. You are to keep them and bear good witness to Him because of your great love, admiration, and loyalty to the King. He died in your place so that you don't have to fear the second death, because He will ultimately deliver you to life. THAT is what removes the sting of the first death. THAT is the hope to keep you going and seeking Him and His Kingdom here on earth.
Again – you can do whatever you want.  But if you choose to not listen to His instructions, or worse yet refuse to do them, you will be afraid – and stinky to everyone.
Worse, you will be afraid of men. You will be afraid to disappoint them, or worry about how they perceive you, or whether or not they have the power to harm you. You will be a prisoner in chains instead of set free and living in the truth, the whole truth, and nothing but the truth of Yahweh.
Keeping God's commandments demonstrates to the world you are patient, kind, humble, not boastful, envious, or rude, unselfish, honoring others, protective, trustworthy, hopeful, and perseverant in trial and affliction. Keeping them shows wisdom and understanding to the nations that are in chaos, burning like a beacon so others can find their way home – out of fear and into His love and marvelous light.
If we are irritated with people who cannot keep the laws of men and discuss their behavior with graceless language, how much more irritated is our Father in Heaven with us? If you are still reading this stop and PRAISE HIM FOR HIS GREAT MERCY AND PATIENCE so that all, even people you don't like or think are worthy of His grace, come to repentance.
We expect Him to excuse our lawlessness. We are taught in churches all across America that obedience doesn't matter while we point fingers at our neighbors for not keeping laws men made.
That stinks.
So, ask Him to search your heart.  Seek Him in His unchanging, infallible Word with the help of the Holy Spirit while He may be found and is calling to all on the earth to turn their hearts back to Him and run fast into His sheltering wings.
Then follow the advice that Mary gave when Jesus was about to perform His first miracle: "Do whatever He says."
Father – help us to be a chosen people, a royal priesthood, a holy nation, a people for God's own possession, to proclaim the virtues of Him who called us out of darkness into His marvelous light. Help us to walk in the sweet-smelling aroma of Christ's sacrifice of obedience to Your Ways, Your Commands and Your Truth by being obedient to the same. Help us to stand in Your Strength. Cleanse our hearts and write Your Truth on them. We praise you for this time of tribulation on the earth. We thank you for causing us to have this conversation worldwide.  Thank you for showing us what we look like in the mirror and how filthy our rags actually are without You. Help us to prepare and press our bridal garments and refine us in your great patience and mercy so that we can confidently come before the throne of your grace. Help us to walk in your ways so that our identity in You is secure.
How can you be a better example of a Kingdom citizen where you live? How can you help HIS light shine brighter in this dark world? How have you improved in areas of obedience to His ways over the last year? Share your testimony to encourage others below.
Shelley McLaughlin is a passionate IFA intercessor and devoted student of the Word.
(Photo Credit: Joe Ting/Unsplash).
Partner with Us
Intercessors for America is the trusted resource for millions of people across the United States committed to praying for our nation. If you have benefited from IFA's resources and community, please consider joining us as a monthly support partner. As a 501(c)3 organization, it's through your support that all this possible.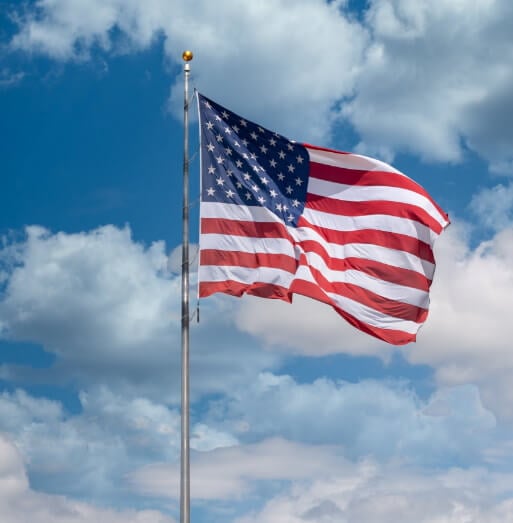 Become a Monthly Partner