PACK YOUR TAMBOURINE–VICTORY IS COMING
Shelley McLaughlin, IFA Contributing Writer
|
September 7, 2021
I Prayed
have prayed
Father, do not let our hearts grow cold in this present evil age. Do not let our hearts grow weary. We want you to find faith on the earth when You return. Our hearts are broken that You know all things and still wonder if You will find faith upon the earth when you return. Help us to be strong in Your might.
I live in South Louisiana. We have storms – which are just, extra. Sometimes they cause the wind to blow faster than cars can drive and sometimes they send giant floods. Usually, we get enough warning to advise us to evacuate giving us time to batten down the hatches, pack things away, consider what you need to bring with you. Sometimes the storm grows quickly into a beast with nowhere to run.
In August 2016, at 3:15 am, a friend alerted me to a 5-foot wall of water a few blocks from our home. Baton Rouge had sustained 38 hours of deluge rain and a small river that is 4 miles from our home had overflowed its banks. My home has never flooded. With inescapable backwaters rising, I realized I had no flood insurance, a broken finger, and that my home was destined for two feet of water given my elevation.
View Comments (36)
Totally unprepared, I was in a panic as I quickly packed a bag.
Over the years, I've taught my kids to remember Psalm 91 as our emergency Psalm because it starts with 91:1. As I headed out the door, the panic stopped, and His peace brought it to mind. I sang Psalm 91 over my home, giving it to Him knowing He would restore it if it needed that because He always faithfully does. I prayed and left.
Only after I evacuated did I realize I grabbed 15 pairs of shorts, one shirt, six socks and no underwear.
Having a general evacuation plan is great. Quickly executing it in the middle of the night might be a little messier.
Yahweh sends Moses instructions to give Pharaoh a heads up on the Exodus in chapter 11, then tells Moses that Pharaoh will not shema (listen and obey). Moses then provides the Israelites warning and preparation instructions to get out of Goshen in chapter 12. They had a little time to pack, but the LORD's instructions were to be ready to run! No time to lay around eating bbq. He instructs them to eat with their staff in their hand, their clothes girded up and their shoes on. A big evacuation unlike anything the known world had ever seen would soon take place and they would not be returning.
HOW DO YOU PACK FOR SOMETHING LIKE THAT?
While I did have enough wits about me in 2016 to pray Psalm 91 over my home and trust the Lord once I realized that there was nothing I could do, I did not pack a tambourine. But Miriam did when she evacuated Egypt. All the women of Israel did, too.
I find that completely amazing and read in a blog recently – "when faith takes a journey, it packs a tambourine." YES IT DOES!
Yeshua is going to return one day for The Exodus for The Rest of Us. A trumpet will sound around midnight. A massive evacuation will take place. Those who are ready to go who have practiced their evacuation plan, washed, and pressed their garments will know what to do when the alarm sounds. The wise virgins will be ready to run out to meet their bridegroom.
Back in January, I was ordering a wedding gift for my friend's son and while placing the order, I kept staring at this very specific tambourine of Miriam dancing by the sea. I could not stop going back to it. Beautiful. Painted by Yair Emanuel. When my attention is drawn to something so strongly, I go for it.
It arrived on Monday, February 22, 2021 after taking an international journey of its own from Israel. Guess what happened over that last month? God kept drawing my attention to tambourines. All through the scriptures. Over and over and I kept it a secret because it was so odd.
Turns out the Word has a LOT to say about tambourines – and traditionally, it turns out they are important for weddings. The more I thought about that Miriam tambourine, the more I prayed, "Do you want me to place a bulk order for these and give them to people?" Finally, I found a vendor that had a significant supply. I placed the order and after pressing send, I thought what is this? Why did I just order all those tambourines?
The next day, a group of primarily women read the entire Word of God over our nation and her territories, interceding for her as we helped Pastor Arthur Hunt complete the sixth Cleanse. In this project, Pastor Hunt has portioned out the word into readings for each specific area. In nearly all of the six readings thus far since January 2019, the volunteers have been primarily women – the majority of whom are the mothers of children with autism.
Psalm 68:11 says "The Lord gives the command; a great company of women proclaim it!" Yahweh loves His girls. Don't let anyone tell you different. When He has something new to say, He usually asks His girls to spread the Good News.
Earlier that week as we rounded up the volunteers, our New Jersey team who usually read Jeremiah, agreed it's beautiful, but mostly about "the scary Lord," asked if they could have something more upbeat this time. We reassigned them to another state and asked someone to cover New Jersey. My friend here in Louisiana volunteered her family. She hadn't told them, but that night her husband had a dream, woke up in the middle of the night and said, "Our family has to read Jeremiah 20 out loud." Talk about the scary Lord…. but, CONFIRMATION!
I smiled and thought – what are You doing then went back to reading Numbers for Wyoming. The next night I called my friend, who brought up tambourines again. She had been shopping online everywhere for a very specific tambourine.
But they were sold out. (Oops. My bad.)
No way, right? No. So, we took screen shots of our tambourines, counted to three and texted them to each other. They were the same tambourines! We laughed so hard. What an amazing hug from our Abba! I confessed my giant tambourine order that will be here maybe in a month. We both felt this urgency in our spirits! As a surprise for the women in our home church, we ordered 30 tambourines and orchestrated a decorating party to accompany this lesson that we are sharing with you today. In our research, we discovered tambourines are often carried by the bridal party in Israeli weddings.
Then Miriam the prophetess, Aaron's sister, took a tambourine in her hand, and all the women followed her with tambourines and dancing. And Miriam sang back to them: "Sing to the LORD, for He is highly exalted; the horse and rider He has thrown into the sea. (Ex 15:20-21)
Having the experience of packing a bag in the middle of the night to leave, I am so amazed at the faith of these women who knew with absolutely no doubt that deliverance and salvation was on the way. They had enough faith to pack their instruments of praise and knew they were absolutely heading out to a wedding. What an incredibly beautiful faith object lesson for us today.
Are you awake? Are you ready to run out and meet your bride groom in song? Are your bags packed in anticipation? Is your staff in your hand as you enjoy your last hot meal for a while knowing the alarm could sound at any moment? Can you find the verse in Jeremiah 31 prophesying the feast of the Lord when the ingathering will take place one day in the future? You must really dig for the treasure, but it is there. We found it last year in our research.
CHALLENGE: I will personally purchase a bridal tambourine for the first person who responds to this blog with the correct verse and explains how they found it. Email [email protected] with the answer.
FOLLOW HIS PLAN AND SHEMA HIS INSTRUCTIONS: Fall in love with Him again. Do not let your love grow cold waiting. Read His proposal. His word is full of covenant language that He sings over us. Be faithful. Know that He is coming for us. Be prepared, lamps full of oil, burning bright with extra from the pressing. Walk in obedience. Sing to Him. Love other people. Do something about it. Be a wise virgin.
Spread the Good News. Pack your tambourine in GREAT expectation and tell your friends to pack their tambourines, too.
Father, do not let our hearts grow cold in this present evil age. Do not let our hearts grow weary. We want you to find faith on the earth when You return. Our hearts are broken that You know all things and still wonder if You will find faith upon the earth when you return. Help us to be strong in Your might, faithful, trustworthy and true to Your renewed marriage proposal that You have extended to us. Help us to be ready to stand, ready to run and ready to sing our new song that You yourself will give us as we stand before You this time on the Sea of Glass having been delivered as we sing the Song of Moses & the Lamb.
Shelley McLaughlin is a passionate IFA intercessor who loves meditating on His Word. Photo by Stéfano Girardelli on Unsplash.
Partner with Us
Intercessors for America is the trusted resource for millions of people across the United States committed to praying for our nation. If you have benefited from IFA's resources and community, please consider joining us as a monthly support partner. As a 501(c)3 organization, it's through your support that all this possible.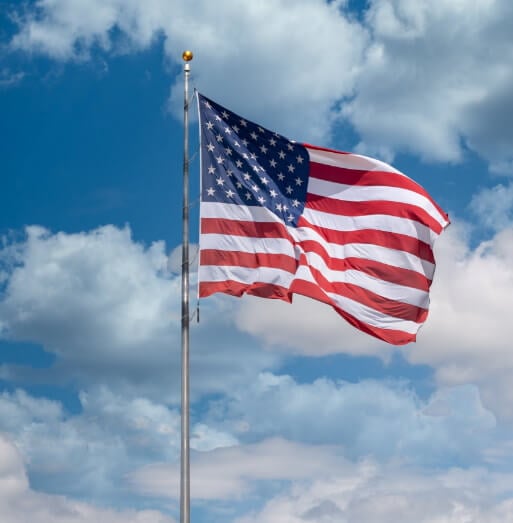 Become a Monthly Partner