40 DAY BATTLE PLAN TO SLAY THE GIANTS WE FACE
Shelley McLaughlin, IFA Contributing Writer
|
May 12, 2021
40 DAY BATTLE PLAN TO SLAY THE GIANTS WE FACE
Shelley McLaughlin, IFA Contributing Writer
|
May 12, 2021
I Prayed
have prayed
Father, we come before you today and ask that you would help us have a heart like David. Help us to be brave and take a stand in these battles we face. Help us to always be prepared, wear your armor, run fast, and sing. Help us to work with You, in unity, in this deliverance project You have us engaged in and not against You. Help us to be shrewd: wise as snakes and as innocent as doves. Help us to repent for our sins, not focus on the sins of others. Hear our prayers. Forgive us. Help us to forgive others.  Heal us. Make us one people – with You.
On the National Day of Prayer, as I gathered with people in my hometown to pray, one of my friends felt prophetically led for us to pray Psalm 18 – David's Song of Deliverance.  Although I've studied this psalm deeply before thanks to giants in my life, looking at scripture each time with fresh eyes allows God to strengthen our relationship, experience, and knowledge of Him. He wants to reveal treasure in His word to help us string pearls of wisdom and precious jewels together.
View Comments (32)
In studying Psalm 18, you quickly learn it is connected to David's Song of Deliverance in 2 Samuel 22.  Studying the songs word by word you realize that some of the text is inverted.  It appears that 2 Samuel 22 focuses on a physical deliverance from enemies, while Psalm 18 focuses on the spiritual deliverance from enemies.
Isn't that what we still experience today – a need for deliverance from our physical and spiritual enemies?
2 Samuel 22 is paired with the Song of Moses in Deuteronomy 32 in the portion of scriptures during the week of Yom Kippur, or Day of Atonement. As that day approaches, we are encouraged literally to Sing (Deuteronomy 32), Sing (2 Samuel 22), Sing (Psalm 18) as we take our stand of faith to face our Father.
David sang all the time. He knew the healing power singing to God brings.  Did you know singing can reduce physical inflammation in both those who are sick, and those who are caring for them?  Singing modulates mood, stress, cortisol, cytokines, and neuropeptide activity.
Thankfully, the songs of deliverance that Moses and David sang were inspired by God and recorded in His Word. His Greatest Hits! God sings over us. Imagine what healing comes when we sing His word back to Him?
Singing His word brings His joy into all the struggles you face – grief, illness, pain, loss. Paul exhorts us to speak and sing Psalms to one another. He knew the power of deliverance in singing as well. In Acts 16, he cast out a spirit of divination from a little fortune teller girl only to be imprisoned for messing with someone's livelihood, and source of money.  But instead of complaining in chains, he and his fellow prisoners sang to God.
Singing God's Word can bring earthquakes that breaks our chains, and then convert our captors.
Out in the field, David had time on his hands while he watched his dad's sheep. He used his time wisely by singing to strengthen himself for battles ahead that he had no knowledge of while also engaged in some target practice with bears and lions, wild beasts. He drew on this experience to explain his qualifications to the king of Israel to take on this wild beast of a giant, Goliath, who had marched out to scream at the Israelites for the last 40 days.
Have you noticed any giant coming out and yelling at God's people every morning and evening for the last 40 days – or more? How about 40 years? Tired of it yet? I am.
David was offered the armor of the king of Israel to fight.  But, it didn't fight right because he already had on the spiritual armor of the true King of Israel. While he picked up 5 small rocks, he knew deep down in his heart who His Rock of Salvation truly was.  He didn't go into the fight unprepared, but moved in faith to prepare ahead of time. He was the only one ready when the fight came looking for them.
The enemy roared ugly words at David, too.
But David said to the Philistine, "You come against me with sword and spear and javelin, but I come against you in the name of the LORD of Hosts, the God of the armies of Israel, whom you have defied. This day the LORD will deliver you into my hand. This day I will strike you down, cut off your head, and give the carcasses of the Philistines to the birds of the air and the creatures of the earth. Then the whole world will know that there is a God in Israel. And all those assembled here will know that it is not by sword or spear that the LORD saves; for the battle is the LORD's, and He will give all of you into our hands."– 1 Samuel 17:45-47.
Today, we have to know who our enemy is – and we do not fight humans.  We fight spiritual forces of this dark world. We need to be humble realizing if we are dressed up in God's armor, with His words coming out of our mouths, bearing His image – the battle belongs to Him.
God likes when we recognize the battle belongs to Him, then ask Him how, when, and if we should proceed, then we move in faith knowing He will act on our behalf. He doesn't have to partner with us. He wants to.
Why did David pick up 5 rocks? What was he doing right before he broke out in song in 2 Samuel 22?
We don't know why he picked up those five rocks instead of just one. We know he had faith, but maybe he was being extra prepared since it was a big fight. Or maybe he prophetically saw Goliath's 3 giant brothers and another giant with six fingers on each hand and six toes on each foot in 2 Samuel 21!
That's right: Face your Goliath, and there are likely four more coming at you down the road.
And all of them were Rephaim.
The story goes that Lot was spared because eventually his progeny would bring forth David.  Lot had an illicit incident with his daughters after their deliverance from Sodom, and one of the girls had a son named Moab.  Two young Moabite women years later were married into an Israelite family.
The men died and the two daughters in law had to make a choice when the matriarch of the family was heading back to Israel.  Ruth decided to go with Naomi so that her God would be Ruth's God and her people would be Ruth's people.  Orpah, her sister, decided not to go with Naomi and returned to her gods and her people.
A tale of two women – the bride, and the anti-bride – a story that continues to weave through God's Word all the way through Revelation.
Ruth moved in faith toward redemption. She became the grandmother of David and was grafted into the lineage of Christ, the King of Kings and Lord of Lords.
Orpah did not choose redemption. She became the mother of Goliath and 3 other giants who met a dead end.
The root of the word Rephaim, is raphah, which means weaken and can mean "dead ancestors." Ultimately, both of these words are associated with rapha, which means to heal.
Were these big, fake, dead healers?  Maybe so.
The same word "raphah" is used when King Asa sought the advice of physicians over the advice of God when he was sick…and died as a result of it.
Lesson: Seek big, fake advice from a Rephaim and you may die.
The Israelites were divining familiar spirits to give them healing advice through teraphim (healing idols).  Divination is a form of sorcery – it predicts a false future. Conjuring the dead for advice is sorcery.
David fought Rephaim and broke out in praise. Paul took out sorcery and broke out in praise. There is a pattern here and given the state of the world, we might do well to pay attention.
This doesn't mean God doesn't give us things here on earth that bring physical healing. He does. Generally speaking, His healing methods don't involve the use of aborted babies or have adverse side effects resulting in disability or death.
So, before we consult the mainstream medical gods or even the alternative medicine gods, and potentially sacrifice our money and our health, we should consult Yahweh first. Knowledge of good and evil still belongs to Him alone.  Seek Him, and live. Seek Him first, and all these things will be added unto you.
Our true healing, spiritual and physical, will only come from Yahweh, the creator of all things, including us.  Our nation's and the world's healing will only come from Him. If we would just be still (raphah), and know that He is God, He will be exalted in the nations and He will be exalted in the earth.
If you want to be a part of healing tomorrow's world today, you have to run back to our God in repentance and in steps of obedience. Don't return to false gods and fake religion just because your world feels like it might be falling apart.
In His redemption, there is healing. In His redemption, there is victory. In His redemption, our true enemies fall to the ground as they are placed under His feet. When that final redemption happens, in all of heaven and earth, we will sing without hesitation of the Glory of God and exalt Him.
But until that happens, we have work to do.
And we don't just have to sit here and take the Philistines yelling at us day and night for 40 days, or more! Because we have something to say back – as long as we know who our Redeemer truly is. And those who humbly call on the Name of the Lord will be saved.
What kind of glory would have been displayed for God in all the earth if His people who are called by His Name had yelled back the same thing to Goliath as David did? WITH David? As ONE – in unity?
Fight the good fight of faith. Fight the real enemy.  Ask Him to take the giants out. Love people though, especially those in bondage to giants of fear, unbelief, pride, and divination. Be merciful to them. Help break their chains to set them free instead of condemning them and locking them up in shame. It is His kindness that leads all of us to repentance.  It's mercy that triumphs over judgment – His, and ours.
So, shout and sing – and come back to this blog over the next 40 days to keep us posted on your progress!
Will you join us starting May 11th, 2021 to say these verses in 1 Samuel 17:45-47 every morning and every night with great faith in unity over the next 40 days to see what our Father might do in response?
(Shelley McLaughlin is a passionate IFA intercessor and devoted student of the Word. Photo Credit: Canva.)
Partner with Us
Intercessors for America is the trusted resource for millions of people across the United States committed to praying for our nation. If you have benefited from IFA's resources and community, please consider joining us as a monthly support partner. As a 501(c)3 organization, it's through your support that all this possible.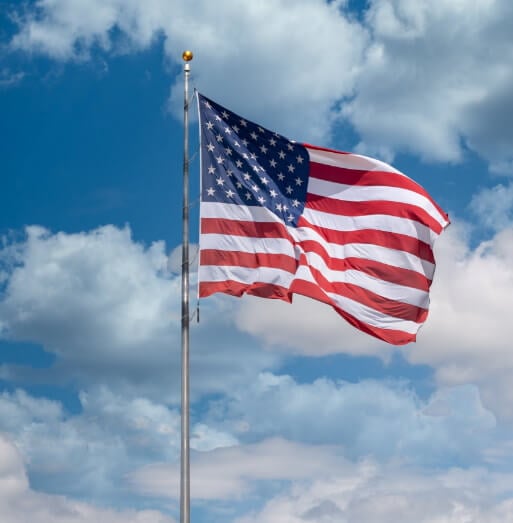 Become a Monthly Partner